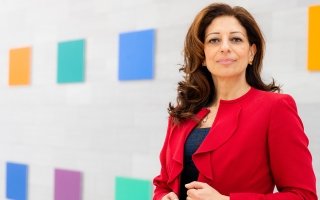 Doctor of Education in Organizational Change and Leadership (online)
This program is designed for working professionals with leadership experience who desire to work in a variety of industries including colleges and universities, private firms, nonprofits and government organizations. This program is not recommended for individuals interested in K-12 settings. 
Organizational change is a complex process that requires skilled leadership. Equip yourself with the tools to interrogate the systems of power that shape policies and practices and lead effective and innovative solutions.
Apply
Program Overview
The Doctor of Education in Organizational Change and Leadership online (OCL online) program will prepare you to lead systemic improvement and foster equitable practices and policies in your organization by applying research-based strategies.
Through this program you will:
Earn a doctorate from a school with a strong reputation among employers
Continue to work full time while taking evening or Saturday classes online
Gain interdisciplinary insight as you learn alongside a cohort of leaders from a variety of industries
 
Program Tracks
The OCL online program offers two tracks—a track for those entering the program with a master's or terminal degree and a track for those entering the program without a master's degree.
43-Unit Track 
If you hold a master's degree or terminal degree (e.g., PhD or professional doctorate), you may, at the discretion of the admission committee, be admitted with advanced standing and be required to take only 43 units in order to complete the program. The 43-unit track takes approximately three years to complete.
60-Unit Track
If you do not have a master's degree, you have the option to enroll in the 60-unit track and complete 17 units of coursework in the Master of Education in Learning Design and Technology online (LDT online) program prior to advancing into doctoral coursework. Students on this track do not earn a Master's degree, but are awarded a Learning Design and Technology certificate, a University-recognized academic certificate designed to demonstrate completed coursework in a specialization and to support career advancement on the path to an EdD degree. 
Curriculum
The OCL online curriculum is structured around three themes:
Leading Organizational Change: Develop leadership practices to advance equity and apply principles of organizational behavior, learning and motivation to enhance the development of talent and organizational performance.  
Data-Informed Decision Making: Strengthen your ability to make evidence-based decisions and effectively use data to inform decisions and address problems.
Critical Reflection: Engage with the USC Rossier mission to assess your own leadership practices and reflect on your own beliefs and experiences to foster inclusive and equitable environments. 
Dissertation in Practice
The OCL online program culminates with a dissertation in practice that will allow you to demonstrate effective application of the program's theories and concepts. You will address a problem of practice in an organization or professional field and gather data to answer research questions and provide recommendations.
Online Learning Experience
The online learning experience blends interaction with student colleagues and faculty during scheduled weekly live class sessions and content experiences and coursework assignments on the learning management system. Live class sessions are facilitated by faculty and include highly interactive, engaging and collaborative small-group discussions.
On-Campus Immersion 
In the first and fifth terms of the program, you will be required to attend an immersion weekend held on the USC University Park campus. This immersion experience will give you the opportunity to meet your classmates and professors face to face and complete various collaborative learning exercises designed to build essential leadership skills.
Scholarships
As an applicant, you will be automatically considered for a scholarship of up to $7,500. There is no need to submit a separate application for this scholarship. Recipients are selected based on academic achievement, demonstrated dedication to the USC Rossier mission and other distinguishing characteristics. All USC scholarships are awarded at the time of admission.
View USC Rossier's scholarship finder to identify other scholarships and funding opportunities. You do not have to be admitted to apply to these scholarships. Carefully note the scholarship application deadlines, which may occur before the final program application deadline.
Financial Aid
The USC Office of Student Financial Aid provides information regarding various types of financial aid and financing options.
To be considered for financial aid, you must apply the FAFSA. After you apply, the financial aid office will determine your financial need and inform you of the federal or private loans that are available to you.
Career Outcomes
Many OCL online alumni can be found in leadership roles across a number of private and public industries.
Potential roles include:
Colleges & Universities
Associate Professor
Higher Education Administrator
Athletic Director
Private Firms
Human Resources Director
Finance Director
Healthcare Administrator
CEO
Nonprofit Organizations
Manager/Executive Director
Planning Director
Chief Operating Officer
Government Organizations
Police Chief
Museum Director
Educational Coordinator
 
Program Details
Degree Awarded
Doctor of Education (EdD)
Program Cost
$2,244 per unit (estimated)
Class Times
Select from class times Tuesday, Wednesday, or Thursday evening or Saturday morning in the Pacific Time Zone
Faculty
Our professors are top practitioners dedicated to supporting your growth and challenging your perspective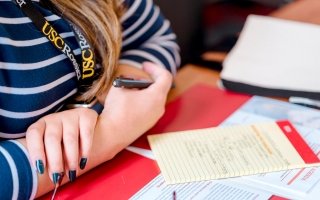 Request More Information
Connect with us to receive more information about this program and reminders about upcoming events and application deadlines.