Stephen J. Aguilar
Assistant Professor of Education
Education
PhD, Education and Psychology, University of Michigan
MS, Psychology, University of Michigan
MA, Humanities (Philosophy), University of Chicago
BA, Philosophy & Psychology, Georgetown University
Expertise
Learning Analytics • EdTech & Generative AI • Digital Equity • Educational Data Science • Motivation & Self-Regulation
Download CV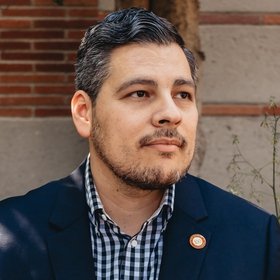 Contact Information
Websites and Social Media
Bio
Dr. Stephen J. AguiIar is an Assistant Professor of Education in the Educational Psychology concentration at the USC Rossier School of Education. His research focuses on investigating how educational technologies—both emerging and established—influence teaching, learning, and motivation. To this end, Dr. Aguilar explores the impact of learning analytics, generative AI in educational settings, the digital equity gap, and gameful approaches to teaching and learning. Currently, he is co-leading USC's new Center for Generative AI and Society's efforts to understand when and how generative AI is used by students and instructors in post-secondary settings.
His honors and awards include winning both the Wilbert J. McKeachie Early Career Award for Motivation in Education Research, and the AERA Division C Early Career Award. His work has been funded by the National Science Foundation, the American Educational Research Association (AERA), the Herman & Rasiej K-5 Mathematics Initiative, and Great Public Schools Now, among others. Dr. Aguilar' has also given televised interviews on the digital equity gap in both English and Spanish, has been guest on NPR's AirTalk, and has been interviewed by the Los Angeles Times, USA Today, The Washington Post. His digital equity work during the pandemic also informed California Assembly Bill No. 1176, which provided much needed subsides for families in need of broadband internet. The resulting Affordable Connectivity Program has helped over 1 million families afford reliable high-speed internet during the pandemic and beyond.
Dr. Aguilar received a B.A. in Philosophy and Psychology from Georgetown University, a M.A. in the Humanities (Philosophy) from the University of Chicago, and a Ph.D. in Education and Psychology from the University of Michigan. Previously, he taught sixth and seventh grade in East Palo Alto, California and served as a the Director of Institute Technology for Teach For America-Los Angeles's summer institute. 
 
Awards and Grants
AERA Division C Early Career Award, 2023
AERA Division C - Learning and Instruction
Awarded for research program that contributes significantly to knowledge & practice in education
AERA Open Outstanding Reviewer Award, 2023
Wilbert J. McKeachie Early Career Award for Motivation in Education Research, 2022
AERA Motivation in Education Special Interest Group
Awarded for important early career contributions to advancing research in motivation
Provost's Postdoctoral Scholarship, 2016
USC Rossier School of Education
University of Southern California, Los Angeles, CA
Data Consortium Fellow, 2016
National Science Foundation: Division of Information & Intelligent Systems
Learning Analytics Junior Fellow, 2013
Learning Analytics Fellows Program University of Michigan, Ann Arbor, MI
Publications
Professional Affiliations and Memberships
Assistant Professor of Education, 2018 - pres.
USC Rossier School of Education
Provost Postdoctoral Scholar, 2016 - 2018
USC Rossier School of Education
Director of Institute Technology, 2008 Los Angeles Institute
Teach For America Summer Institute 
Los Angeles, CA
Teach For America: 6th & 7th Grade Teacher
All subjects (6th); Science & History (7th)
East Palo Alto, CA
Contracts/Grants
NSF Convergence Accelerator Track H: Determining Community Needs for Accessibility Tools that Facilitate Programming Education and Workforce Readiness for Persons with Disabilities
Research Grant ($698,161)
National Science Foundation (Award #: 2236320)
Co-Principal Investigator. PI: Maja Mataric. 2023-2024
Education Technology use by Teachers Serving Low-Income Students: An Experience Sampling Approach
Research Grant ($23,700)
James H. Zumberge Faculty Research and Innovation Fund Diversity and Inclusion Grant (Award #: 2236320)
Principal Investigator. 2022-2023
Distance Learning and Educational Equity in the Wake of COVID-19
Reserach Grant ($30,000)
Great Public Schools Now
Co-Principal Investigator. PI: Hernan Galerpin. Summer 2020
Masters of their Destinies? Hispanic Students' Sense of Control in Relation to Post-Secondary Outcomes, a Generalized Structural Equation Modeling Approach 
AERA Fellowship Program on the Study of Deeper Learning ($20,000)
American Educational Research Association & The William and Flora Hewlett Foundation
Principal Investigator. November 1, 2016 – December 31, 2017
Technical Knowledge Acquisition 
Seedling Grant ($30,000)
Intelligence Advanced Research Projects Activity (IARPA); FA8650-15-C-9102,
Significant Contributor. PI: Gully Burns. January 1, 2017 – March 31, 2017
Using Learning Analytics and Natural Language Processing to Explore the Role of Synchronous Chat in Knowledge Construction During Online Course Sessions 
Research Grant ($25,000)
2U, Incorporated
Principal Investigator. Co-PI: Melora Sundt. 2017-2018
Assessing the Role of Asynchronous Materials in Supporting Learning
Research Grant ($25,000)
2U, Incorporated
Co-PI. Principal Investigator: Melora Sundt. 2017-2018