Financing Graduate School
Graduate study is a significant investment. On this resource page, find general information about various methods of financing graduate school.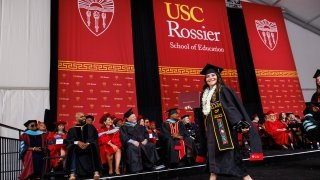 Financial Aid
The USC Office of Student Financial Aid provides information regarding various types of financial aid and financing options. In order to be considered for financial aid, you must apply. After you apply, the financial aid office will determine your financial need and process your financial aid summary document, which will consist of mostly federal loans. In addition, USC participates in a variety of private student loan programs.
Learn more:
Types of Aid
Here are some common financial aid solutions that can help fund your graduate education:
Federal Loans
Federal student loans are loans from the government that are available to most borrowers.
Private loans
Offered by financial institutions, private student loans are awarded based on your credit profile.
Payment options
USC offers several methods of tuition payment including installment plans, tuition prepayment, and long-term financing.
Scholarships, Fellowships and Grants
As a USC Rossier student, you are eligible for both general and program-specific scholarships. Unlike loans, scholarships do not need to be paid back, and are therefore a helpful tool in financing graduate school.
While you will be automatically considered for certain USC Rossier scholarships with the submission of your application, most university-wide and external scholarships require a separate application.
Below you will find a breakdown of scholarship categories. To browse available scholarships, view our scholarships finder.
USC Rossier Scholarships
These scholarships are awarded to USC Rossier students who demonstrate a high level of achievement and align with the school's mission. To receive priority consideration for a USC Rossier scholarship, submit your application by the priority or regular deadline
USC Scholarships
USC offers scholarships for students based on merit, community engagement and cultural contributions.
External Scholarships
Students of all USC Rossier programs can apply for scholarships provided by parties outside the university, based on a variety of requirements.
Program-Specific External Scholarships
Additional scholarship opportunities are available to students who meet criteria relevant to their program of study.
Graduate Assistant Positions
USC Rossier graduate students are eligible for paid graduate assistant positions in the Postsecondary Administration and Student Affairs (PASA) and Educational Counseling (EC) programs.
Graduate assistant positions can help alleviate some of the cost of graduate school, while providing you with hands-on experience in their fields of interest.
Federal and Local Government Programs
Loan forgiveness
In 2007, Congress created the Public Service Loan Forgiveness Program to encourage individuals to enter and continue to work full-time in public service jobs.
Under this program, you may qualify for forgiveness of the remaining balance due on your eligible federal student loans after you have made 120 payments. The program is only available with certain repayment plans, and you must be employed full time by qualified public service employers. If you meet the requirements, you can use the loan forgiveness program as a long-term method of financing graduate school.
Teacher Loan Forgiveness
If you teach full-time in a low-income school for five consecutive years, you may be eligible to have your loans forgiven up to $17,500. Visit the U.S. Department of Education's Teacher Loan Forgiveness page for details.
Income-Driven Repayment Plans
Income-Driven Repayment Plans are intended to make your federal student loan payments more manageable. Currently, the government offers multiple plans tailored to different financial circumstances. As a student financing graduate school, they can give you flexibility as you pursue your career in education.
Note: Eligibility and loan forgiveness terms may vary depending on the plan.
Tuition Assistance
Some businesses offer tuition assistance for employees. Check with your employer to see if they provide this benefit.
If you work at USC, learn more about the university's tuition assistance policy for employees.
Financial Literacy
If you are interested in enhancing your financial literacy, especially tailored to the unique challenges and opportunities faced by educators, here are a list of resources:
Guide to Personal Finance for Teachers: This resource provides a comprehensive look into budgeting, saving, and investing, offering strategies and insights tailored to educators. Explore the guide.
Car Insurance Discounts for Teachers: Some companies offer teachers discounts on auto insurance, highlighting potential savings on accidents and even coverage for school property stolen from your vehicle. View the discounts.