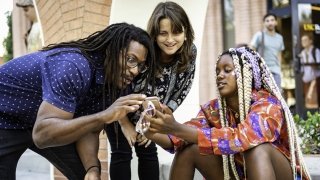 Led by world-class faculty, USC Rossier's research centers conduct cutting-edge research in several critical areas: education psychology research, higher education research and K–12 education policy research. The work of our centers is guided by a desire to positively impact educational policy and practice at all levels. 
Education Psychology Research
The USC Center for Affective Neuroscience, Development, Learning and Education (CANDLE) brings educational innovation and developmental affective neuroscience into partnership, and uses what is learned to guide the transformation of schools, policy, and the student and teacher experience for a healthier and more equitable society.
Established in 2017, the Center for Empowered Learning and Development with Technology (CELDTECH) is a transdisciplinary research center that promotes equity in digital learning and development among urban populations in formal and informal contexts. CELDTECH takes an intersectional approach to the study of learning with technology and foregrounds the nexus between students' histories, cultural assets and developmental needs.
Higher Education Research
K–12 Education Policy Research
The mission of Center on Education Policy, Equity and Governance (CEPEG) is to conduct rigorous, practice-relevant research that advances educational equity for California K–12 students—with an emphasis on greater Los Angeles—and to create partnerships that ensure education policies, practices and governance structures are guided by evidence and careful analysis.
We recognize that stakeholders' definitions of equity vary, both among CEPEG affiliates and in the education field more broadly. Our equity work at CEPEG is united by goals of addressing unjust social stratification and challenging oppressive educational beliefs, practices and structures to advance academic achievement and social-emotional development across social groups (for example by race/ethnicity, gender and social class).