Angela "Laila" Hasan
Professor of Clinical Education
Education
PhD, University of California, Los Angeles
Expertise
School Policy • Parental Involvement
Download CV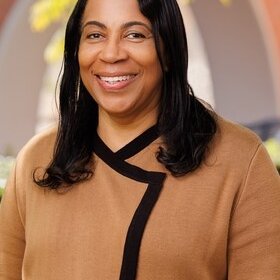 Contact Information
Websites and Social Media
Bio
Dr. Laila Hasan has committed her professional career as a secondary educator for 15 years. In addition, she has directed the Mathematics Educator Leadership Institute programs for eight years, which supported teacher leadership in Los Angeles County schools.Recently, Hasan served as Faculty Advisor in the UCLA Teacher Education Program.
She started her career teaching math and science in the middle schools. It did not take long before Hasan's desire to share her work with other teachers led to her to the post of Associate Director for the UCLA Mathematics Project.
Hasan has been a pioneer in the development and implementation of effective research-based parent involvement programs in Los Angeles urban schools. As a secondary teacher, Laila created family-based math literacy workshops to engage parents and students in the curriculum. These initial experiences with families provided the foundation for her to become the Director of the UCLA Parent Curriculum Project for more than nine years.
Hasan's recent research interest focus involves looking at the cross-section of family, teacher and student engagement in the experiential learning of mathematics in public spaces. She is currently working with the Algebra Project located at Crenshaw High School, Franklin High School and Academia Avance schools in Los Angeles.
In addition to teaching in the MAT program, Hasan is involved in two projects funded by corporate foundations that support the USC Family of Schools and is managed in conjunction with the Rossier Office of Professional Development Programs. The first is a Hybrid Algebra Laboratory (funded by the Boeing Foundation). This is an online resource center for Algebra One teachers from Manuel Arts, Foshay and 32nd Street School. In a peer-to-peer learning approach, the teachers are guided by Hasan to learn theory and how to apply it to their students. Hasan is also part of the STEM Lab funded by the Toyota Foundation. Eight of the Family of Schools have teachers involved in an online learning experience that provides them resources and guidance to improve science and math learning through a series of lessons put into action with feedback, coaching and instruction.