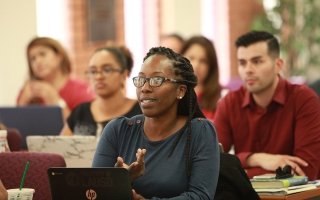 Doctor of Education in Educational Leadership
This program is designed for working professionals with leadership experience who desire to lead K-12 schools, universities, community colleges or other educational organizations
For decades, educational systems have not been able to transform themselves to meet the needs of all students. Drawing on the principles of equity and social justice, build your capacity to lead change in ways that will improve academic opportunities and outcomes for all students.
Apply
Program Overview
The Doctor of Education in Educational Leadership (EDL) program prepares you to become a critically conscious leader with the skills to think strategically, understand and apply evidence-based research, develop strategies to create equity, and foster continuous organizational improvement. The program offers four concentrations: educational psychology, higher education administration, K-12 leadership in urban education and leading instructional change. 
Through this program, you will:
Earn a doctorate from a program with a strong reputation among employers.
Continue to work full time while taking one evening of classes per week for most of the program.
Learn alongside a cohort of experienced professionals with diverse career backgrounds.
Become equipped to address critical issues in communities that serve historically marginalized groups.
Curriculum
The Doctor of Education in Educational Leadership (EDL) program will equip you with knowledge and skills in six core competencies:
Accountability
Critical reflection
Diversity and equity
Ethics
Learning organizations
Research and data
In the first year of the program, you will complete core courses that reflect USC Rossier's mission and the program purpose. These courses focus on developing or deepening your understanding of the way power and privilege play out in education, leadership and learning to perpetuate inequities in learning opportunities. Subsequent coursework will build on this foundation and align with your career objectives. Each concentration will expose you to context-specific best practices and research while emphasizing the application of theory to practice.
| Component | Courses | Purpose |
| --- | --- | --- |
| Core courses | 6 | Acquire broad knowledge of the USC Rossier mission, program purpose and program competencies. |
| Concentration courses | 4 | Gain in-depth understanding specific to your career goals and develop inquiry skills to be used in the dissertation in practice. |
| Research methods courses | 2 | Understand how quantitative and qualitative research tools are used in educational research and learn to critique and design research studies. |
| Dissertation in practice | 3 | Conduct action-oriented research to solve a problem of practice. |
Concentrations
Each concentration path consists of four courses and a dissertation in practice in a concentration-specific format. You will complete your dissertation under the guidance of a faculty member within your concentration. You must have career experience relevant to the concentration to which you apply.
The educational psychology concentration* focuses on research and practice in the areas of learning, motivation and development in diverse social contexts. Courses in the concentration explore how people learn, what motivates them, which instructional and motivational strategies are most effective within varied cultural systems and how the social context of instruction affects learning.

*The educational psychology concentration does not meet the requirements for licensure as an educational psychologist.

Recommended career background for this concentration: Professional in K-12, higher education, or counseling, special education, social services, instructional technology, non-profit organizations, or other non-traditional educational settings.
Dissertation in practice: Study an existing problem of practice and complete a five-chapter dissertation or design curriculum to address an existing problem of practice.
Career outcomes: The educational psychology concentration prepares you for employment in areas such as instructional design, human performance personnel, school/community counseling and more.
Alumni have held positions such as:
Innovation program manager, Applied Materials
Managing director, school performance accountability and research, California Charter Schools Association
Dean of innovation, The Derryfield School
Vice president of education, Fusion Education Group
 
The higher education administration concentration focuses on administrative theory and best practices for leading higher education institutions. Courses in the concentration address policy, economic issues, assessment, student learning and the history and major philosophical assumptions that undergird the system of higher education.
Recommended career background for this concentration: Professional in higher education administration at a two- or four-year college or university (including student, academic and administrative affairs) or secondary and postsecondary college advising.
Dissertation in practice: Study an existing problem of practice and complete a traditional five-chapter dissertation.
Career outcomes: The higher education administration concentration prepares you for employment in senior administration in two- and four-year colleges, academic executive positions, key leadership roles in education-related organizations, and more.
Alumni have held positions such as:
Associate dean of students and director, Stanford University
Executive director, undergraduate advising and programs, School of Business, George Washington University
Director of intercollegiate athletics, California State University, Northridge
Vice president for student affairs and dean of students, University of Texas, Austin
The K-12 leadership concentration will prepare you to become a leader in classrooms, schools or school districts. The courses help develop an understanding of how to create high-performing schools that address the diverse needs of all students regardless of school setting. The course sequence culminates in either EDUC 720: Leadership for Principals or EDUC 721: Leadership for Superintendents, an integrated composite of effective leadership practices that result in more effective organizational outcomes, including increased student achievement.
Recommended career background for this concentration:
Teacher, administrator or education professional in PK-12 education at the local, state and federal levels.
Dissertation in practice: Study an existing problem of practice and complete a traditional five-chapter dissertation.
Career Outcomes: The K-12 leadership concentration prepares you for employment as an educational leader in the K-12 field. This includes school site leadership, district leadership and systems leadership. Roles include teacher leaders, district office leaders, superintendents and CEOs of independent schools and charter schools.
Alumni have held positions such as:
Superintendent, Covina-Valley Unified School District
Director of community partnerships, Long Beach Unified School District
Chief innovation officer, National Catholic Educational Association (NCEA)
Superintendent, Garden Grove Unified School District
 
The leading instructional change concentration focuses on theories, practices and policies supporting curriculum and instruction that foster equitable educational opportunities for students from historically marginalized groups in urban PK-12 and higher education settings. This concentration is designed for individuals interested in leading and teaching teachers (pre- and in-service) and faculty (higher ed) so that they are prepared to provide their students with high-quality instruction that is anti-racist, culturally relevant and LGBTQ+ inclusive.
Recommended career background for this concentration: Teacher or administrator in PK-12 or higher education, instructional leader or designer, curriculum developer or professional in non-traditional educational settings.
Dissertation in practice: Conduct action or participatory action research addressing the relationship between leadership and instructional improvement in PK-20 educational settings and complete a non-traditional written product (not a five-chapter dissertation) and public presentation.
 
Career outcomes: The leading instructional change program prepares you for positions such as university faculty member, professional development specialist, curriculum developer/administrator and more.
 
Alumni have held positions such as:
Director, metrics and LCAP, Azusa Unified School District
Director, student support and intervention, Antelope Valley Union High School District
Senior director of teaching and learning, Los Angeles Education Partnership
 
Dissertation in Practice
The dissertation in practice is a doctoral dissertation with a more practical focus than a traditional dissertation. Under the guidance of faculty in your concentration, you will apply relevant research methods to tackle a problem of practice that impedes access to equitable educational opportunities and outcomes. The purpose of the dissertation in practice is to equip you with the knowledge and skills you will use to address existing problems in your workplace well beyond your completion of the program. Format options for the dissertation in practice vary by concentration.
Scholarships
As an applicant, you will be automatically considered for limited, merit-based scholarships of $10,000. There is no need to submit a separate application for this scholarship. Recipients are selected based on academic achievement, demonstrated dedication to the USC Rossier mission and other distinguishing characteristics. All USC Rossier scholarships are awarded at the time of admission.
View USC Rossier's scholarship finder to identify other scholarships and funding opportunities. You do not have to be admitted to apply to these scholarships. Carefully note the scholarship application deadlines, which may occur before the final program application deadline.
Financial Aid
The USC Office of Student Financial Services provides information regarding student accounts, tuition payment plans, campus-based loans, payment options and tax credits.
To be considered for financial aid, you must apply by filing the FAFSA. After you apply, the financial aid office will determine your financial need and inform you of the federal or private loans that are available to you.
Program Details
Degree Awarded
Doctor of Education (EdD)
Program Cost
$2,244 per unit (estimated)
Class Times
Prior to the dissertation phase, students are assigned to one evening of classes per week on Tuesday, Wednesday or Thursday from 5:00 to 9:50 p.m.
Faculty
Our professors are top practitioners dedicated to supporting your growth and challenging your perspective.
Meet Our Student Ambassadors
Our student ambassadors can provide you with helpful insight through the lens of their own experiences. Connect with a student of your choice by email, and set up a time to talk.
Program Outcomes
80+ Sitting superintendent alumni
95%
of EDL alumni said their USC Rossier education prepared them to be more effective in their career
89%
of EDL alumni said their studies at USC Rossier prepared them well for future employment
90%
of EDL alumni said their studies at USC Rossier prepared them to understand research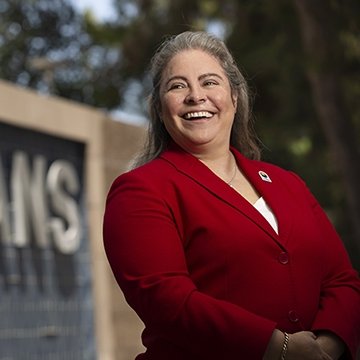 "My time at USC was invaluable, I enjoyed the program and the world-class faculty that assisted me in honing my skills as a practitioner-scholar."
Tonantzin Oseguera, EdD '13
Higher Ed Concentration Vice President for Student Affairs California State University Fullerton
"It was always a dream of mine to be a part of the University of Southern California. The doctoral program was second to none, and the connections you make will impact your career forever. My goal is to be a Superintendent, and with my doctorate, it will open doors for me to accomplish that goal. The Trojan Family is real, and we definitely take care of our own. I am proud to have earned a doctorate from the greatest University in the world."
Henry (Kenny) Torres, EdD '21
K-12 Concentration Principal, Santiago High School Corona-Norco Unified School District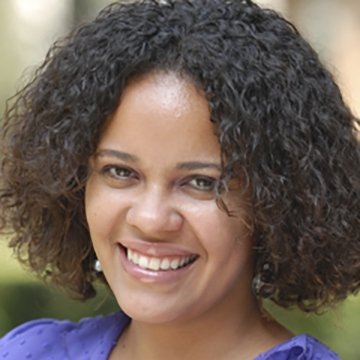 "The EdD program taught me how to take in information that I am learning, but also how to narrow it down to manageable bites that I can use to teach others."
Juliana Calhoun, EdD '17, MMFT, PPS
Educational Psychology Concentration Assistant Director/Learning Specialist, USC Kortschak Center for Learning and Creativity Assistant Adjunct Professor, USC Rossier School of Education
Featured Research Centers
Established in 2017, the Center for Education, Identity and Social Justice has a compelling interest in eradicating all forms of discrimination based on the intersection of an individual's identities that include religion, gender, sexual orientation, race, ethnicity and disability. Using rigorous research and legal analysis, we empower educators to utilize laws and policies in order to identify and extricate bias and unequal distributions of power within educational institutions.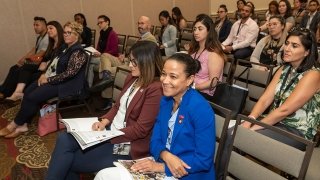 Is an EdD worth it? Leaders share insights and experiences
Those wondering if an EdD is worth it often want to make a positive impact while advancing their career. A doctoral degree in education can be an effective way to land leadership positions in K–12 schools, higher education and other industries as well. Because doctoral programs require rigorous study and professional experience, an EdD represents the highest level of preparation for many roles in education and related fields. 
Learn more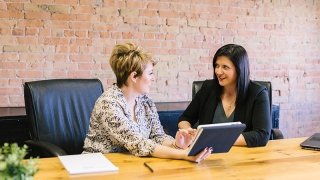 PhD vs. EdD in education: nine expert tips to help you choose
If you want to elevate your career in education, an advanced degree can open the door to more job opportunities. Many schools offer graduate programs in education, but before you go down a rabbit hole of research, first decide if you want to get a PhD or EdD degree.
Read more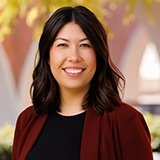 Callah Darmali
Associate Director, Office of Admission and Scholarships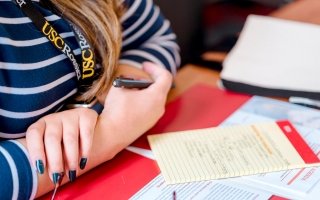 Request More Information
Connect with us to receive more information about this program and reminders about upcoming events and application deadlines.