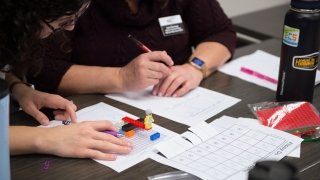 USC Rossier has been an integral part of the Los Angeles community since our founding as a department of pedagogy at the University of Southern California in 1896. USC Rossier is proud to work with and in our city to advance educational equity.
Where We Work
Along with our many alumni who work in Los Angeles as educators, counselors and administrators, USC Rossier and our research centers work throughout the Greater Los Angeles area to improve education in our unique urban setting.
Our Partnerships
In addition to the organizations that support programs and research across our school, we have a number of ongoing partnerships with local and national organizations that focus specifically on education in Los Angeles:
Established by USC Rossier in 2012 and now independently operated, Ednovate oversees five charter high schools in the greater Los Angeles area, including USC Hybrid High School, founded by USC Rossier in 2012.
Jumpstart helps close opportunity gaps by providing high quality language and literacy education to preschool students in low-income communities. USC students are trained as teachers and reading partners, and spend 8-12 hours a week in team settings to implement a rich curriculum and engage local families and community leaders to invest in early childhood education.
The Los Angeles Unified School District is the second-largest school district in the United States, and the second-largest employer in Los Angeles County. LAUSD has also been an invaluable partner, including through the placement of our student teachers at more than 50 LAUSD schools and giving USC Rossier scholars the necessary access to do research with consequence. In 2021, USC Rossier announced a new partnership with LAUSD to offer a teacher preparation program designed to support urban school districts in Los Angeles while advancing the careers of teachers.
LAUSD and other nearby districts' schools have also been vital partners in bringing USC Rossier programs like College Access Day, I AM Mentoring and SummerTIME to students throughout the region.
The Math for America Los Angeles model is changing the landscape of mathematics teaching and learning. MƒA finds the best mathematics teachers, creates opportunities for their professional and intellectual growth and sustains them in their teaching careers. Within the MƒA community, they share knowledge, advance teaching skills and define excellence itself—which means they can enjoy dynamic, interesting and challenging careers without leaving the classroom.
The USC College Advising Corps places recent college graduates in high schools to serve as full-time College Advisers for two years. These College Advisers become mentors within the school setting, and are often the key resource for students to access and persist in their education beyond high school.