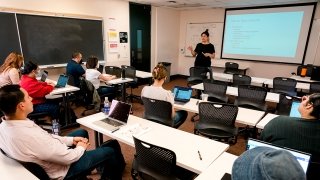 Four ideas frame the work of the faculty in the USC Rossier School of Education:
The importance of research having an impact;
The centrality of innovation in research and in the education sector;
The ability to transgress disciplinary boundaries; and
The significance of collaboration.
USC Rossier faculty are heavily engaged in research that helps shape state and federal public policy.  We work closely with the second largest school district in the United States—the Los Angeles Unified School District. We are involved in long-term collaborative efforts with schools, community colleges, postsecondary institutions and community-based organizations. Our intent is to create research of consequence and to develop intellectuals prepared for faculty and administrative positions in an increasingly complex world.
The mission of the USC Rossier School is to prepare leaders to achieve educational equity through practice, research and policy. We work to improve learning opportunities and outcomes in urban settings and to address disparities that affect historically marginalized groups. We teach our students to value and respect the cultural context of the communities in which they work and to interrogate the systems of power that shape policies and practices. Through innovative thinking and research, we strive to solve the most intractable educational problems.
Tenure Track Positions
No open positions at this time.
RTPC (Previously known as Non-Tenure Track) Positions
No open positions at this time.
Adjunct Positions
These can be found on the USC Jobs website.
Postdoctoral Positions
USC Postdoctoral Opportunities
Academic Programs
The USC Rossier School offers a range of academic programs that prepare students to start and advance careers as teachers, educational leaders, counselors and scholars. All programs offer exceptional academic preparation that reflects our guiding principles of Leadership, Learning, Accountability, and Diversity.
Equal Opportunity in Employment
The University of Southern California strongly values diversity and is committed to equal opportunity in employment. Women and men, and members of all racial and ethnic groups, people with disabilities and veterans are encouraged to apply.