As a graduate of the USC Rossier School of Education, you are part of a supportive community committed to your success. From the USC Rossier Career Network  to the wide range of alumni engagement opportunities and professional development resources, our mission is to help alumni develop stronger relationships with each other, USC Rossier and USC.
With that goal in mind, we encourage you to connect with us on popular social media platforms, share professional and personal updates with us, attend events and volunteer to help advance the mission of USC Rossier.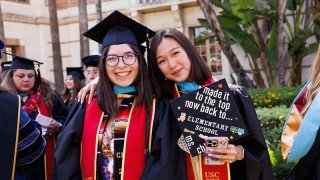 Stay Connected with the USC Alumni Association
The USC Alumni Association's mission is to support the overall advancement of the University of Southern California by engaging all alumni for life, building a culture of philanthropy among the Trojan Family, and being the representative voice for all USC alumni.
Get involved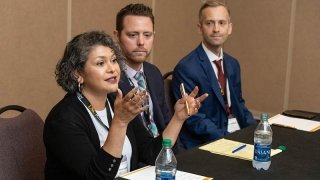 Update Your Information
Keep USC Rossier up to date on the latest in your life so we don't lose touch. 
Update your info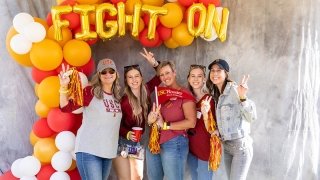 Annual Events
USC Rossier hosts a number of events for alumni each year. These include:
 
Homecoming Picnic
Rossier on the Road
View upcoming events
Launched in Spring 2017, the USC Rossier Career Network is an online networking and mentoring platform designed to facilitate meaningful connections within the USC Rossier Family. The platform is open to students, alumni, faculty and staff.
Platform benefits include:
Search the network for alumni based on experience, location, expertise and areas they have indicated they are willing to provide assistance
Join groups based on different sectors within the education industry to focus your networking efforts
Connect directly with other alumni via the messaging platform and use the built-in video chat feature to conduct your meeting.
Ask questions and get expert advice via the discussions feature. You can also provide advice by answering a question.
View job opportunities posted by network members and immediately see other network members currently working at a specific employer. Looking to hire a fellow Trojan? Post your opportunity on the network.
Learn about upcoming USC Rossier events as well as career-enhancing events hosted by other organizations
Explore career-enhancing resources
Join the USC Rossier Career Network today and start tapping into the Trojan Network!
USC Rossier Career Resources
Career Management 101 provides information and resources on Job Search Strategy, Resumes, Cover Letters, Interviewing and Networking.
connectRossier is USC Rossier's career management system which features job postings.
The USC Rossier Roundup is an email digest produced twice monthly featuring current articles on issues impacting various segments within the field of education.
USC Career Center
The USC Career Center provides career development services and resources for alumni of all degree programs.
The USC Rossier Office of Professional Development
The USC Rossier Office of Professional Development provides a variety of programs that are designed to meet the continuing learning needs of practitioners and academics in all fields of education including K-12 and higher education.
Post Jobs
Reach both the USC Rossier population and/or the entire USC alumni population by posting employment opportunities on connectRossier, our free job posting service.