Maria G. Ott
Professor of Clinical Education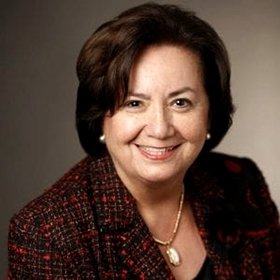 Contact Information
Websites and Social Media
Bio
Maria Gutierrez Ott, PhD, holds the Irving R. and Virginia A. Melbo Chair in Education Administration at the USC Rossier School of Education. In addition to her years as a classroom teacher and site and central office administrator, Dr. Ott served more than 40 years as an educator in K-12 urban systems. That includes, fourteen years as a superintendent and five years as senior deputy superintendent of the Los Angeles Unified School District. Her transition to higher education was an opportunity to apply her experiences to the preparation of leaders for school systems, colleges and universities, and other organizations.
Ott designed and launched the USC Rossier Urban Superintendents Academy in 2015 in partnership with AASA to prepare diverse and equity-minded leaders for K-12 system leadership.  She serves as a member of the Association of Latino Administrators and Superintendents (ALAS) Board of Directors to promote the goal of advancing diverse leaders who work to close opportunity and achievement gaps for Latino and youth of color.  She was honored with the 2021-2022 ALAS Lifetime Achievement Award and received the USC Rossier Dean's Superintendents Advisory Group (DSAG) Achievement Award in 2017.  Ott is recognized for her leadership and advocacy for bilingual education and programs for English language learners, leadership development for women, and public-private partnerships in education.  She is a founding member of the California Association of Latino Superintendents and Administrators (CALSA).
Her work on cultural proficiency is detailed in her books,  A Culturally Proficient Society Begins in School:  Leadership for Equity (2011) and Now What? Confronting Uncomfortable Truths About Inequity in Schools (2023) with co-authors Carmella S. Franco and Darline P. Robles.  Ott has presented to national audiences on the topic of her books and continues to contribute to the educational literature about the importance of cultural proficiency in closing achievement gaps.  She is a member of the Ethical Educators Panel for AASA's School Administrator Magazine and contributes ethical advice in response to real cases encountered by superintendents in their school districts.
Awards and Grants
1983 Nominated for Outstanding Principal, Los Angeles Chamber of Commerce
1985 Selected as Title VII Fellow
1988 Received AEOE Outstanding Administrator Award
1995 AMAE Homenaje a la Mujer Recipient
National Annenberg Superintendent Fellow, 1996 - 2000
2001 Lamplighter in Education Recognition, Mount St. Mary's College
2002 Distinguished Educator, California State University, Los Angeles
2003 Educational Leadership Award, Council of Mexican American Administrators
2003 Hispanic Woman of the Year Award, Mexican American Opportunity Foundation
2004 ROSE Award, University of Southern California
2005 Distinguished Alumni Award, Mount St. Mary's College
2007 Mujeres Destacadas Award, La Opinion Newspaper
2008 Administrator of the Year Award, Puente Hills CABE
2009 Administrator of the Year Award, State of California CABE
2017 Lifetime Membership bestowed by California Association Latino Superintendents and Administrators (CALSA) in recognition of role as past president for dedication and commitment to CALSA
2017 USC Rossier Dean's Superintendents Advisory Group (DSAG) Achievement Award
2021 ALAS Lifetime Achievement Award
2022 Appointment as Irving R. and Virginia A. Melbo Chair in Education Administration