Akilah Lyons-Moore
Assistant Professor of Clinical Education
Education
EdD, USC Rossier School of Education 
MAT, USC Rossier School of Education 
BA, Public Policy Occidental College
Expertise
Teacher Education, Culturally Responsive, Inclusive, Critical Pedagogies, Secondary History-Social Science Pedagogy & Curriculum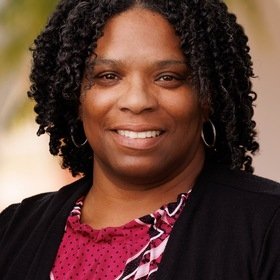 Contact Information
Bio
Dr. Akilah Lyons-Moore is an Assistant Professor of Clinical Education at USC Rossier School of Education with over 17 years of professional experience in public school education as a former charter high school administrator and district high school history-social science teacher. Blending her professional and academic experiences since joining Rossier in 2018, Dr. Lyons-Moore is passionate about how theories of learning, cultural knowledges, and critical pedagogies equip teachers with the skills and attitudes to serve historically underserved students and students of color. Dr. Lyons-Moore is also especially interested in the experiences of Black teachers and the retention of teachers of color. 
Dr. Lyons-Moore teaches in the Master of Arts in Teaching (MAT) program as well as the Leading Instructional Change concentration of Doctor of Education in Leadership (Ed.D.) program. She also leads several courses in the MAT program and has served on different school and university level committees. 
Prior to entering the education field, Dr. Lyons-Moore worked in the non-profit sector as a director of a community organization in Pacoima and grassroots organizer in South Los Angeles. Dr. Lyons-Moore grew up in Pacoima, CA, and received both her Ed.D. (2014) and MAT (2010) from USC Rossier School of Education, her BA in Public Policy from Occidental College as a James Irvine Scholar and was educated in the Los Angeles Unified School District.
Courses Taught
Master of Arts in Teaching
EDUC 670: Introduction to Curriculum & Pedagogy in Urban Secondary Schools
EDUC 671:  Contexts for Education Equity, Access, and Agency
EDUC 673: Applications of Curriculum and Pedagogy for Secondary Social Science Candidates, Part A
EDUC 677: Applications of Curriculum and Pedagogy for Secondary Social Science Candidates, Part B
Doctor of Education in Educational Leadership, Leading Instructional Change Concentration
EDUE 722:  Leading Transformational Learning
EDUE 724:  Culturally Responsive Instructional Leadership