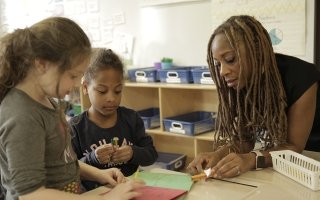 Master of Arts in Teaching (online)
This program is designed for aspiring teachers who want to teach in California K-12 classrooms and have not obtained a teaching credential.
If you're ready to change lives as a teacher, the Master of Arts in Teaching online (MAT online) program will equip you with the theories, principles and skills you need to make a meaningful difference. Our emphasis on high-needs schools will prepare you to leave the program ready to challenge norms and build inclusive communities in any educational setting.
Apply
Program Overview
The Master of Arts in Teaching online (MAT online) program will allow you to earn your master's degree and complete the requirements to be recommended for a California preliminary teaching credential. 
Through this program you will:
Earn a teaching degree from a school with a strong reputation among employers
Take classes online from any location
Be mentored by a guiding teacher
Have the option to complete the requirements for an Education Specialist credential or other authorizations and certificates
Curriculum
The MAT program meets credential program standards and teacher performance expectations set by the California Commission on Teacher Credentialing (CTC). The program also includes preparation for the English Learner Authorization and Education Specialist credential*, which includes the additional autism authorization.
*Additional exams and student teaching are required to obtain the Education Specialist credential.
Online Learning Experience
The online learning experience blends interaction with fellow students and faculty during scheduled weekly live class sessions and content experiences and coursework assignments completed on your own time. Live class sessions are facilitated by faculty and include interactive, engaging and collaborative discussions.
Student Teaching
As a student, you will complete student teaching that is integrated with your coursework, allowing you to immediately apply the strategies learned in your courses. USC Rossier's unique approach to student teaching provides:
Gradual student teaching responsibility 
Mentoring relationships with experienced teachers
A placement site aligned with your career goals
Collaborative feedback and support from your peers and professors
Beginning in the second semester of the program, you will complete student teaching four full days a week (minimum of 28 hours per week) at a placement site near where you live. Your school placement will be during regular school hours. 
Primary Credential Track
Apply to one primary credential track based on what you would like to teach:
Additional Options
You can increase your competitiveness in the job market by completing the requirements for additional credentials, authorizations and certificates. You will declare Additional Pathways when you apply to the program.
Education Specialist credential 
Prepare to work with students with mild to moderate learning disabilities in K-12 grade settings. The coursework requirements for this credential are integrated with the curriculum, but you must complete additional exams and student teaching to be recommended for this credential.
 
Bilingual Authorization in Spanish
Prepare to teach K-12 grade language learners whose primary language is Spanish. Provides the option to teach in either bilingual settings or in English dominant settings with learners whose primary language is Spanish. You must demonstrate fluency in Spanish and complete additional student teaching to pursue this authorization. Learn more about a California Bilingual Authorization.
USC Gifted Education Certificate
Prepare to recognize and respond to the potential, interests and abilities of gifted and advanced PreK-12 grade learners from diverse backgrounds. Learn to design and provide an appropriate curriculum for each learner. Requires the addition of a four-unit course during the summer session.
 
Teaching Credential Requirements
To be recommended for a preliminary teaching credential, you must satisfy a series of requirements established by the California Commission on Teacher Credentialing (CTC). These requirements must be completed before and during your time in the program. All students, including those residing outside of California, must complete the California requirements. 
To apply to USC Rossier, you must submit official documentation that you have satisfied the CTC basic skills requirement by way of an approved option. To be eligible to register for classes at USC Rossier, you must submit official documentation that you have satisfied the CTC subject matter requirement by way of an approved option. 
After you have completed the program and all credential requirements, USC Rossier will formally recommend qualified candidates to the CTC for a preliminary credential.  If you plan to work in another state, contact the state directly to identify any alternate requirements.
Scholarships
As an applicant, you will be automatically considered for a $5,000 scholarship. There is no need to submit a separate application for this scholarship. Recipients are selected based on academic achievement, demonstrated dedication to the USC Rossier mission and other distinguishing characteristics. All USC scholarships are awarded at the time of admission.
View USC Rossier's scholarship finder to identify other scholarships and funding opportunities. You do not have to be admitted to apply to these scholarships. Carefully note the scholarship application deadlines, which may occur before the final program application deadline.
Financial Aid
The USC Office of Student Financial Aid provides information regarding various types of financial aid and financing options.
To be considered for financial aid, you must apply for the FAFSA. After you apply, the financial aid office will determine your financial need and inform you of the federal or private loans that are available to you.
Career Outcomes
Graduates of the MAT online program are prepared to fill roles as classroom teachers. Less traditional career paths may include:
Substitute Teacher
Correctional Center Teacher
Online Instructor
Tutor
Athletic Coach 
English as a Second Language (ESL) instructor 
Program Details
Degree Awarded
Master of Arts in Teaching (MAT)
Program Cost
$2,201 per unit (estimated)
Start Date
January, June, and August
Class Times
Various times during the week (mostly evenings classes during student teaching).
Faculty
Many of our professors are former teachers who can share practical experience from years in the classroom.