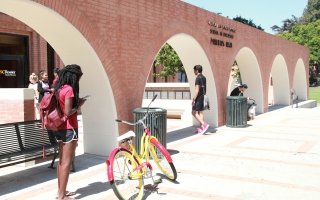 Master of Arts in Teaching (MAT) Progressive Degree
This program is designed for USC undergraduate students with at least 64 completed units (typically undergraduate juniors) who want to begin completing the requirements for the Master of Arts in Teaching (MAT) degree while also completing the requirements for a bachelor's degree.
If your future plans include changing lives as a teacher, get started now to equip yourself with the theories, principles and skills you need to make a meaningful difference.
 
Program Overview
Through the MAT progressive degree, you can fast track the completion of both your undergraduate degree and Master of Arts in Teaching (MAT) degree. The Master of Arts in Teaching (MAT) program will allow you to complete the requirements to be recommended for a California preliminary teaching credential. The program also includes preparation for the English Language Learner Authorization and Education Specialist Credential,* which includes the additional autism authorization.
*Additional exams and student teaching are required to obtain the Education Specialist credential
Familiarize yourself with the Master of Arts in Teaching program, including the curriculum, cost of attendance, credential tracks and credential requirements, prior to applying to the progressive degree. Progressive degree students are not able to enroll in the Master of Arts in Teaching online (MAT online) program through the progressive degree. 
USC Rossier Minor Pathway
If you enroll in one of USC Rossier's minor programs while an undergraduate student, you can waive courses in the Master of Arts in Teaching (MAT) program with courses completed in the minor. 
Minor in Education and Society 
Courses completed in the Minor in Education and Society
Waived courses in the MAT program 
EDUC 422: Education and Social Change in the Education and Society minor (4 units)
EDUC 671: Contexts for Educational Equity, Access and Agency (3 units)
EDUC 423: Unrealized Promise and Hope for Education in the 21st Century in the Education and Society minor (4 units)
EDUC 672: Integrated Language and Literacy Development Across the Curriculum (3 units)
EDUC 679: Blended Learning Experiences for Students in Urban Schools (2 units)
Minor in Dynamics of Early Childhood
Traditional Pathway 
If you apply to a progressive degree program without prior coursework in a USC Rossier minor, you will need to complete all required coursework for the MAT degree. However, as a progressive degree student, you will begin MAT program coursework prior to completing your undergraduate degree.
Financial Aid
Progressive degree students are classified as undergraduate students until their undergraduate degree is conferred or they complete 144 units, whichever comes first. Review the USC Financial Aid webpage about progressive degree programs and contact USC Financial Aid with questions about progressive degree programs and your unique financial situation.
Scholarships
Use USC Rossier's scholarship finder to identify external scholarships and funding opportunities. You do not have to be admitted to apply to these scholarships. Carefully note the scholarship application deadlines, which may occur before the program application deadline.
Admission Information
Note regarding felonies and misdemeanors: To obtain a teaching credential, the California Commission on Teacher Credentialing (CTC) requires credential applicants to disclose convictions of a felony or misdemeanor. While a felony or misdemeanor will not necessarily prevent you from being admitted to the program, you may not be eligible to participate in student teaching, which is a requirement of the program.
Note regarding international students: To complete teaching credential requirements, you must obtain a Social Security number (SSN) from the United States Social Security Administration. Contact the Office of International Services for assistance. 
Program Details
Degree Awarded
Master of Arts in Teaching (MAT)
Estimated Length
Contact the undergraduate program advisor to discuss your course plan
Program Cost
Varies based on your individual course plan
Next Deadline
Rolling admission with a deadline of December 1, 2022
Start Date
Master's level courses begin in the summer between your junior and senior year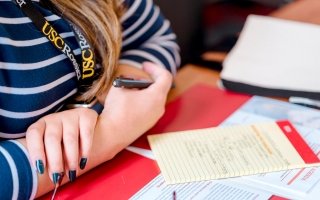 Request More Information
Connect with us to receive more information about this program and reminders about upcoming events and application deadlines.