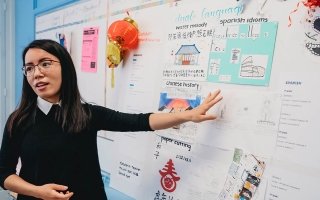 Master of Arts in Teaching — Teaching English to Speakers of Other Languages
This program is designed for aspiring or current teachers who want to teach English and other languages to learners from elementary to university in a variety of educational settings in the United States or internationally.
Language educators are in demand across the world, providing exciting intercultural opportunities in the United States and abroad. Prepare to become an equity-minded language educator who embodies effective teaching, critical inquiry and social justice. 
Program Overview
The Master of Arts in Teaching — Teaching English to Speakers of Other Languages (MAT-TESOL) program will equip you to provide systematic and effective language instruction. 
Through this program, you will:
Earn a degree from a school with a strong reputation for quality education.
Study in one of the most exciting cities in the world, where more than 150 languages are spoken.
Hone your teaching skills by practicing at a school site.*
Have the option to complete the requirements for an English Language Development or Languages Other Than English teaching credential.*
Curriculum
The MAT-TESOL program curriculum meets two learning goals designed to support your understanding of important concepts and mastery of teaching skills. The purpose of the MAT-TESOL program is to develop equity-minded language educators who embody a dedication to closing opportunity gaps and addressing injustices related to languages and language learners around the world.
Goal
Objective
Transformative teaching 

Design inclusive and student-centered learning environments that are effective and engaging for every learner.
Provide language instruction that builds on the knowledge, skills, culture and experiences of each learner.
Use varied assessments and feedback to promote learning, ensure equitable outcomes and inform instruction.

Critical inquiry

Apply a variety of action research methods to understand students and their learning.
Analyze the surrounding social, cultural and political environment for ways to make learning more relevant and meaningful.
Engage in ongoing reflection on your own teaching to improve teaching effectiveness.
Clinical Practice
To support your development as a teacher, you will practice applying theories and instructional methods by conducting observations and tutoring or teaching in a variety of learning environments. Beginning in the first semester of the program, begin tutoring a language learner, while using course concepts to reflect on the experience. In the second semester, you will complete clinical practice activities under the mentorship of an experienced teacher at a school site. Your school placement will be approximately four hours a week during regular school hours.
As you film your teaching experiences and upload the videos for evaluation and discussion, you will gain supportive feedback on your practice as well as insights from faculty and classmates. You will be encouraged to take risks, try new teaching strategies and sharpen your teaching skills in a supportive environment. 
Credential Track
If you meet eligibility requirements, you may optionally pursue a California preliminary single subject teaching credential in English Language Development (ELD) or World Languages: Languages Other Than English (LOTE), which will authorize you to teach in California public schools. 
Single subject world language: English Language Development (ELD) teaching credential 
Individuals with an ELD teaching credential are qualified to teach students who are developing their English listening, speaking, reading and writing skills. The credential authorizes you to teach in K-12 California public school classrooms. 
Single subject world language: Languages other than English (LOTE) teaching credential 
Individuals with a LOTE teaching credential are qualified to teach a specific language (Mandarin, Spanish, French, etc.) as a world language in K-12 California public school classrooms.
In order to be recommended to the California Commission on Teacher Credentialing (CTC) for a California preliminary teaching credential, you must fulfill a series of requirements. These requirements include:
The basic skills and subject matter requirements (the subject matter requirement will test your fluency in the language you want to teach).
Student teaching in semesters two and three* for four full days every week. You may need to travel more than 20 miles to complete additional student teaching at an eligible site.
An additional four units and one additional semester of study.
If you plan to work in another state, contact the state directly to identify any alternate requirements.
If you are admitted, you will receive more information about how to apply to the credential track during your first semester in the program.
 
Scholarships
As an applicant, you will be automatically considered for several USC Rossier scholarships ranging from $15,000 to $20,000. There is no need to submit a separate application for these scholarships. Recipients are selected based on academic achievement, demonstrated dedication to the USC Rossier mission and other distinguishing characteristics. Priority consideration is given to those who apply in rounds one and two.
View USC Rossier's scholarship finder to identify other scholarships and funding opportunities. You do not have to be admitted to apply to these scholarships. Carefully note the scholarship application deadlines, which may occur before the final program application deadline.
Financial Aid
The USC Office of Student Financial Aid provides information regarding various types of financial aid and financing options.
To be considered for financial aid, you must apply for the FAFSA. After you apply, the financial aid office will determine your financial need and inform you of the federal or private loans that are available to you.
Review Process
Your application to USC Rossier will be evaluated using a holistic review process. Academic preparation, professional work experience, personal achievement and commitment to the USC Rossier mission are each considered. No single attribute or characteristic guarantees admission to USC Rossier.
We seek applicants who will add to our vibrant learning community and whose goals, values and experiences align with the USC Rossier mission and program goals. We adhere to the university's non-discrimination policy, and are committed to providing equal opportunity for all students.
As an applicant for this program, you will be automatically considered for limited USC Rossier scholarships, with priority consideration given to applicants who apply by the priority and regular deadlines. There is no need to submit a separate application. Recipients are selected based on academic achievement, demonstrated dedication to the USC Rossier mission and other distinguishing characteristics. All USC Rossier scholarships are awarded at the time of admission.
Career Outcomes
Graduates of the MAT-TESOL program are employed in a variety of roles, including:
International English language teacher
United States ESL teacher
College- or university-level language instructor
Private English tutor
English language program administrator
Education consultant for international students
Curriculum developer
Editor of English language materials
Online English language business developer
Foreign language teacher
Program Details
Degree Awarded
Master of Arts in Teaching (MAT), Teaching English to Speakers of Other Languages
Program Cost
$2,201 per unit (estimated)
Class Times
Various times during the day and evening, Monday through Friday
Faculty
Our professors are dedicated to supporting your growth and sharing practical experience from years in the classroom. 
Meet our Student Ambassadors
Our student ambassadors can provide you with helpful insight through the lens of their own experiences. Connect with a student of your choice by email, and set up a time to talk. 
90%
of MAT-TESOL alums said their USC Rossier education prepared them to be more effective in their career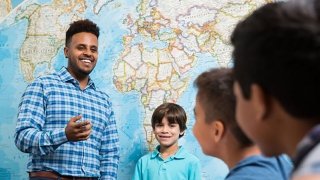 MAT degree vs. MEd degree: What's right for you?
If you're an aspiring teacher or education professional, earning a master's degree may be a smart choice. As you make up your mind about graduate school, you'll have to decide which degree to pursue: a Master of Arts in Teaching (MAT) or Master of Education (MEd). These are not the only master degrees for education professionals, but they tend to be the most popular.
Read more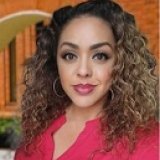 Aiddee Tellez
Assistant Director, Office of Admission and Scholarships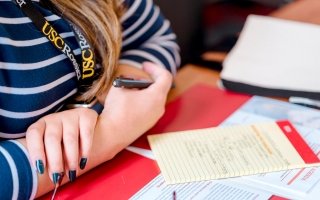 Request More Information
Connect with us to receive more information about this program and reminders about upcoming events and application deadlines.