"Where do we go from here?"
That's the question Thomas Tan EdD '09 asked when COVID-19 forced Hacienda La Puente Unified School District (HLPUSD) to switch to distance learning in March 2020. As HLPUSD's director of network and computer services, Tan had the responsibility of ensuring that the nearly 18,000 students in his San Gabriel Valley school district had laptops, Wi-Fi hotspots and the know-how to attend classes remotely.
The shift in his job when classes went online "was almost night and day," says Tan, who began his career in Ontario-Montclair School District's Instructional Services Division in 1992. Before the pandemic, Tan spent his time working to acquire laptops for each youth in the district, helping school faculty use technology to improve teaching methods and supporting district initiatives such as New Pedagogies for Deep Learning, which draws on technology to implement academic goals. After the coronavirus crisis, he worked closely with HLPUSD's business, human resources and instructional divisions to provide distance learning for students.
But first, he took a moment to recover from the initial shock of the lockdown. "You turn on the news … and it doesn't look very good; it doesn't look like there's a way out," Tan recalls. "Meanwhile, kids are all at home, so parents are wondering what's going on."
Tan and his 28-member team rallied quickly, surveying families shortly after school closed in mid-March 2020 to determine which households lacked laptops and hotspots. In addition to communicating with families via social media and a website that answered common questions about distance learning, Tan established a help desk they could call for direct technological support. Just before summer 2020, he streamlined the remote-learning experience for students by creating a single sign-on to access various instructional programs and classroom tools.
"A big challenge for people who are trying to manage technology for a district or a school site is that they're now having to take into account the varying resources and situations in students' homes," says Corinne Hyde, an associate (teaching) professor of clinical education at USC Rossier. "You're now dealing with a lot of inequity, potentially, in terms of whether students even have high-speed internet access to be able to use these devices in their own spaces."
For his efforts to narrow the digital divide in his district, Tan won the 2021 Technology Administrator of the Year award from the Association of California School Administrators (ACSA) in April. He calls the honor a surprise and stresses that his colleagues deserve the honor as much as he does for helping to bring his ideas to fruition.
"In education, we are dealers in hope," Tan says. "The principals, the bus drivers, the food-services people, the finance people—it sounds cliche, but we're all in this together. It helps give you strength [when you're considering that] thousands of children and families are depending on us. That's a pretty noble purpose. So, we relied on each other to have that central vision of hope, and then just got in there and took action one day at a time."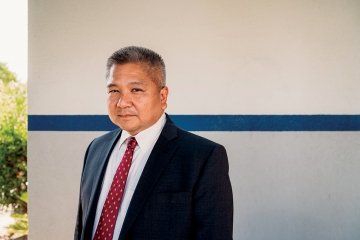 School technology leaders such as Tan and Jennifer Burks EdD '18, associate superintendent of technology and innovation at Poway Unified School District, never predicted that a pandemic would uproot students from classrooms. But well before COVID-19, these administrators spent years building up their technology programs, allowing them to quickly respond to students' needs and implement new services when the crisis moved school online. In fact, some of the resources students received during quarantine, including access to hotspots, laptops and virtual classes, will remain options beyond the pandemic. As the coronavirus ushers in a new era, school technology leaders are adapting education with the goal of making it equitable, accessible and family-oriented.
A virtual edge
Tan may not have predicted the pandemic, but when the lockdown began, his school district already had a distinct edge over others: laptops for every student.
"We had one-to-one equipment that we could deploy, so we were in much better shape than other places, because overnight there was an instant shortage of computer laptops," he says.
In 2019, the district acquired the laptops, which Tan says are as important for students to have today as pencils once were. Much of the curriculum requires students to go online. "It was the next natural thing," Tan says. "We had computer labs, but that's not the same as a child in the classroom having their own laptop that they can use."
As distance learning began, district staff set up times each weekday when families could pick up a laptop. Tan also arranged for 3,500 hotspots to be distributed to households without internet connections. A partnership between the Los Angeles County Office of Education and Verizon to offer hotspots, wireless internet service and filtering software at steep discounts enabled Tan to purchase the technology. Families also received user instructions and tech assistance. Parents quickly inundated the help desk, which used remote software to help walk them through problems.
"Overnight, to have thousands of parents [contacting us] and then to train them to be able to use a computer, which for some of them was a new thing—that was challenging," Tan says. "It points to one of the needs going forward: We need to have parents become more technologically savvy or at least know how to use the computer with their kids."
Hyde says that opening up schools to the public could foster more technology literacy among community members—from parents to senior citizens. "If we can figure out what is needed by the community, maybe some supplemental classes for parents on how to access information online for their kids, then that's what we do," she says. "We just have to stop thinking about schools as these isolated sites that just happen to sit within a community. The school is part of a community."
The help desk gave Tan's team a crash course in the tech skills families lacked. Just four people in the department fielded help-desk calls, which led to lengthy wait times. (The others managed the school district's network, prepped student laptops or worked as programmers and technicians.) After families got better acquainted with the technology, the team phased out the helpline and provided as much technological support and information as it could online, Tan says. Meanwhile, teachers had access to a special hotline they could call to ensure they got timely assistance for any tech problems.
The hotline and help desk weren't the only vital resources for the HLPUSD community. By loading more than 10,000 student laptops with a universal sign-on for instructional programs, the network and computer-services department made the digital resources required for remote learning more accessible.
"One of the things I discovered a few years ago walking through classrooms was, 'Oh, my goodness, the children have to know four, five, six different passwords and logins,'" Tan says. "That's a lot even for adults. So, instead of having to know a password and login for each program, each website, we have a single sign-on. Once they're logged in to the single sign-on system, then they can access all the different programs. It's made life easier for folks, and students get the material faster."
Under Tan's leadership, the district also ramped up its communication efforts, using social media platforms and Parent Square, a districtwide communication phone system, to send out messages to families. And Superintendent Alfonso Jimenez held virtual town halls during which parents could submit questions and express concerns. Going forward, Tan says, it's imperative that the district prioritize the digital connection it established with the community during the pandemic.
"In education, we are dealers in hope. The principals, the bus drivers, the food-services people, the finance people—it sounds cliche, but we're all in this together." —Thomas Tan, EdD '09, Hacienda La Puente Unified School District director of network and computer services
"We want to leverage digital," he says. "We've got this connectivity piece now, and we're definitely not going back. The benefits are too great. We looked at our data, and it showed that teachers and students were working at night and … on the weekends. That's huge. That tells us how to restructure delivery of instruction and where to provide support."
The heavy use of devices during non-school hours indicates that students might need a helpline on days off, Tan says. It also underscores the importance of training families to give children the tech support needed to complete classwork from home.
Now that school is back in session, each classroom has one set of laptops available for students, and those who need laptops at home can access them from the district by request, Tan says. Students and teachers are using the cloud-based Canvas Learning Management System for creating lesson plans, submitting assignments and organizing classwork. Tan is also helping the district's community leverage digital technology through methods such as personalizing learning, connecting and collaborating with others, real-time assessment, and connecting families with children's learning.
"The sky's the limit for us to offer opportunities that expand the classroom, expand learning, connect to others and collaborate," Tan says. "It's a really exciting time to be around as we climb out of this COVID black hole. I think the best is yet to come. We're just warming up here."
Prepping teachers and parents
When COVID-19 led Poway Unified School District (PUSD) to suspend instruction, Jennifer Burks, associate superintendent of technology and innovation and ACSA's 2020 Technology Administrator of the Year, knew that her district was primed to make the shift. "We had been rethinking today's classroom and generation of students and their access to technology," explains the 20-year education veteran who joined PUSD in 2017. "So, when we got word that we were shutting down in the pandemic and moving towards distance learning, fortunately, we had been already moving in that direction in terms of the integration and implementation of technology for our students across schools, as well as professional development and support for teachers around the purposeful integration of technology."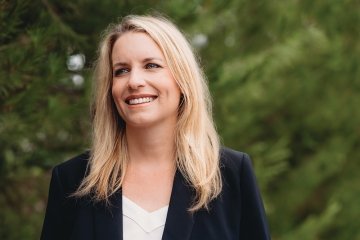 But PUSD still had to make sure all students had access to technology at home. Before the pandemic, the technology team focused on offering in-class support to students, coaching teachers and increasing grant-writing to secure technology, Burks says. When the coronavirus crisis struck, acquiring the devices needed for distance learning rapidly became the top priority. With more than 35,000 students, the San Diego-area school district is nearly twice the size of Hacienda La Puente, so every child did not start out with their own Google Chromebook. Parent surveys ultimately helped PUSD's technology and innovation staff identify which families needed this equipment and prioritize providing it for them. By summer, the district had secured one Chromebook for each student in the district, whether or not the child already owned a personal device. The staff also helped families gain internet access by directing them to providers offering low- or no-cost Wi-Fi and providing hotspots. The district didn't stop there. By prepping parents and teachers to use unfamiliar technology, the staff helped to improve the remote-learning experience for students.
"We had educational technology and innovation coaches—teachers who've moved outside of the classroom but have a passion for the integration of technology—provide professional development," Burks says. "So that we could quickly train staff, we offered a large variety of professional development to teachers around the integration of technology and the use of our learning management system, or LMS."
The professional development sessions took place shortly after schools closed in mid-March 2020. To reinforce these trainings, the district's tech staff held office hours with teachers who had follow-up questions. Faculty members who missed any of the professional development trainings, or who simply wanted to revisit the material, had the option of watching recorded webinars. By summer 2020, PUSD had purchased laptops for teachers and offered up to 15 hours of optional professional development for faculty on software tools, educational technology (EdTech) tools and virtual teaching.
The 60 tech and innovation staffers put in just as much effort in their parent outreach, setting up a tech hotline for families to call and, this year, organizing virtual academies for them. "Those were short videos for families that basically said, 'This is how you get on to our learning management system. This is how you get on to our online portal,'" Burks says. "We provided these short how-to videos for families so that they themselves felt more comfortable assisting their children." Short videos suit busy parents and guardians and quickly give them the information they need, Burks explains. Often, they eliminate the need for families to wait for a district staffer to return their call about a technology problem.
The innovative teaching, professional development support, parent videos, tech hotline and other district efforts led a number of students to flourish as distance learners, so much so that PUSD is launching its first all-virtual school this fall.
Thriving Digitally 
Giving students in grades K–8 the option to attend school remotely is a way for the district to meet the needs of a wide range of learners and to offer an alternative usually seen in charter schools and other nontraditional academic settings, Burks points out.
"We're really excited about that," she says. "We have about 500 students from our district enrolled in our new virtual school, which is called Connect Academy. [It] will be part of independent study, but we are building it as a virtual school. So, it's about having students and staff build a school community and a culture and providing opportunities in a virtual way for peers to connect. That's something that's come from the pandemic, and I do think it's … here to stay."
Although some highly publicized studies have highlighted the disadvantages of remote schooling during the pandemic, such as rising rates of learning loss and declining youth mental health, other research indicates that a statistically significant group of students prefer learning from home.
"We just have to stop thinking about schools as these isolated sites that just happen to sit within a community. The school is part of a community." —Corinne Hyde, USC Rossier associate (teaching) professor of clinical education
"My hypothesis, based on the data that I've observed, is that there's going to be much more increased demand for different kinds of flexible school modalities," says Morgan Polikoff, associate professor of education at USC Rossier. "While certainly not a majority of parents, it is a nontrivial minority of parents who really do feel like their kids had better experiences online."
Concerns over the coronavirus, gun violence and bullying all factor into parental preference for online education, according to Polikoff. A survey called "Understanding America" conducted by the USC Dornsife Center for Economic and Social Research over April and May 2021, found that 22 percent of parents (from a nationally representative sample of U.S. adults) reported that their children were just as happy learning online as they were offline, while 25 percent reported that their children were happier and doing better academically as remote students. Moreover, 10 percent of adults surveyed said that online instruction allowed them to be more involved in their children's education.
These findings indicate that the pandemic likely ushered in a new normal, one in which online education remains a long-term option for public school students, Polikoff contends. School tech leaders like Burks and Tan say they are prepared to deliver education to students in ways that help them thrive.
"We want the best for each and every learner, and we have to provide that opportunity," Burks says. As the pandemic put intense pressure on technology administrators, Tan says he stayed focused by centering the rapidly evolving needs of students.
"We couldn't just abandon the kids out there," he says. "We knew that we had something important to do, and we all believed in what we're doing. So, I think that carries us through, and has made us stronger."