What would you rather be: a White baseball player or a Black baseball player?" a fifth-grade teacher asked her students after they read a story about Jackie Robinson, the fabled Black athlete who endured years of racist abuse to break Major League Baseball's color barrier in 1947.
The teacher's principal, Patricia Brent-Sanco EdD '16, who observed the class more than a dozen years ago in the Paramount Unified School District, cringed at the thought of it. "I had to witness my students of color raise their hands and say, 'I'd rather be a White baseball player,'" Brent-Sanco recalled.
What should have been an opportunity for meaningful reflection devolved instead into a painful reminder of the challenges schools face in teaching Black history. Textbooks and curriculum standards that sanitize, oversimplify or misrepresent the hard history of slavery and civil rights struggles are a big part of the problem, but so are underprepared teachers and the institutions that support them.
"It was a wake-up call," Brent-Sanco, now the director of equity, access and instructional services in the Lynwood Unified School District, said recently.
Such moments of reckoning have exploded in the wake of the brutal killings of George Floyd, Breonna Taylor and Ahmaud Arbery at the hands of police or armed vigilantes. As their deaths continue to spark protests around the globe, many Americans are questioning why they were never taught about events such as Juneteenth, the day in 1865 when the last enslaved Black people in Texas learned they had been freed, and the 1921 massacre in Tulsa, Oklahoma, one of the nation's worst incidents of racial violence.
Other deficiencies have been exposed in studies such as a 2018 survey by the Southern Poverty Law Center's (SPLC) Teaching Tolerance project, which found that only 8 percent of high school seniors could identify slavery as the main cause of the Civil War.
Students are demanding that schools teach a more complete history of the United States that doesn't gloss over the racial inequality present since the country's founding. A petition on Change.org, "Get Real Black History Into American Schools," has more than 87,000 signatures.
"All students should know a lot more about Black history," said Assistant Professor of Clinical Education Akilah Lyons-Moore MAT '10, EdD '14, who taught history in the Antelope Valley Union High School District before joining USC Rossier's faculty in 2018.
"We are looking to provide a well-rounded education so that students see themselves in history, are powered by it and see the relevance to today's culture. That takes a lot of reeducating of adults." — William Gideon, USC Rossier EdD candidate
"It's such a foundational piece to how the country started and transformed over time," she said. "Without that knowledge, there's more than just a gap in people's knowledge but a complete denial of the factors that have brought our country to where it is today."
That denial comes in many forms, from textbooks that describe the enslaved as "workers from Africa" to President Donald Trump's assertion that there were "very fine people on both sides" of the violent clash between neo-Nazis and counterprotesters in Charlottesville, Virginia, in 2017. Historians and educators say that until Americans learn the unvarnished truth about slavery and its enduring costs—including racial disparities in income, health, academic achievement and incarceration rates—a true reckoning with racism will not be possible. "It is essential that teachers—and, therefore, their students—understand the legal dehumanization and racist beliefs created and sustained by the American slave system," Lyons-Moore said.
The effort to include Black history in the K–12 curriculum goes back to 1926, when Black scholar Carter G. Woodson successfully lobbied for Negro History Week, which later became Black History Month. His hope was that the program would become obsolete as Black history entered the mainstream social studies curriculum.
But progress has been slow and the results imperfect.
More than heroes and holidays
According to a 2015 study by the National Museum of African American History and Culture, U.S. history classrooms devote only about one or two lessons, or 8 to 9 percent of total class time, to Black history. And that instruction "is sometimes lethargic, too celebratory, and lacks complexity," LaGarrett J. King, a University of Missouri authority on Black history in the K–12 curriculum, wrote in 2017.
With no national history standards, what and how students are taught remains in the purview of states, which vary widely in their requirements. In 2014, the SPLC found that 12 states did not require any instruction on the civil rights movement. Fewer than half covered Jim Crow laws. The center gave only three states—Georgia, Louisiana and South Carolina—an A grade for their efforts. Twenty states received F's.
California was one of eight states that earned a B grade for its standards and supporting resources.
California's standards were adopted in 1998 and provide an overview of what the state considers essential knowledge in history and social studies. The framework, last updated in 2016, provides a far more detailed, grade-by-grade roadmap for curriculum and instruction. These documents guide schools to introduce Martin Luther King Jr.'s story in kindergarten in the context of learning about the national holiday named for him. In second and third grades, students learn about Harriet Tubman, the most famous "conductor" in the Underground Railroad. Fifth grade brings a deeper dive into slavery, with the framework encouraging schools to help students "use their growing sense of historical empathy to imagine, discuss, and write about how these young men and women from Africa may have felt, having been stolen from their families."
In eighth grade, teachers are encouraged to discuss resistance by enslaved people and the critical role of slavery in the politics that shaped the Constitution. The SPLC study found that California's framework "is refreshingly clear about slavery as the central cause of the Civil War."
The deepest dive into slavery comes in 11th grade. Students analyze the development of federal civil and voting rights legislation and landmark cases including Brown v. Board of Education and Regents of the University of California v. Bakke. They examine the roles of civil rights leaders including King, A. Philip Randolph, Thurgood Marshall, James Farmer and Rosa Parks.
USC Rossier PhD candidate Martin Gamboa agrees that California's standards and frameworks rate above average compared with other states' efforts. He has examined history content standards from around the country for his dissertation on how teachers' social and racial beliefs affect the implementation of the standards. He finds California's standards strong in many respects, including its emphasis on teaching with primary documents, such as King's "Letter From a Birmingham Jail." He also applauds California's recommendation that teachers note the impact of the Black civil rights movement on the drives for equality by Latinos, Asian Americans and Native Americans.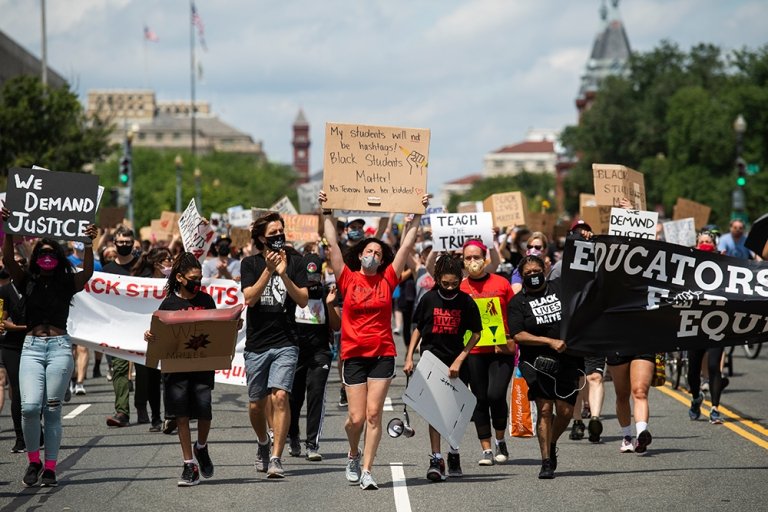 Gamboa says one way the state's guidelines could be strengthened is by incorporating discussions of White supremacy. That ideology was the primary justification for slavery and has continued to shape the course of the nation, yet it is not mentioned anywhere in California's standards or its 855-page framework. California is not alone in this neglect; according to a CBS News investigation earlier this year, only Maryland and Massachusetts cover White supremacy in their social studies standards.
Another improvement would be to place more emphasis on the role of grassroots activism in civil rights struggles. The tendency to emphasize the contributions of movement leaders and icons—sometimes described as the "heroes and holidays" approach to ethnic history—risks undercutting students' sense of personal agency, according to Gamboa.
"We got where we are by social movements of people kicking and screaming for change," he said. "If you just spotlight the leaders, it affects the way we engage in the political process. You can't be a better citizen if your notion is, 'I'll wait for the next Martin Luther King.'"
Lyons-Moore finds California's framework more valuable for teaching Black history than the content standards. The framework "has a lot of language about equity and recommendations for how to teach English language learners," she observed. In a section outlining the elements of culturally responsive teaching, it urges teachers to "learn about their students' lives and make connections between students' experiences, backgrounds, and interests and the content learning in school."
While California's guidelines on teaching Black history are impressive on numerous counts, actual teaching practices often fall short. Troubling assignments on slavery routinely make the headlines, such as the lesson at a Cerritos junior high that reenacted a slave ship by having eighth grade students lie on the floor, wrists bound, while watching a clip from Roots. Although some found the lesson highly insensitive, the problem more often is teaching that doesn't go deep enough.
"In my generation of teachers, Black history was seen as sort of an add-on topic," said Satinder Hawkins, adjunct professor in USC Rossier's Master of Arts in Teaching (MAT) program, who taught social studies in the Los Angeles and Long Beach school districts. She finds this less true of today's teacher candidates, but she remains mindful of how difficult it can be to bring up race in the classroom.
"No one wants to talk about race in America," said Hawkins. "For new teachers it will be especially scary because they are already very vulnerable. So, we have these conversations in my classrooms at Rossier. I say, look at your student population. How will this particular lesson address the needs of different ethnic groups and special needs? It has to be done with intent and care."
Since last year, Hawkins has been working to make instruction in the Santa Monica–Malibu Unified School District more culturally responsive. As the district's coordinator of American culture and ethnic studies, she oversees an effort to infuse social justice standards from the Teaching Tolerance project throughout the curriculum. Those standards, which focus on identity, diversity, justice and action, will be integrated into the district's 11th-grade history classes this year.
Preparing future educators
USC Rossier experts say that schools of education have an important role to play in bringing a more accurate, nuanced picture of Black history to K–12 classrooms.
"We have to do a better job in our teacher preparation programs," Brent-Sanco said.
"We focus on theoretical pedagogy. We focus on classroom management. We focus on understanding and being able to take the standards and prepare engaging lessons. We should be doing all of that. What we don't always focus on is how teachers view all students. Do teachers view students through a deficit lens based on a Eurocentric worldview and standard of excellence? Have we trained teachers to confront and manage bias? Do teachers know how to build relationships with kids who may not look like them?"
After she observed the disastrous Jackie Robinson lesson, Brent-Sanco, who is Black, sat down with the teacher, who was White. "I said, 'How do you think the students felt when you asked them to choose what they would rather be, instead of honoring who they are? Do you understand how that question is troubling for any student?'
"She got very quiet," Brent-Sanco recalled. "In the end, she said, 'I could have done that better.'"
From the incident, Brent-Sanco realized "that I can have all the great curriculum in the world, but if I, as a teacher, don't manage my biases and educate myself on anti-oppressive ideologies … it's not going to matter and kids will still be harmed."
"Why aren't we micro-credentialing on social-cultural issues?" asked USC Rossier EdD candidate William Gideon. A former high school U.S. government and economics teacher, he is now assistant superintendent for curriculum and instruction in the Los Nietos School District, a K–8 district in Whittier, California.
"Districts can incentivize micro-credentials so that teachers can go back to school and get a more balanced Black history story," he said. "We are looking to provide a well-rounded education so that students see themselves in history, are powered by it, and see the relevance to today's culture. That takes a lot of reeducating of adults."
At USC Rossier, the principles of equity and inclusion drove major changes in the MAT program's redesign in 2016, with new textbooks, readings and projects—including the use of autoethnography and equity portfolio assignments—that seek to deepen the understanding of how race and racism have shaped K–12 policy and teaching. The curriculum for social studies candidates was redesigned to reflect "critical perspectives on the inclusion of Black, Latinx and Indigenous history," said Associate Professor of Clinical Education John Pascarella III, who was chair of the MAT program from 2015 to 2019. "We still have a lot more work to do."
"All students should know a lot more about Black history. It's such a foundational piece to how the country started and transformed over time. Without that knowledge, there's more than just a gap in people's knowledge but a complete denial of the factors that have brought our country to where it is today." — Akilah Lyons Moore MAT '10, EdD '14, USC Rossier Assistant Professor of Clinical Education
MAT students are not required to learn how to teach Black history, but some courses address it. In her "Applications of Curriculum and Pedagogy" course, Associate Professor of Clinical Education Paula M. Carbone touches on topics such as racial biases in textbooks and hegemonic curriculum. "It comes up inferentially as students work on constructing lessons," she said. "I think it would be ideal if we could take these topics on more directly."
Lyons-Moore said Black history instruction is a strong thread in USC Rossier's curriculum for teaching history and social studies.
"We talk specifically about slavery and how to teach it, and in general how to teach Black history," she said. "We go into specifics on slavery and the Civil War. We discuss Indigenous people and the taking of land. I will typically ask my students, regardless of what they're teaching, 'How could you have brought in the history of these folks or that group?'"
One course, "Context for Educational Equity, Access and Agency," engages students in an overview of K–12 educational history and philosophy, and covers ethnic history. "The class asks students to think about their own identities, including their racial identities, and to unpack a few experiences that have helped them to understand their identity and their positionality to students they may be teaching in upcoming semesters," Lyons-Moore said. "It's a precursor to being able to teach Black history from an authentic place and not from that heroes-and-holidays place.
"Personally, I think it should be a requirement" in Rossier's MAT program, she added.
Breaking the cycle
There are obstacles to improving Black history instruction.
For instance, while a micro-credential in teaching Black history could build teachers' competence in the subject, many districts might be hard-pressed to fund the salary enhancement such training would promise.
National history standards could help to eliminate conflicting versions of Black history, but the last attempt, in the mid-1990s, ignited a culture war that doomed them. Lynne Cheney, who headed the National Endowment for the Humanities when it provided major funding for the national standards, was incensed by a draft of the standards that mentioned Tubman six times, while Robert E. Lee made no appearance at all.
Despite the challenges, change can begin this fall if educators seize the opportunity to connect the past to the tumultuous present.
Gideon said he hopes teachers will ask students to share their thoughts and experiences during the recent protests over racism and social justice. He plans to hold similar conversations with teachers in his district.
"This is a pivotal time," Gideon said. "I will be asking [teachers], 'Do you know people who were affected? Do you see any way schools can help to contribute to a different outcome, or are we just part of the cycle?'"