How can we reinvent a system to be more responsive to the needs of every learner? How do we support educators amidst increasing pressure? How can we provide opportunities so a child's destiny is not determined by their zip code or family income?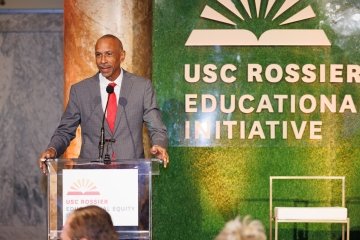 On November 17 at the Natural History Museum of Los Angeles County, Pedro Noguera, the Emery Stoops and Joyce King Stoops Dean, announced the USC Rossier Educational Equity Initiative, a series of projects designed to create transformative educational opportunities for children in Los Angeles and across the country.
"With these projects we can influence some of the most critical issues facing this country," Noguera said. "The future will not be determined by what is happening in Washington but by what is happening in our schools. Our schools are where the next generation of scientists, artists and writers are now. They need to be well prepared to solve the problems of the 21st century." 
The initiative builds on USC Rossier's focus on educational equity from the earliest grades through college and connects the research expertise of the school's faculty with the work USC Rossier students and alumni are doing in the field. It supports these projects:
"When we talk about advancing educational equity, we are talking about improving the lives of students who go to school only a few miles away," said Reveta Bowers BA '70, Chair of the USC Rossier Board of Counselors and longtime leader of the Center for Early Education. "We're talking about giving their teachers the training and continued support they need to thrive in the classroom. I am committed to USC Rossier because we need to be able to tell every parent, no matter their background, that their child can receive an excellent education." 
At the initiative launch, Derringer Dillingham MAT '22, a fourth grade teacher at 52nd Street Elementary School, and Jamie Roman Nunez MAT '22, who teaches algebra, geometry, statistics and probability at Dymally High School, discussed their experience in the teacher residency program and how it has allowed them to make an impact in their first year in the classroom.
"I had good teachers growing up but they didn't look like me," Dillingham said. "I can say I'm thankful I'm teaching in a community where the students can look up and say that's someone like me."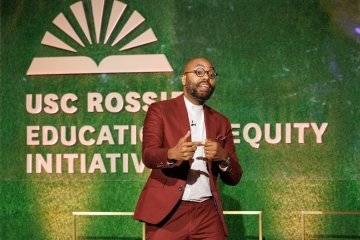 At the end of the evening, Emdin, the New York Times best-selling author who is changing how STEAM is taught, addressed why he chose to come to USC last year.
"The question becomes why Rossier?" Emdin asked. "The idea is to center an entire school  of education, boldly and unapologetically, on educational equity. To say that we are no longer interested in small marks of success—one person here, one person there, because it's not enough. We are at the right place, at the right time, with the right leadership, with the right people."