The six students who make up the inaugural class of the USC Rossier School of Education's Teacher Preparation Residency all took different routes to a teaching career. Some felt destined to become educators, and others had transformative experiences that sparked their interest in the profession. Now, they all hope to make a difference by serving in schools where students come from economic or ethnic backgrounds similar to their own. Too often, children from disadvantaged communities lack access to highly qualified teachers, but the residency program is arming participants with the skills needed to excel and form authentic connections with the youth in their classrooms. After completing a year in this accelerated program, the inaugural six, who will graduate this spring, looked back on their experiences as student teachers in the Los Angeles Unified School District. They discussed the highlights of the teacher residency program, how the scholarship and living stipend they received changed their lives, and their hopes as future educators.
Elijah Chesley BA '21, MAT '22
Elijah Chesley BA '21, MAT '22 always knew he'd be a teacher. "I come from a family of educators," he says. "My mom is a professor. My grandparents on both sides were teachers or janitors in schools, and even my great-aunt and great-uncle were teachers. I feel like it's just something that I was born to do."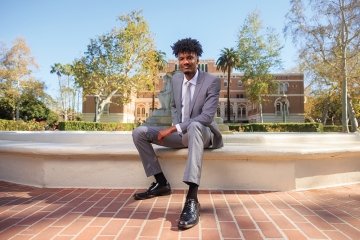 Naturally, when he found out that USC Rossier and the LAUSD were teaming up on a teacher residency program to better serve urban schools, he viewed it as a "golden opportunity." The 23-year-old had already earned a bachelor's degree in American studies and ethnicity from USC in May 2021. But having grown up in Bakersfield, Calif., where most people he encountered were middle class, Chesley wanted to make a difference in the lives of economically disadvantaged students.
"Having an opportunity to teach in Los Angeles, in these schools where resources aren't as available as they are in other communities, or seeing a student body predominantly populated by students of color, that's just refreshing to me," says Chesley, who plans to continue teaching in similar school environments.
Through the program, Chesley student-taught at Augustus Hawkins High School in South Los Angeles. There, he felt a particular responsibility to be a role model because Black men like himself make up only 2 percent of the nation's teachers. In the program, through which he will receive a secondary social studies credential, he also confronted his own "internalized racism." He credits this development to a course on racial bias in education he took with Eric Medrano, an adjunct professor at USC.
"People always had their own ideas about me because I'm a Black person, and I learned that if you have internalized racism, it could transfer over to your students," he says. "So it's important that you get rid of it before you begin teaching, and that class really opened my eyes to a whole lot of different concepts."
Chesley also considers the work he collaborated on with fellow students in the teacher residency program to be a highlight. He says he learned almost as much from his peers as he did from his professors.
"I feel like it's just something that I was born to do." — Elijah Chesley BA '21, MAT '22
While Chesley speaks fondly of the program, he says it was hard work balancing coursework with his student teaching and an on-campus job. He recommends that anyone interested in the residency program take care of their emotional and physical needs.
"Stay organized and prioritize your mental health," he says, "because if you don't really stay organized, you're probably going to fall behind in the class or in student teaching, and everything can tumble down."
But Chesley says he enjoys overcoming challenges, including entering the education profession during a pandemic, a teacher shortage and what has widely been described as a hostile political climate for educators.
"I am aware that it is difficult right now," he says. "I feel like students have probably lost some skills that they would not have lost otherwise if the pandemic didn't happen, but I try to be optimistic in everything in life. There's more to it than having an easy job. I'd rather have something that challenges me and brings the best out of me."
Lauryn Merriweather MAT '22
"Life-changing." That's what kind of impact the teacher residency program had on Lauryn Merriweather MAT '22. Without the scholarship and living stipend she received, the 24-year-old doubts she would've been able to complete graduate studies in teaching, let alone earn a dual elementary and educational specialist credential.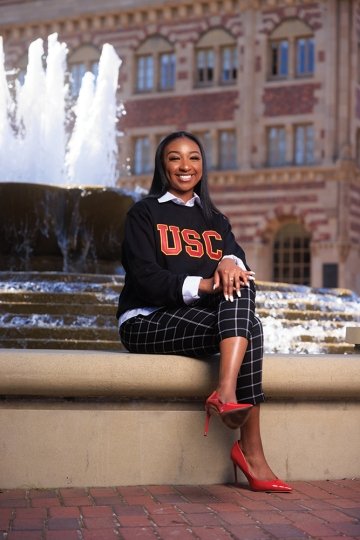 "My family has gone through a lot of changes during the pandemic," says Merriweather, who graduated from San Diego State University in 2020 with a degree in speech, language and hearing sciences. "My father lost his job, and everybody's lives got flipped upside down. My dad suffered through a lot of health conditions during the pandemic, as well, that unexpectedly required a lot of medical bills, so I really needed this scholarship. It was a blessing."
Merriweather says she's been interested in teaching for years. Encountering children with disabilities as a speech pathology student and working as a teacher's assistant after earning her bachelor's degree only confirmed that education was the career for her. Still, she wasn't altogether confident that she would be accepted into the program. She painstakingly worked on her application and sought admission into the program anyway, a move she describes as a "leap of faith."
After enrolling, she became a student teacher at Figueroa Street Elementary School, south of downtown Los Angeles. A USC course she took called "Applications of Curriculum and Pedagogy" enhanced her experience teaching at the school. In the course, she learned about differentiating instruction and creativity in the classroom. The goal, she says, is to move away from conventional ways of teaching and implement transformative learning practices.
Merriweather grew up in the Leimert Park neighborhood of Los Angeles and wants to give back to the city by teaching. "After I finish the program, I want to teach in LAUSD in a community of color where I can add representation and empower the students that are there that have been historically marginalized," she says.
The process of being a teacher is a lifelong learning journey." — Lauryn Merriweather, MAT '22
In addition to the classes she's taken in the program, Merriweather has appreciated the students she's taught, the guidance she's received from veteran educators as a student teacher and her interactions with classmates. Although her classmates come from a variety of backgrounds, they all managed to bond, according to Merriweather.
"The people that I've met have been a highlight," she says. "The kids that I met in my school placement have been a highlight, and my guiding teachers have been a highlight. Learning from them and having them critique my teaching practice have helped me better my teaching."
As she wraps up the teacher residency program, Merriweather plans to continue growing as an educator. She recommends that future students in the program be willing to challenge themselves and their understanding of the teaching profession.
"Be flexible," she says. "Be willing to learn. Be open minded, and just be patient with yourself. The process of being a teacher is a lifelong learning journey, so even after we come out of this program, there will always be something for us to learn. We're learning for our students in order to give them a better educational experience."
Ramiro Alexander-Duchesne BA '17, MAT '22
When Ramiro Alexander-Duchesne BA '17, MAT '22 signed up to be a substitute teacher for the Los Angeles Unified School District in 2019, he had no intention of pursuing education as a profession. Subbing, he says, was simply a way to supplement his income. At the time, he was a ghostwriter for corporate clients, wrote stories for various publications and had an interest in screenplays and short stories. Once he began subbing, however, Alexander-Duchesne found his experiences in the classroom to be revelatory. As a teacher, he realized he could make a profound impact on young people.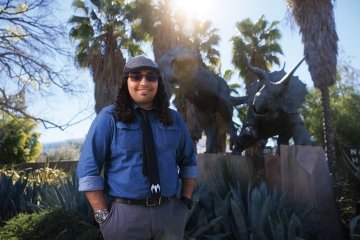 "I developed a passion for being in the classroom and impacting students in a positive way and building for a day or two, I was still able to impact them in some sort of positive way, just by talking to them, getting to know them and making them feel safe and comfortable and like they truly matter. For me, that was what really drew me to education as a long-term actual career."
Alexander-Duchesne graduated from USC in 2017 with a bachelor's degree in narrative studies. He almost didn't apply to the Teacher Preparation Residency program because he thought his liberal arts background and interest in obtaining a secondary credential in narrative studies would be a disadvantage. He figured that STEM candidates would have a better chance of getting accepted. Then, he thought to himself, "What's the worst that could happen?" he recalls. "I really had nothing to lose, and I would've kicked myself if I hadn't tried. I ended up being accepted. I was shocked, honestly."
Looking back on his year in the program, the 27-year-old says that a course he took on lesson planning particularly stands out. As a substitute teacher, he didn't plan for classes, and the teachers he covered rarely left behind lesson plans for him. A self-described "creative" type, he's connected with students by including references to his beloved Marvel movies in his lessons.
"I'm sure a lot of teacher preparation programs teach students to plan this way, but [at USC] they like to have us start off with a motivating activity to kind of get the students engaged right away," Alexander-Duchesne says. "Nine times out of 10, my motivating activity was something related to Marvel movies."
"Making students feel like they truly matter is what drew me to education." —Ramiro Alexander-Duchesne BA '17, MAT '22
Planning engaging lessons for students has been a highlight for Alexander-Duchesne, but the biggest challenge he faced during the program was commuting 80 miles roundtrip from Hesperia to Los Angeles. Born in Long Beach and raised primarily in the Inland Empire, he bought a home in Hesperia during the pandemic. He plans to move to Los Angeles once he finds a teaching job. For now, though, despite the challenge of commuting, and of teaching during the coronavirus crisis and at a time when education has been under intense scrutiny, he takes it all in stride.
"My life has been full of adversity," he says. "So, entering teaching during a tense time—for me, I feel like there's never not going to be a tense time. I'm not really too worried about all of the sociopolitical stuff going on. I'm concerned with it, but it doesn't impact my excitement to be a teacher."
Jamie Roman Nunez MAT '22
Jamie Roman Nunez MAT '22 once resisted becoming a teacher. Although she was drawn to the profession from a young age, she initially chose to major in a more lucrative field—business economics—as a student at UCLA.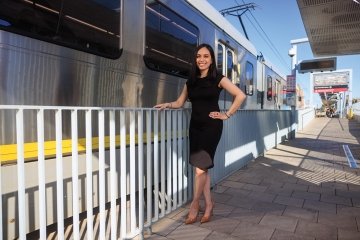 "I always knew I wanted to be a teacher, but I guess I was avoiding it," she says. "I didn't want to accept that this is really for me. … But now I 100 percent know that I did make the right decision, and I'm passionate about it."
Once the 23-year-old accepted that teaching was right profession for her, she had to figure out what she needed to do to become an educator. Eventually, she found her way to USC's teacher residency program application.
"I'm very grateful," she says of her acceptance into the program. "It's scary when you're a senior in college and you're trying to figure it all out."
Roman Nunez graduated from UCLA in 2021 having majored in Spanish, community and culture and double-minored in education studies and Chicana/o studies. As an MAT student at USC, she shifted gears, pursuing a secondary teaching credential in math, a subject that has always interested her, she says.
As a woman of color, she hopes to inspire students from similar backgrounds, especially as a STEM educator. She had two Latina math teachers growing up, and in the residency program, she served a predominantly Latinx student body at South Gate High School.
Roman Nunez appreciated that her USC Rossier professors told her that "they're looking for teachers that look like the students they teach," she says. "That really stood out to me because that's my goal."
The classes she took during the teacher residency program also emphasized equity. She says she learned about the importance of self-reflection, including questioning the values she grew up with, to better serve diverse groups of students. She also learned about teaching students with learning differences. Generally, she thinks the program has made her more empathetic, compassionate and patient.
Through it all, she's been able to focus on her studies without worrying about her finances. Roman Nunez didn't just distinguish herself through her selection to the teacher residency program; she also won the Leo F. Buscaglia Endowed Fellowship. The award bears the name of a former USC professor who graduated from a predominantly Latinx high school and wanted to provide educational opportunities to students who have similar upbringings and are interested in teaching in urban schools.
"I believe in the program's values, and I'm fulfilling that mission at South Gate High School." — Jamie Roman Nunez MAT '22
Roman Nunez is a graduate of Jordan High School, a mostly Black and Brown school in economically disadvantaged North Long Beach. "I'm grateful for the Buscaglia scholarship," she says. "I'm able to dedicate 100 percent of my effort and my passion to school, to my student teaching and to my grad work. I'm so blessed that I don't have to worry about affording graduate tuition."
Although Roman Nunez is a highly accomplished student, she still had to muster up the courage to pursue her dream of being a teacher. She advises other students interested in applying for the residency program not to let fear keep them from trying.
"Everyone who wants to apply should apply," she says. "They're qualified. They're more than deserving of it. It's just taking that first step. And that first step is believing in yourself."
Derringer Dillingham MAT '22
If it weren't for a high school community-service requirement, Derringer Dillingham might never have become a teacher.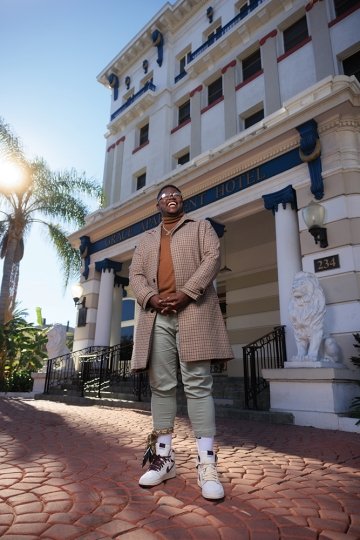 "I went to Palisades Charter High School," he says. "One of the graduation requirements was to do community service hours, and I decided to do them at my local elementary school. I just enjoyed working with kids from then on, and I was good enough to where the school offered me a position after I graduated."
He became a teacher's assistant at the school and went on to become a special education assistant teacher and a substitute for LAUSD. After graduating from California State University, Northridge, with a bachelor's degree in communications in 2017, Dillingham remained a special education assistant teacher, but he didn't seriously consider becoming a teacher until he found out about USC Rossier's Teacher Preparation Residency.
"I can pretty much, with confidence, say that I don't think I would be doing my master's program at USC without the residency," he says. "The residency scholarship is why I'm pursuing my teacher credential. It's given me a way to do it because I can't see a way where I would have gone this route without it. I can't be grateful enough."
During the residency, Dillingham student-taught at two elementary schools in South Los Angeles. Raised in the area himself, the 31-year-old is passionate about teaching kids who look like him and whose experiences mirror his own. Working with students who share his background is his goal, he says. And though he's also worked with middle and high school students, he says that his experiences with elementary students have lingered with him because of the impact that he can make on a young child's life.
"There's this feeling you get when you've impacted a child like that," he says. "Maybe you don't remember what you did exactly, but you might see that child and they'll run up to you and remember, and it's a cool little feeling. There's actually none other that I've had like it. That's why I enjoy what I do."
Dillingham has also enjoyed the sense of community he's felt as part of the program. He says that professors such as Margo Pensavalle and Cassandra Grady have been particularly supportive, as have his fellow classmates. They all lean on each other and are comfortable sharing their experiences in the program.
"The residency scholarship is why I'm pursuing my teacher credential." — Derringer Dillingham MAT '22
"My fellow cohort and classmates have been the most valuable and the best part of the program so far," he says. The program has involved a rigorous workload. He says it moved at an accelerated pace and included lots of reading materials and lesson planning.
"Do your due diligence before you apply," he suggests to prospective applicants. "Understand what's going to be asked of you because there are going to be a lot of long nights. It's going to be tough work."
Joseph Arechiga MAT '22
Coaching high school volleyball in Los Angeles a few years ago first sparked Joseph Arechiga's interest in teaching. He often found himself helping the students he coached with their schoolwork.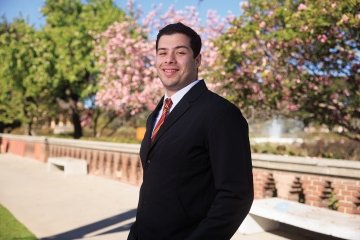 "I started falling in love with teaching, but at the time, I was just a coach, so I felt underqualified to really give them help academically," says the 26-year-old from Sun Valley, a neighborhood in the San Fernando Valley region of Los Angeles. "But they always kept coming to me."
When he told them to ask their teachers for help instead, the students insisted that he explained their assignments better than their instructors did. Ultimately, watching the students progress academically and athletically motivated Arechiga to become a teacher. After graduating last year from the University of California, Santa Barbara, with a bachelor's degree in sociology and applied psychology, he decided to apply to USC's teacher residency program.
"I got the scholarship, and I felt absolutely blessed and so excited because USC is a dream school that I couldn't afford for undergrad," he says. "I was absolutely ecstatic." He felt particularly overjoyed to attend USC because both his father and uncle are alums. Additionally, getting into his dream school sends the message to his Hispanic students that they, too, can get into a top university, Arechiga says. "For these kids to have someone who looks like them or grew up similar to them just means something a little bit different, and I can tell it's very much appreciated," he says. "I love hearing that I've inspired them because I'm going to USC."
Arechiga spent the past year earning an education specialist credential, which is designed for educators who want to work with students who have special needs. These professionals serve students who might need additional behavioral, health or instructional support. Ideally, he will use the credential to enter the special education realm, he says.
"I love hearing that I've inspired my students because I'm going to USC." — Joseph Arechiga MAT '22
Reflecting on his time pursuing his credential, Arechiga says he really appreciates his peers in the teacher residency program. Being in a "super-accelerated program" hasn't been easy, and his classmates have been a great source of support, he says.
"We're all struggling," he says. "We're all grinding. It's really nice to know that there's a group of teachers who are willing to go through all this to become teachers, and we're all doing it together. It's been amazing. The camaraderie between my peers has been really something to cherish."
He also appreciates his students, many of whom cheered him on as a student teacher, he says. He's learned as much from them as they've learned from him, Arechiga adds.
Although he's bonded with both his classmates and his students, he says there were also challenging times during the teacher residency program. In those moments, he had to remind himself that his ultimate goal as an educator is to help change lives.
"It's a program for people who want to make a change and put in the work that goes with that," Arechiga says. "So, it won't be easy, but it's definitely worthwhile.