"We were having a hard time trying to pair science books—with kids that actually look like our kids—to match our curriculum," said USC Rossier alum Dieuwertje "DJ" Kast EdD '20, Director of the STEM Education Programs at the USC Joint Educational Project (JEP), a division USC Dornsife.
STEM identity and representation falls short in children's literature. A study published in 2018 stated that half of all children's books reviewed featured White main characters, and that there were more non-human characters (27%) then there were for all minorities combined (23%). In the study, 10% of the children's books featured an African American/Black main character and 5% featured a Latinx one.
To address this issue, Kast and her colleagues around USC—two of whom include USC Rossier alumni Brittany Acevedo MAT '19 and Brooke McMahon MAT '20—developed STEAM-Powered Careers (Room to Read, 2022), a 10-book series created to reflect the community they teach, and to educate elementary school students on the variety of groundbreaking and diverse careers in STEAM. Targeting elementary school-aged children, each book features a trio of characters and their animal friends paired with a working USC scientist, many of whom come from underrepresented communities. Offered in English and Spanish, the topics range from engineering to gastroenterology and marine biology to virtual reality.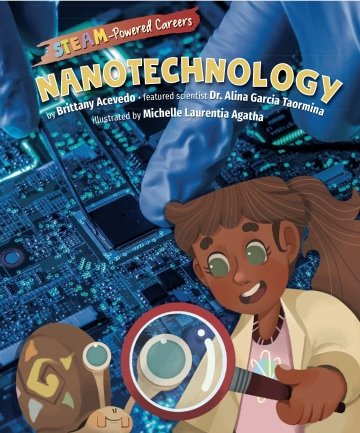 "We tried to underlie some themes to break different stereotypes," Kast said. For example, featured scientist Alina Garcia Taormina, a USC Viterbi alum with a PhD in material science, worked with Acevedo to author the book on nanotechnology. Each book also offers a lesson plan for educators.
Room to Read provided 9,000 sets of the 10 titles (90,000 books total) to various STEM education programs in the Los Angeles area to address book issues for low-income students of color, and to add to their home libraries. To distribute the books, the JEP STEM Education Programs hosted book assemblies at seven partner schools. USC Rossier also received 100 sets in English and Spanish that were distributed to elementary and science teaching candidates in the USC Rossier MAT program with teacher education leaders who were assigned classes within the USC Rossier program. In addition to Acevedo, McMahon wrote the gastroenterology book and Kast wrote the oncology book with her father, Dr. W. Martin Kast; she is also the featured scientist in the polar science book.
USC JEP develops service-learning activities for USC students to address community-defined needs. JEP's STEM education programs include the Young Scientists Program, WonderKids and the Medical STEM program. It was through WonderKids, where Kast and her team discovered the need to create the book series.
"Representation matters," Kast said in a USC JEP blog. "The data has shown that representation of yourself in the scientists you see in front of you influences your own science identity and how much you persist in STEM fields."
Free digital copies of the books, in addition to NGSS-aligned lesson plans and videos of scientist interviews, are available in English and Spanish.
For the complete list of collaborating authors and scientists: 
Authors:
DJ Kast (USC Dornsife, JEP STEM staff)
Jasmin Sanchez (USC Dornsife, JEP alumna)
Brooke McMahon (USC Rossier, JEP alumna)
W. Martin Kast (USC Keck, USC Norris)
Sean Taitt (USC Educational Partnerships-Kinder2College)
Maria Madrigal (USC Dornsife-USC Sea Grant)
Stacey Finley (USC Dornsife, USC Viterbi, USC Norris)
Brittany Acevedo (USC Dornsife)
Dijanna Figueroa
CaTameron Bobino
Scientists:
Darin Gray (USC Viterbi)
DJ Fernandez (USC Keck, USC Norris)
Jasmin Sanchez (USC Dornsife, NAI Scholar, JEP alumna)
DJ Kast (USC Dornsife, JEP STEM staff)
Jocelyn Argueta (USC Dornsife, JEP alumna)
Alina Garcia Taormina (USC Dornsife alumna)
Charnelle Wickliff Sharon Mozgai (USC Institute for Creative Technologies)
Ram Subramanyan (USC Keck)
Takeshi Saito (USC Keck, USC Norris)