USC's 140th Commencement included a record-breaking 20,000 graduates for the Class of 2023. Nearly 1,000 were USC Rossier doctoral and master's graduates. On May 10 and May 12, USC Rossier faculty, staff and families celebrated the academic accomplishments of the graduating class as well as their commitment to shaping the future of education during the school's Commencement celebrations.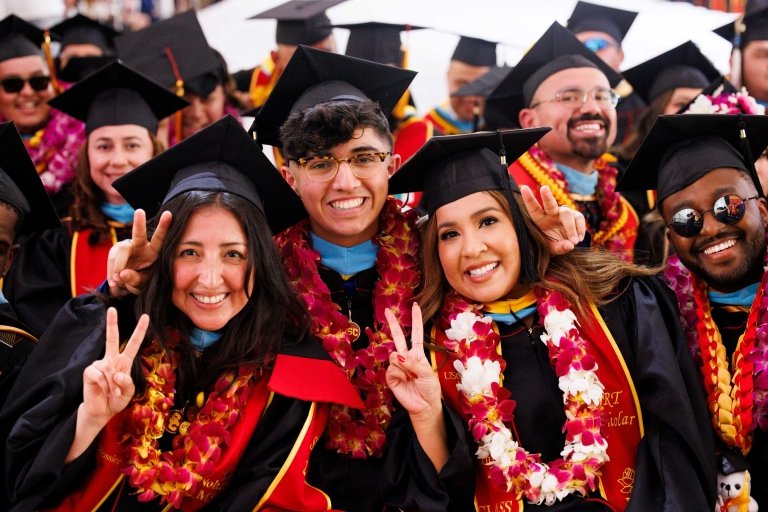 Pedro Noguera, the Emery Stoops and Joyce King Stoops Dean of the University of Southern California's Rossier School of Education, presided over both the doctoral hooding and the master's ceremonies.
In his remarks, Dean Noguera said, "My hope is that the education you received while at USC Rossier has prepared you and that you will be better prepared for leadership because of it." In addition to celebrating the class and their remarkable achievements, he also spoke of the challenges they face today. As a call to action, Noguera reminded the class that they are at a "critical juncture": climate change has altered conditions on the planet, tensions between nuclear superpowers has led to international instability and rapid technological developments including artificial intelligence will likely change how we live, work and learn.
He added how graduates will play a significant role in altering the direction of the world and how their education provides the crucial key in shifting consciousness. "We know that when education is used to help us think outside the ideological boxes that constrain us, and to reinforce an awareness of our common humanity, it can nurture our ability to live ethically and sustainably," he added.
Write new histories and change the narrative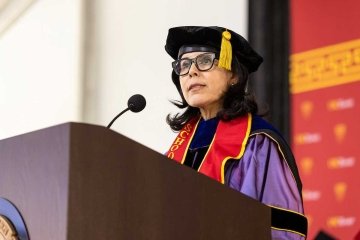 The doctoral hooding ceremony keynote speaker was Natalia Molina, a historian, award-winning author and Distinguished Professor of American Studies and Ethnicity at USC Dornsife College of Letters, Arts and Sciences. She asked the graduates, "Who will you be as a leader, an educator, a researcher?" The opportunities are vast for the new doctors of education and doctors of philosophy. Molina shared her academic path and discussed those who played a key role in her life. She said that as educators the new graduates will embark on their own "journey of storytelling" and offered advice to the graduates.
First, tell stories of the marginalized and, who she calls, the "underdocumented." Second, in order to tell these stories, she suggested reading sources "against the grain" rather than from the perspectives of those who produced it. She recommended that graduates consider their audience when telling these stories and the influence these ideas will have. Lastly, graduates should keep in mind that the story may move in a different direction than the initial sources and research intended.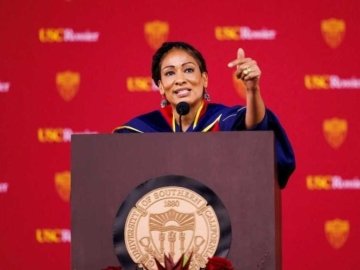 The master's ceremony keynote speaker Ruha Benjamin, the Alexander Stewart 1886 professor of African American studies at Princeton University, shared her thoughts with the class on equity and injustice. She said, "Teachers, if actually unified and empowered, can change the direction of history." Educators have an obligation to train the next generation to critically see below the surface of what is presented as history. "So today and every day, let's recommit to empowering young people—not simply to succeed in the world as it is, but to imagine it for what it could be," she added.
Agents of change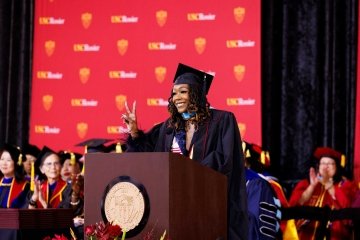 Master's ceremony student speaker Tiffaney Robinson, who completed her Master of Education in School Counseling online, discussed her academic journey and the shared experience of striving for education equity with her fellow graduates. In addition to the counseling skills she gained at USC Rossier, Robinson's time as a student helped her analyze her own personal feelings and biases. She encouraged the class to recognize their own personal experiences of bias as it will help them become "agents of change." Robinson also reminded her class to recognize inequity and to never forget their purpose as education leaders.
The following students received the 2023 Dissertation of Distinction:
This year's flag and banner bearers: 
Doctoral hooding ceremony: Aristotle Mosier EdD OCL '23 and Taylor Enoch-Stevens PhD '23 
Master's ceremony: Nancy Nguyen MAT '23 and Xitlali Avila ME SC '23
Photos and videos of both the doctoral hooding and master's ceremonies can be found at the USC Rossier 2023 Commencement page.