Education
PhD, Higher Education and Student Affairs, The Ohio State University
Expertise
Racial Equity • Education Access • Student Success • Education Policy • Carcerality in Education • Foster Care • Juvenile Justice
Download CV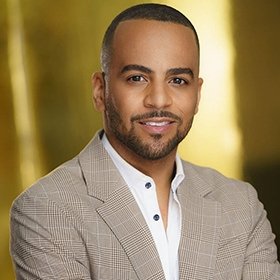 Contact Information
Websites and Social Media
Research Center
Bio
Dr. Royel M. Johnson is Associate Professor of Higher Education with tenure in the USC Rossier School of Education at the University of Southern California. He is also the inaugural Director of Student Engagement in the USC Race and Equity Center and a faculty affiliate in the Pullias Center for Higher Education. Prior to joining USC, he was on the faculty at Penn State, where he was the inaugural Associate Director of the Center for the Study of Higher Education. 
Dr. Johnson is a nationally recognized expert on issues of educational access, racial equity and student success. His work has an unapologetic focus on Black and multiply marginalized populations like those impacted by the criminal punishment, child welfare and inequitable educational systems. He has more than 40 peer-reviewed publications in influential journals such as the Journal of Higher Education, Peabody Journal of Education, Teachers College Record and Journal of College Student Development. He has also written research and policy briefs for organizations like the National Education Policy Center, Office of Community College Research and Leadership and NASPA—Student Affairs Administrators in Higher Education.
In February 2022, SUNY Press will publish Racial Equity on College Campuses: Connecting Research and Practice, a book for which Dr. Johnson is lead editor. He is also co-editor of a forthcoming monograph with Jossey-Bass, Enacting Student Success: Critical and Alternative Perspectives for Practice, and is currently writing his first sole-authored book, Family Matters: How Youth in Foster Care Access College, which will be published by Teachers College Record. Dr. Johnson has been awarded over $5.1 million in grants and contracts from organizations such as the Spencer Foundation, Institute of Education Sciences (IES), and Department of Health and Human Services, among others. 
Dr. Johnson is deeply committed to translational research that informs policy and practice. He has delivered over 100 invited talks and regularly consults with campuses and national organizations. In 2020, Pennsylvania legislators sought his consultation on HB2952, which aims to ban the use of criminal record screening on college applications. He is Co-Director of the EdEquity Research-to-Policy Collaborative with Dr. Francesca Lopez (Penn State)—a rapid response network designed to increase the use of research by critically conscious education scholars in policy making. Dr. Johnson is also Co-PI of a $1.53 million project funded by IES, The Research Institute for Scholars of Equity (RISE), which is a training program that provides undergraduates from underrepresented backgrounds experiences in conducting mixed-methods education research and prepares them for doctoral study. 
Johnson is actively engaged in national/professional service. For instance, he is an appointed member of the American Educational Research Association's Social Justice Action Committee (2021–2024) and Co-Program Chair for Division J's Section 2B: College Student Success (2021–2022). He also serves on the Dissertation of the Year Committee (2019–2022) for the Association for the Study of Higher Education. He has been or is currently serving on eight editorial boards, including those of the Review of Higher Education, Frontiers in Education and Journal of African American Males in Education. 
In recognition of Dr. Johnson's outstanding early-career achievements, he was awarded the 2020 Distinguished Young Alumni Award from the University of Illinois. He has also received the 2020 Emerging Scholar Award and 2022 Outstanding Contribution to Multicultural Education and Research Award from ACPA—College Educators International. In recognition of his "exemplary leadership" in Penn State's College of Education, he was awarded the 2021 Cotterill Leadership Enhancement Award. 
Dr. Johnson is a two-time graduate from the University of Illinois at Urbana-Champaign, where he earned a BA in Political Science and an EdM in Educational Policy Studies. He earned his PhD in higher education and student affairs, with a cognate in race and social policy, from The Ohio State University. 
Awards and Grants
2022    AERA Division G Early Career Award
2022    AERA Multicultural/Multiethnic Education SIG's Dr. Carlos J. Vallejo Memorial Award for Emerging Scholarship
2022    ACPA's Outstanding Contribution to Multicultural Education and Research Award    
2021    Penn State College of Education Cotterill Leadership Enhancement Award
2021    NAEd/Spencer Postdoctoral Fellow Semi-finalist 
2020    University of Illinois College of Education Young Alumni Award
2020    ACPA Emerging Scholar-Designee 
Publications