A noteworthy ceremony for a remarkable group of graduates. With 1,117 graduates—213 doctoral for the class of 2020 and 2021, 325 doctoral for the class of 2022 and 639 masters for the class of 2022—USC Rossier celebrated the academic achievements of their students.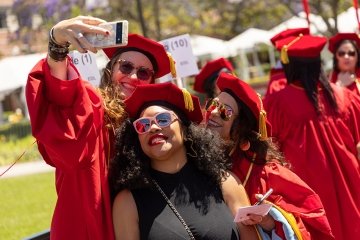 On May 11, in a two-part event, doctoral graduates from the class of 2020 and 2021 were welcomed and bestowed their doctoral hoods that morning. The class of 2022's doctoral hooding ceremony followed that afternoon. Lawrence O. Picus, associate dean for research and faculty affairs at USC Rossier and the Richard T. Cooper and Mary Catherine Cooper Chair in Public School Administration, presided over the proceedings.
In his remarks, Picus said, "What makes you exceptional is the commitment you have made to use your knowledge and skills for a greater good: to solve problems that affect students, schools, colleges and society, and to advance equity in your leadership, your professional practice and through the production of research."
Education: The best resource for a just and equitable future
USC Rossier's master's commencement on May 13 was a day to remember for all. The ceremony marks Dean Pedro A. Noguera's first, in-person commencement as the Emery Stoops and Joyce King Stoops Dean of the USC Rossier School of Education. Dean Noguera remarked, "After more than two years of pandemic tumult and uncertainty, I am thrilled that we can gather in-person to celebrate the achievements of the Class of 2022."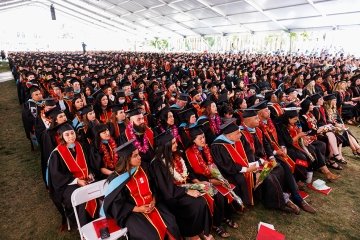 Dean Noguera also noted that despite the challenges of the past few years with the pandemic, political climate and environmental concerns, the class of 2022 adapted and stood firm in their resolve and commitment to education. He added in his remarks to the class, "You have chosen this career because you know that education is our best resource for a more just and equitable future, and because of the choices you have made, all of us have reason to feel hopeful about the future."
Recently appointed USC Rossier Professor and Robert Aslan Chair in Curriculum Theory Christopher Emdin was the event's keynote speaker. As an innovative educator, author and combiner of science and hip-hop culture, Emdin shared his thoughts with the graduating class on how the event should be remembered and celebrated.
"Graduations helped me to define what I call the 'divine formula.' It is hard work, plus grace, plus tenacity, plus love, equals drastic and powerful possibilities," Emdin said. "You were chosen for such a time as this. The only person better than you is embedded in you."
Elevating voices and transforming future leaders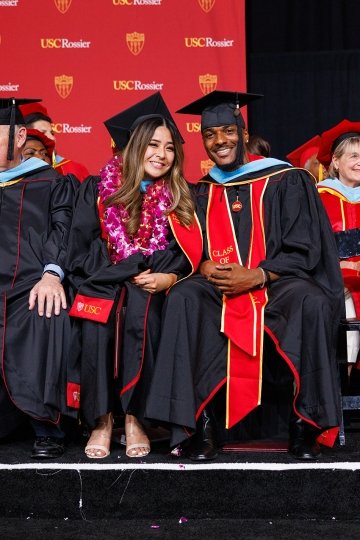 Danelle Go PASA '22 and Brenden Scott MAT '22 were selected as student speakers for the master's ceremony. Both students are first-generation graduates, who look forward to applying the skills and knowledge gained from USC Rossier and advocating for the next generation of students.
In her speech to her fellow graduates, Go said, "My experience here has provided me with the resources and opportunities that elevated my voice and helped me realize my capabilities as a leader." She added, "Every single day I choose to uplift and serve the needs of minoritized communities, advocate for equity and work towards dismantling systems of oppression in education."
Addressing the graduating class, Scott remarked, "I chose to be everything society said that I couldn't, and I stand on this stage as a first-generation graduate with not only one, but now two degrees." He said, "We understand that we are who we teach, and with educating comes mentoring, comes guiding, comes transforming and molding children into future leaders."
The following students received a Dissertation of Distinction award:
Angela In-He Brockelsby, Doctor of Education in Organizational Leadership '22, "Building Capital: Supporting Students of Color in STEM Degree Attainment" (Chair: Patricia Tobey)
Tasminda Kaur Dhaliwal, Doctor of Philosophy '22, "No Place Like Home: A Three Paper Dissertation on K–12 Student Homelessness & Housing Affordability" (Chairs: Julie Marsh, University of Southern California, and Katharine Strunk, Michigan State University)
Christine Henning, Doctor of Education in Education Leadership '22, "The Factors Supporting or Inhibiting Teachers of Color to Accept and Stay in an International School in Southeast Asia" (Chair: Lawrence O. Picus)