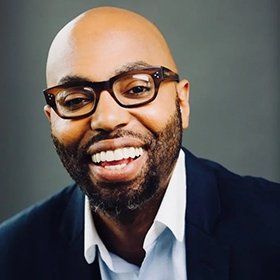 Christoper Emdin, well-known social critic, public intellectual and award-winning academic, joined USC Rossier in January 2022 as the Robert A. Naslund Chair in Curriculum Theory and professor of education. His research focuses on democratizing science and transforming urban education. A former middle school and high school educator of science and mathematics, Emdin has designed and taught several courses relating pop culture and education. His most recent book, Ratchetdemic: Reimagining Academic Success builds on the ideas introduced in his New York Times best-selling book, For White Folks Who Teach in the Hood. In Ratchetdemic, Emdin offers a revolutionary new educational model that encourages educators to provide spaces for students to display their academic brilliance without sacrificing their identities.
Emdin is the creator of Science Genius BATTLES (Bringing Attention to Transforming Teaching Learning and Engagement in Science) and one of the creators of the #HipHopEd movement, a global initiative focused on using the power of hip-hop music and culture to introduce youth to the wonder and beauty of science.
"Chris is an exceptional scholar and one of the preeminent teacher educators in our field," said Pedro A. Noguera, dean of USC Rossier. "His work has been embraced by educators throughout the U.S. who have been drawn to his unique, creative vision for how to engage students in the classroom and beyond. We are thrilled to have him join us as a member of our faculty at Rossier. He will enrich USC Rossier's faculty and bring his dynamic vision of learning to our students as future educators."
Emdin also joined the USC Race and Equity Center as its inaugural director of youth engagement and community partnerships.
"USC Rossier has such an amazing legacy of innovation in education," Emdin said. "I look forward to contributing to that legacy by building on established traditions and working with my colleagues to bring passion, creativity, and academic excellence to urban schools in Los Angeles and beyond."