"I've asked people, do you know who Irving Melbo was? They have no idea, and his bronze image is right there in the foyer of the building," said Maria Ott, USC Rossier professor of clinical education and newly appointed Irving R. and Virginia A. Melbo Chair in Education Administration.
At the main entrance of Waite Phillips Hall, USC Rossier's main administrative building, among USC School of Education deans is a plaque of Irving R. Melbo. Ott added, "USC Rossier's success today had its beginnings in the vision of Dean Melbo who believed graduates from our program should be prepared to go out and lead across the state of California and make an impact."
Reshaping education
In 1939 after receiving his doctorate from UC Berkeley, Melbo joined USC's faculty and, in 1953, he became dean of the school of education until he retired in 1973. During his tenure, the faculty size increased threefold and the school conferred more than 1,600 doctoral degrees. Melbo's goal was to develop the most influential school districts and school leaders both in the state and nation. His plan for the professional doctoral degree led to the growth and recognition of USC superintendents and the impact of the school overall on shaping the direction of public education.
Melbo thought of superintendents as "educational statesmen" where they understood and could navigate the politics of education. He said that educational leaders "must have more than a tough hide ... they must have an inner security and be able to sense the emotional climate of their client publics, to respond with action."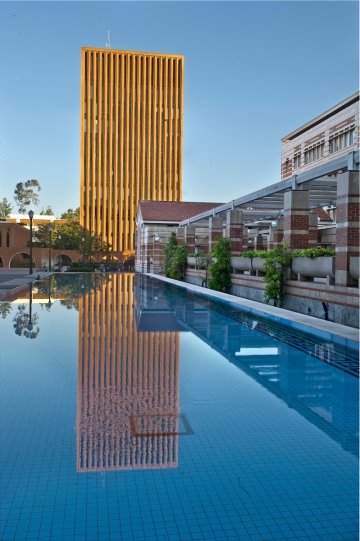 Resources and networking
Melbo understood and had the foresight to make connections, forge partnerships, and raise capital, which ultimately led to the construction of Waite Philips Hall. He believed that the alumni would give back to the school for the education they received, and his efforts led to the formation of alumni support associations.
"Irving R. Melbo believed that the strength of the Trojan network would support the growth and success of the school," said Ott. "Evidence today shows that this loyalty continues with significant fund raising for scholarships supported by Rossier graduates."
Melbo Lecture: Educational legacy and leadership
The inaugural Melbo Lecture, "Leading in Times of Radical Change: Invitation to Lead for a New Future" on Thursday, August 25, will examine how breakthrough leaders navigate crisis to create innovation and explore the connection between radical change and lead for a new future. Featured speakers include Ben Drati, superintendent of Santa Monica-Malibu Unified School District; Daniel A. Domenech, executive director of the School Superintendents Association (AASA); Zandra Jo Galvan, superintendent of Greenfield Union School District; and Paul Gothold, superintendent of school for San Diego County. Edgar S. Zazueta, executive director of Association of California School Administrators (ACSA); Pedro A. Noguera, the Emery Stoops and Joyce King Stoops Dean of USC Rossier; and Ott will moderate.
The lecture will be held in-person at USC Town and Gown on Thursday, August 25, at 4:00 P.M. Attendees are asked to RSVP by August 12: http://bit.ly/MelboLecture22.
"The new Melbo Lecture honors the legacy of Irving R. Melbo and brings together thought leaders to have powerful conversations about the future of education," added Ott.
On becoming the new Melbo chair, Ott said, "I hope that I'm able to make those connections for people in ways that empower them to move forward into the future. The past should inform you; it shouldn't hold you back. It should inspire and lift you up."