The University of Southern California is one of the state's strongest economic engines, spurring $8 billion annually in economic activity in the Los Angeles region and elsewhere in California. As the second-largest private-sector employer in the county, USC employs nearly 22,000. The university's impact is large and wide-reaching.
"When we think of a college, we think of educating young adults, but [USC does] a lot of other work that touches businesses," said Lawrence O. Picus, the Richard T. Cooper and Mary Catherine Cooper Chair in Public School Administration at the USC Rossier School of Education. "We feed people; we hire people to do all kinds of things from building maintenance and construction to providing supplies. We have support staff that go as high as vice presidents, and we have finance and IT professionals. We have really good jobs here at USC, and there's also a lot of contracted purchases," Picus said.
In January 2021, in an effort to better connect USC with local small businesses owned by minorities, women and veterans, the university announced the establishment of the Office of Business Diversity and Economic Opportunity. When looking for someone to lead the effort, the university didn't have to look far. Heading the new venture is two-time Trojan Michèle G. Turner BS '81, EdD '14. Known as Sheli to close colleagues and friends, she served as executive director of USC's Black Alumni Association for nearly 13 years.
Picus, who served on Turner's dissertation committee while she was completing her EdD in USC Rossier's Global Executive program, believes that Turner is particularly well-positioned to help generate economic opportunity for business owners of color in the surrounding communities. "The network that Sheli was part of in this program, in addition to the network that she was part of and helped grow with the Black Alumni Association, will serve her well. She's very thoughtful, well-connected and skilled," Picus said.
In addition to her many years of experience at USC, Turner understands what it's like to build a successful enterprise in Los Angeles while confronting the systemic barriers that minority-owned small business owners often encounter. Turner and her husband built a consulting radiology services business that has operated for about 27 years in the health care space. Originally, they created a network of seven outpatient imaging centers; they sold those, and now their business carries contracts throughout Southern California.
"Both my husband and I had great educational foundations, and I had a very strong foundation of being successful in the corporate world," Turner said. "I knew what our strengths were. We knew that what we could offer was as good if not better than what our competition was offering, and we held on to our strengths and beliefs as tightly as we could. That is what diverse businesses have to do to rise and persist. I am also extremely proud of the opportunities we have provided to other physicians, technicians and administrators of color over these years, proving again and again that excellence can be provided through access."
Turner's entrepreneurial spirit, in addition to her early career achievements climbing the corporate ladder in one of the biggest technology companies in the world, gives her the business acumen to lead the new effort. Turner, who has been the associate vice president of the office for a little over a year, is excited about the challenge that she's been tasked with to make USC a model for economic inclusion in Southern California.
"I look at this job from the perspective of being a small business owner," Turner said. "As such, I know that only being on a diverse supplier list isn't good enough if the contracting business or organization doesn't use me, or if they don't pay me on time. A small business is thinking about maintaining, sustaining and growing their business. "They need good partners and to feel confident that whom they are doing business with will want to seek them out repeatedly and honor their contracts and agreements in a manner that benefits their business cycles," she added.
Strengthening networks and forging new ones
Building relationships with the broader community is something in which Turner is highly skilled, especially when it comes to diverse alumni and communities of color. As executive director of the USC Black Alumni Association, she increased scholarship development up to the $10 million level. In addition, Turner led career mentoring and cultural advocacy efforts through alumni networking, philanthropy and social enterprise.
Many of Turner's classmates and fellow Black Trojan alumni are business owners and leaders. Turner was able to build upon the experiences of Black alumni who knew what it takes to be successful on campus to develop the competencies and resources for current Black students to be successful in their studies.
"Working with Black alumni was a great opportunity," Turner said. "My current [role] is an extension of that work. [Now], I get to focus on excellence and success from the lens of a businessperson of color, who I really am—who I became after I graduated. … It's coming full circle in my professional work."
When Turner began the task of staffing her office, she immediately thought of Gary D. Brown BS '96. The two had worked together at the Black Alumni Association, where he served as assistant director. Brown is now a program specialist in the new office. He not only has intimate knowledge of USC and the experience of being a student and staff member at the university, but he also grew up in South Los Angeles. "This office is in a great position to establish USC even further in the community," he said. "Coming from South Central, I know that USC has sometimes had this reputation, whether deserved or not, of being its own isolated environment. For a long time, for a lot of local youth, being here wasn't attainable as a college student, and for many businesses, engaging as a vendor wasn't a possibility. So, this office is strengthening the footprint of USC in the community by reaching out to small, diverse businesses with support, so we can build up this community together."
One of the first initiatives the office has been amplifying is Trojan Shop Local. Originally started by students in the USC Black Student Assembly, the online directory brings together dozens of listings for local businesses around USC's campuses. Turner sees the purpose of the directory as twofold: It provides exposure to community businesses, and it exposes USC staff, faculty and students to the communities outside the campus gates.
Many of the businesses in the directory were already familiar to Turner and Brown, who often turned to local restaurants to cater events for the Black Alumni Association. One such business, Southern Girl Desserts, was brought on by Turner in 2008. The bakery, run by Catarah Coleman and Shoneji Robison, has two locations, one at the Baldwin Hills Crenshaw mall and a new location at Freedom Plaza. Another of Turner's favorites is the famed Hotville Chicken. Frequently listed among Los Angeles'among Los Angeles' best restaurants, the business is owned by Kim Prince.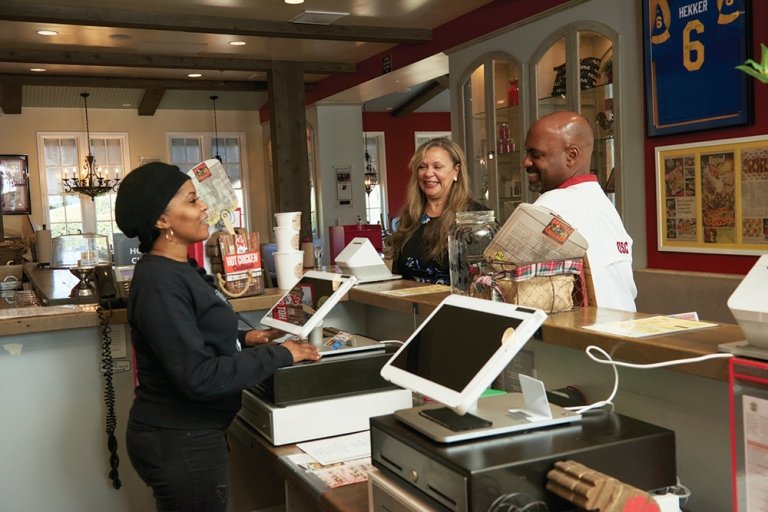 While Turner helped identify and bring businesses like Southern Girl Desserts and Hotville Chicken into the USC fold. Other schools and departments are now turning to the eateries for their own catering needs, and there are plans in the works for Hotville to operate a food truck at the university's weekly farmers market. Brown said the office plans to build relationships with businesses that focus on personal services and health and wellness. And, in partnership with the USC Credit Union, the office aims to make connections with providers of financial services.
Cultivating stronger relationships with diverse communities
USC has not always been viewed as a partner or place of opportunity for business owners of color and for people from marginalized communities. The brick-and-iron fence that surrounds the campus is viewed by some as a reminder of how the campus has at times been disconnected from the local community and as a reminder of how USC could be viewed as a driver of gentrification in South L.A.
As USC has continued to grow, there have been rising rents and a widening disparity between the more affluent student body, where White students and faculty are the largest racial groups on campus, and the communities around USC. In South L.A., for example, where USC's University Park campus is situated, the majority population is Latino, followed by Black and Asian residents. USC is in a "majority-minority" neighborhood. The racial-ethnic disparities and wealth gap in South L.A. are stark, with about a quarter of the population living at or below the poverty line.
While underserved communities like South L.A. are often unfairly defined by this economic struggle, the contributions from the neighborhoods of South L.A and others are deeply woven into the cultural fabric of the city. Jefferson High School fostered the talents of jazz legends like Etta James, and activists from South L.A. played central roles in the Civil Rights Movement of the 1960s. The area was home to the Black Arts Movement of the '60s and '70s, and South L.A. continues to be a hotbed for arts, culture and politics, with the likes of painter Kehinde Wiley, late Olympic gold medalist Florence Griffith Joyner and a long list of musicians, from Dr. Dre to the late Nipsey Hussle, all hailing from the area. The Office of Business Diversity and Economic Opportunity has an opportunity not only to lift up communities near USC but also to introduce its student body, staff and faculty to their rich history and culture.
Mark Power Robison (no relation to Shoneji Robison), professor of clinical education and history as well as chair of the Global Executive Doctor of Education program, was Turner's dissertation chair. He believes that Turner has the skills and capacity to help the campus cultivate a different relationship with the diverse communities in which the campus is situated.
"There have been long-standing, valid concerns in the Jewish community, the African American community, and other communities about the university and how it has operated," Robison said. "However, USC has worked hard over many decades to rectify this and build different relationships. Sheli Turner is a vital part of that as an alumna, businessperson, employee and as a scholar in her work in her dissertation [titled "Institutional Diversity Policy Improvement Through the Lens of Black Alumni Stakeholder Leadership"]. She's part of that story to help USC forge a different relationship with the African American community and diverse communities around us."
Robison sees Turner as a problem solver and a transformational leader. "Sheli sees a circumstance and looks for ways to make it better," he said. "She is very good at this—on top of her personal experiences and understanding of what it is like to be a minority woman business owner. She knows how to get stuff done at USC, and she has an academic acumen in affecting positive change. She's a passionate Trojan, and she has the skills to bring diverse business, small business owners to the table."
USC's vision for creating a more equitable community that brings diverse, small business owners into its ecosystem requires someone who knows what the Trojan network has to offer and someone who can create sustainable partnerships both on and off campus. In leading the USC Black Alumni Association, Turner was already building bridges in the Black alumni network to help strengthen the Trojan community.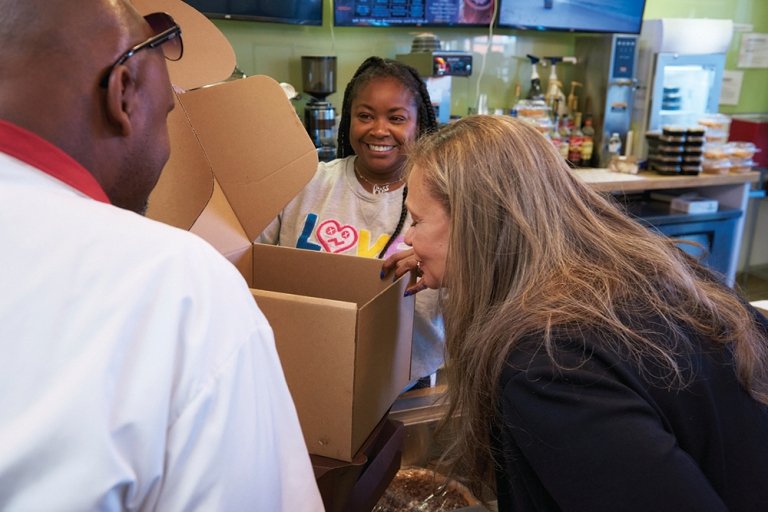 Beyond the strong formal skills, decades of experience in corporate America and as a business owner of color, and relationships that Turner brings to the position, her colleagues see an empathetic leader who values integrity. "Sheli has built a fantastic reputation and a level of trust with the community that she can leverage to advance the mission of the work that we're doing to create more economic inclusion," said Effie Turnbull Sanders, USC's vice president of civic engagement and economic partnerships, which oversees the work of the Office of Business Diversity and Economic Opportunity. "In business, barriers show up in cultural and implicit bias, and even racism. Sheli can use her skills to show how bringing equity and inclusion programs is a win-win for the community and for USC.
Engaging diverse businesses makes us a stronger institution by leaning into our values. Sheli's personal commitment to these values around honesty, integrity and bringing trust and collaboration helps strengthen us as an institution. "Sheli brings joy and optimism to the workplace and to the folks that she works with," Turnbull Sanders added. This work can sometimes be a heavy lift and emotionally taxing, and she brings joy and levity to the work that inspires her colleagues to look for the bright side and for the silver lining in things. Sheli also celebrates victories, which is a testament to her leadership."
USC's Civic Engagement division is implementing these economic inclusion programs by bringing people, businesses and organizations together. The university doesn't want to shame or blame people for not making as much progress as some would like to see. Turner and her team are focused on bringing business owners together with the university in a way that allows their common interests to advance. USC aims to build partnerships that drive economic and workforce development in the Los Angeles metropolitan area and in the state.
For now, Turner is taking a systemic approach to connect small, diverse businesses and the communities in which they operate to the major economic powerhouse that USC has become for the Southern California region and for the state. This includes raising awareness about what services the university needs, and seeking out and matching those needs with diverse service providers, making people on campus aware of the local talent. The systemic approach also involves building the relationships for the long-term engagement required to develop a sustainable pipeline of diverse businesses for USC to contract with.
"I'm very proud of the progress made so far to look internally at our own infrastructure up to this point to build an improved diverse economic inclusion initiative. I want the spirit and intent of this program to last beyond me and become ingrained in USC's DNA," Turner said. "We have announced supplier contracting policy in the past, but now it is important to look at things systemically—really get into the nuts and bolts of driving improvement and change throughout an entire ecosystem of our institution and our community."