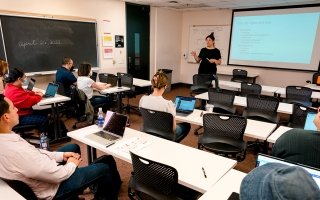 Master of Education in Educational Counseling
This program is designed for aspiring academic advisors or counselors who want to work in community colleges and four-year colleges or universities. 
Educational counselors and academic advisors play a vital role in the lives of college students. Equip yourself with the skills to help students overcome challenges and achieve their academic and career goals. Learn how to deconstruct college and university systems and advance educational equity.
Program Overview
The Master of Education in Educational Counseling (EC) program will prepare you with an in-depth understanding of counseling, higher education systems and theories of student development.
Through this program, you will:
Learn to advance educational equity for historically marginalized students. 
Select and apply for fieldwork opportunities from USC's strong network of community colleges and four-year colleges and universities.
Receive mentorship and guidance on your specific research interests with the option to complete a thesis under the direction of a faculty chair.
Grow in a supportive community learning with leading professors and practitioners who will nurture your ability to create change. 
Curriculum
The EC program curriculum examines the role of counselors and advisors in colleges and universities and the needs of a diverse student population. The program blends a counseling-based theoretical foundation with practical application in student development and higher education.
| Component | Courses | Purpose |
| --- | --- | --- |
| Counseling | 6 | Gain a foundation in the theory and practice of counseling in a variety of settings. |
| Student development and higher education | 8 | Become familiar with student development theory and the dynamics of college and university institutions. |
| Research methods and data analysis | 1 | Conduct and use research to address real-world challenges and interests.  |
| Fieldwork experience | 1 | Gain supervised experience in a variety of higher educational settings. |
| Seminar or thesis | 2 | Conduct a research or assessment project to address an existing problem in the field of educational counseling. |
Seminar or Thesis
You can choose to enroll in a series of seminar courses or complete a thesis. In the seminar courses, you will work in a small group to assess a program or department of a local college or university that supports students. As part of this project, you will work collaboratively with the program administration and staff to identify an action plan, collect and analyze data and develop recommendations for improvement with an emphasis on equity. 
If you select the thesis option, you will complete an original research paper under the guidance of a faculty chair and committee. You will develop a research proposal, go through the Institutional Review Board process (IRB), collect and analyze original data and provide recommendations related to an existing problem in the field. 
Fieldwork
As part of the curriculum, you are required to complete a minimum of 210 hours of fieldwork under the supervision and guidance of a professional in the field. The fieldwork course will provide you with the opportunity to reflect on your field experience, connect theory to practice and strengthen your professional philosophy and identity.
Graduate Assistant Positions
Graduate assistant positions provide hands-on experience in higher education settings and preparation for your desired career. While the majority of EC students obtain graduate assistant positions on the USC campus, the city of Los Angeles is home to many colleges and universities, including local community colleges. Graduate assistant positions are often compensated by an hourly wage, tuition remission, or, in the case of residential education, room and board.
With the support and guidance of our team, you can select and apply for paid and unpaid opportunities tailored to your personal goals throughout your time in the program. However, we recommend that you first interview for opportunities at the annual USC Rossier Preview Day for incoming students.
Scholarships
As an applicant, you will be automatically considered for several USC Rossier scholarships ranging from $15,000 to $30,000. There is no need to submit a separate application for these scholarships. Recipients are selected based on academic achievement, demonstrated dedication to the USC Rossier mission and other distinguishing characteristics. Priority consideration is given to those who apply in rounds one and two. 
View USC Rossier's scholarship finder to identify other scholarships and funding opportunities. You do not have to be admitted to apply to these scholarships. Carefully note the scholarship application deadlines, which may occur before the final program application deadline. 
Financial Aid
The USC Office of Student Financial Aid provides information regarding various types of financial aid and financing options.
To be considered for financial aid, you must apply by filing the FAFSA. After you apply, the financial aid office will determine your financial need and inform you of the federal or private loans that are available to you.
Career Outcomes
Graduates of our program work at community colleges and four-year colleges or universities. Other graduates enter PhD and EdD programs immediately, often working in the field full-time or part-time as they earn their doctorate.
Common career paths include:
Academic counselor or tenure track counselor at a community college 
Academic advisor/counselor 
Student support specialist ( graduation and retention, transfer, etc.) 
Admission officer 
Administrator (directors of advising, program coordinators, etc.)
Our graduates work in programs and departments including:
Career services
Alumni services
First-year experience programs
Transfer centers
Dream resource centers
Student athlete support services
Accessibility support centers
Multicultural centers  
Academic resource centers 
Orientation and outreach programs
Student life
Residential life/housing
Admission
Dual enrollment services and welcome centers
General counseling centers
Student support services (i.e., EOP&S, Puente, Umoja, CARE, CalWorks, etc.) 
 
Program Details
Estimated Length
Full time: 21 months
Part time: 33 months
Program Cost
$2,201 per unit (estimated)
Class Times
Mondays through Thursdays from 4 to 6:40 p.m. or 7 to 9:40 p.m. Pacific Time
Faculty
Our faculty have real-world experience grounded in research, counseling and higher education practice.
Meet our Student Ambassadors
Our student ambassadors can provide you with helpful insight through the lens of their own experiences. Connect with a student of your choice by email, and set up a time to talk.
92%
of EC alums said their USC Rossier education prepared them to be more effective in their career
85%
of EC alums said their studies at USC Rossier prepared them well for future employment
Featured Research Centers
Established in 2017, the Center for Education, Identity and Social Justice has a compelling interest in eradicating all forms of discrimination based on the intersection of an individual's identities that include religion, gender, sexual orientation, race, ethnicity and disability. Using rigorous research and legal analysis, we empower educators to utilize laws and policies in order to identify and extricate bias and unequal distributions of power within educational institutions.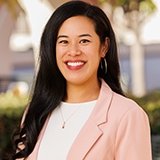 Beverly V. Yanuaria, ME
Assistant Director, Office of Admission and Scholarships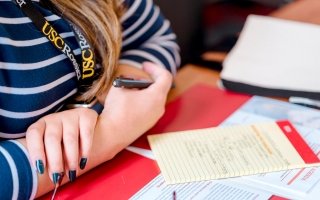 Request More Information
Connect with us to receive more information about this program and reminders about upcoming events and application deadlines.