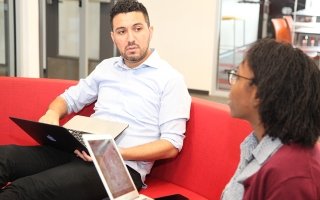 School Counseling Post-Master's Certificate
This program is designed for current USC Rossier students or graduates of the MFT or EC programs who want to expand their professional opportunities for counseling positions by meeting the requirements to be recommended for the California Pupil Personnel Services (PPS) in School Counseling Credential.  
Licensure as a school counselor can open up alternative career opportunities in a field adjacent to educational counseling and marriage and family therapy. With a 464-to-1 national average ratio of K-12 students to school counselors, the need for meaningful access to school counselors is evident. Prepare to play a critical role in ensuring that students have safe, enriching experiences inside and outside the classroom in ways that meet their individual needs and prepare them for college and/or career success.
Program Overview
The School Counseling Post-Master's Certificate program will prepare you to support students' social, emotional and academic development. Through the lenses of college and career readiness, restorative justice and trauma-informed practice, you will learn to understand and address the contextual issues that affect a student's ability to succeed in school and life. During the program, you will complete the requirements to be recommended for the California School Counseling Pupil Personnel Services clear credential.
Through this program, you will:
Have the option to complete just the credential requirements, unlike alternative programs that combine the credential with another master's degree.
Learn to provide academic and socio-emotional counseling to students in K–12 settings.
Gain the skills to coordinate school counseling goals to meet the needs of the student and the organization.
Develop approaches to foster college access and career aspirations.
Take classes online from any location.
Curriculum
The  School Counseling Post-Master's Certificate curriculum prepares you to meet professional competencies and standards developed by the American School Counselor Association's National Model for School Counseling and Council for the Accreditation of Counseling and Related Education Programs (CACREP). The curriculum draws from critical research in the fields of counselor education, sociology, philosophy, education, and counseling and community psychology.
You will gain theoretical and practical knowledge through the lens of modern school counseling techniques, structured around three key focus areas:
College and Career Readiness
Prepare to support all students and their futures, taking into account cultural, socioeconomic and emotional factors that influence success.
Restorative Justice
Help students overcome obstacles of institutional oppression, like poverty and racism, and individual circumstances related to mental illness, domestic violence or community barriers.
Trauma-Informed Practice
Learn to support teaching, learning and interacting in ways that address the long-term toll physical and emotional trauma takes on the lives of children and adults.
Courses
| | |
| --- | --- |
| EDUC 511 | Introduction to School Counseling |
| EDUC 608 | School Connectedness, Climate, Classroom Management |
| EDUC 520 | Career and College Readiness Counseling |
| EDUC 542 | Substance Abuse |
| EDPT 502 | Learning and Individual Differences (MFT Only) |
| EDUC 543 | Family Counseling (EC Only) |
| EDCO 574 | Counseling Practicum |
| EDCO 575 | Fieldwork 1 |
| EDCO 575 | Fieldwork 2 |
Online Learning Experience
You will interact with faculty and other students in live class sessions and activities in the learning management system that can be completed on your own time. 
Cost of Attendance
Fees are typically charged per semester. First semester students should expect the following:
Tuition
Mandatory Fees
Other Fees
The 2021-2022 tuition fee is $2,035 per unit. Expect a tuition increase of approximately 3 ‒ 5% each year.
Orientation: new student fee, graduate = $55
(charged first semester only)
 
Student health insurance. See https://studenthealth.usc.edu for fees and waiver information.
 
Graduate student programming fee = $40
(charged per semester) 
Tuition refund insurance. See arr.usc.edu/services/ registration/tuitionrefund.html for rates and opt-out instructions.
 
Norman H. Topping student aid fund = $8 (charged per semester)
 
Total = $2,035 x # of units
Total = $103 for full-time students
Total = Varies
Scholarships and Financial Aid
USC Rossier does not offer any scholarships for this program. View USC Rossier's scholarship finder to identify other scholarships and funding opportunities.
The USC Office of Student Financial Services provides information regarding student accounts, tuition payment plans, campus-based loans, payment options and tax credits.
To be considered for financial aid, you must apply by filing the FAFSA by May 6, 2022. After you apply, the financial aid office will determine your financial need and inform you of the federal or private loans that are available to you.
 
Program Details
Class Times
Typically weekday afternoons and evenings in the Pacific Time Zone
Take the Next Step
The application for this program is currently closed