Monday, Jan. 14, 2019, would have been my sixth day as an English teacher at Sun Valley High School in the northeast San Fernando Valley.
Instead, I went on strike.
On that rainy morning, I nervously met my new co-workers on the picket line for the first day of the United Teachers of Los Angeles strike.
I faced many unknowns: I hardly knew anyone's name yet. I did not know how long the strike would last or if I would be reprimanded. I did not even know if UTLA had received my mail-in membership form, since I had only signed my contract with LAUSD the Wednesday prior. I did not know that the two pairs of tennis shoes and three pairs of socks I brought would do nothing to keep my feet dry from the cold rain.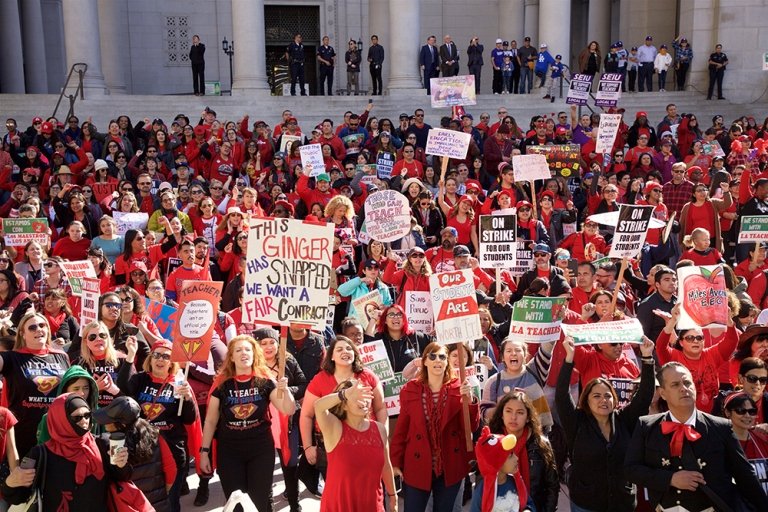 On that first day, the teachers and counselors of Sun Valley High School began walking the line, chanting, holding our signs and making our presence known, despite the rain. At some point, I took up one of the extra snare drums and put to use the few lessons one of my older brothers had given me in high school. A co-worker and I formed a two-person drum line.
In the late morning, we boarded the Metro and headed down to the Civic Center to join the march to LAUSD headquarters. A sea of red poured out of the train cars onto the platform. My co-worker and I began drumming as we rounded the corner to a long-tunneled escalator up and out of the station. As we ascended, the acoustics amplified our drumming and people began whistling and bouncing along. The loud and steady beat unified us: the teachers, counselors, and nurses of Los Angeles County, marching not for ourselves, but for our students.
I carried that drum throughout the strike, rain or shine. We found other drummers and musicians and formed impromptu bands. Crowds gathered around us, and people broke out dancing, singing and chanting. I could feel the unity and energy on the picket line as I bonded with my co-workers in a way that probably would not have been possible otherwise.
On the sixth and final day, I had been on strike longer than I had officially been a teacher. The end came quickly, and not everyone was happy with the results. However, I feel optimistic that we showed a collective force that not only positively influenced Los Angeles, but also contributed to the national dialogue about education.
Going back into the classroom was a second rough start to the semester, and I am still finding my way as a first-year teacher. I remind myself what I tell my students: Making mistakes is part of the learning process. Luckily, I have gained many mentors at my school as our collaboration has gone beyond the strike.
That means a lot to me because I grew up in this community, the daughter of immigrants from Mexico who did not have the opportunity to complete even elementary schooling. I am the first in my family to earn a master's degree. I was drawn to teaching in Sun Valley because, when I was 7, my eldest brother was killed here. I want to help make a place that has taken so much from me just a little better by serving its underrepresented youth.
Starting my career on strike isn't what I expected, but it's given me a strong network of colleagues, mentors and friends as well as the desire to stay engaged in the leadership of my school and union. I've seen firsthand what's at stake and found my place early on in the fight for better teaching conditions and schools—on the front line.
---
My Strike Experience
By Julia Denney MAT '18
Since I was very young, my sense of purpose was founded in public service. However, I was not sure how my passion would manifest in my career path. As I learned about diverse American histories during my undergraduate career at Swarthmore College, I realized that I should have had a more comprehensive social studies education in my public secondary education. I was fortunate to go to college and be exposed to stories, language, and primary sources that helped me understand and talk about our current global context. However, I did not think that it is necessarily fair that many people have to pursue higher education to access these tools.
I believe that young people should be taught culturally relevant histories throughout their educational career. Students should learn to form their own opinions about sociology, economy, and history after examining primary sources. Students have a wealth of knowledge about the social dynamics of our world but are not necessarily given the vocabulary or historical context to articulate their experiential expertise relating to the social sciences. Additionally, young people are inspiring and their perspective is one that is generally undervalued. For these reasons, I was drawn to teaching.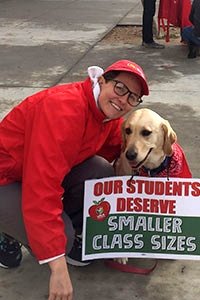 Currently, I am a long-term substitute at the Los Angeles School of Global Studies at the Miguel Contreras Learning Complex. I am actually in the same classroom where I completed my student teaching. My former guiding teacher is an incredible social studies educator and happens to be on maternity leave this semester. I feel very lucky to be able to work with the same students for an entire school year.
I co-teach a course called "Global Studies" which combines 10th-grade English and social studies. Also, I teach an elective Geography course on my own. This Geography class is comprised entirely of beginning-level English-learners and recent immigrants. Essentially, the class is teaching English through geography. Ultimately, we are working towards students sharing students' immigration stories for a nationwide project called I Learn America.
Participating in the strike meant utilizing my privilege to stand up for the future of public education. I believe education is a universal right. However, it is clear that some of our leaders in all levels of government are prioritizing corporate interest over public interest.
This experience showed me the power that teachers have to organize and stand up for their students. It has inspired to me continue to be the teacher-advocate that USC's MAT program encourages all of its candidates to be. As the person who has always been committed to public service, I was shown the power of community organizing from a first-hand perspective.
Although UTLA had major victories, I believe there is still more work to be done. After participating in this strike, I feel confident in further advocating for student needs that were not met in the current contract agreement.
I think that the readers of the magazine should takeaway that this strike was the beginning of the fight for saving public education. Readers should know that they can directly contribute to this fight. Readers can contribute to the fight with their voting power. They can ask their local teacher and community organizers how they can directly help public schools. We cannot be bystanders while public education is being attacked by corporate interests. Having public schools' best interest in mind is having our society's best interest in mind.