How do you boost the number of marginalized students in the sciences? 
That's a question Darnell Cole, a USC Rossier professor of education and co-director of the Center for Education, Identity and Social Justice, has wrestled with throughout his career. His new research project, known as SEEDS (Student Engagement, Exploration and Development in STEM), sets out to answer it by exploring the impact of multigenerational mentoring on the math and science engagement of middle school students from economically disadvantaged Los Angeles neighborhoods. 
"Our focus is connecting the middle school students with college students who live in these communities as mentees and mentors together around the construct of STEM engagement through online gaming," Cole said. "The middle school students get to see people who look like them, who might have experienced things that they've experienced, engage in science concepts." 
The mentors, several of whom are USC students, are all majoring in STEM (science, technology, engineering and math) subjects at two- and four-year colleges, and they benefit from their relationship with the middle school students as well. For one, they are viewed by the middle schoolers as scientists rather than as college students at risk of not graduating, as those from low-income backgrounds and communities of color are often framed, Cole said. "It helps solidify their identity beyond these kinds of characteristics that are often deficit-oriented and changes into an asset-oriented view," he said.
As the middle schoolers receive guidance from college students, the college students are mentored by professionals—educators, working scientists and others in the STEM field—who coach them through the undergraduate experience. They can help them transition to graduate school or to a STEM career. "Our professional mentors are able to engage our college students in meaningful, thoughtful ways with their career pathway information as well as their own kind of navigational and aspirational capital," Cole said. 
In addition to Cole, SEEDS includes co-principal investigators Christopher Newman, an associate professor in the Department of Higher Education at Azusa Pacific University; Shafiqa Ahmadi, a USC Rossier professor of clinical education and co-director of the Center for Education, Identity and Social Justice; and Ting-Han Chang, a postdoctoral researcher at the center. Graduate and undergraduate students also have leadership roles in the project, which kicked off in 2021 with a pilot phase.
The first year of the program at full scope is now underway, a development Cole attributes to the partnerships and grant funding that have made SEEDS possible. That includes a close connection with the USC McMorrow Neighborhood Academic Initiative (NAI), a seven-year enrichment program to help students from South and East Los Angeles earn college admission. NAI hosts a Saturday Academy at two USC sites with four schools: El Sereno Middle School, Florence Nightingale Middle School, James A. Foshay Learning Center and Murchison Street Elementary. About 450 students from those schools take part in the SEEDS program.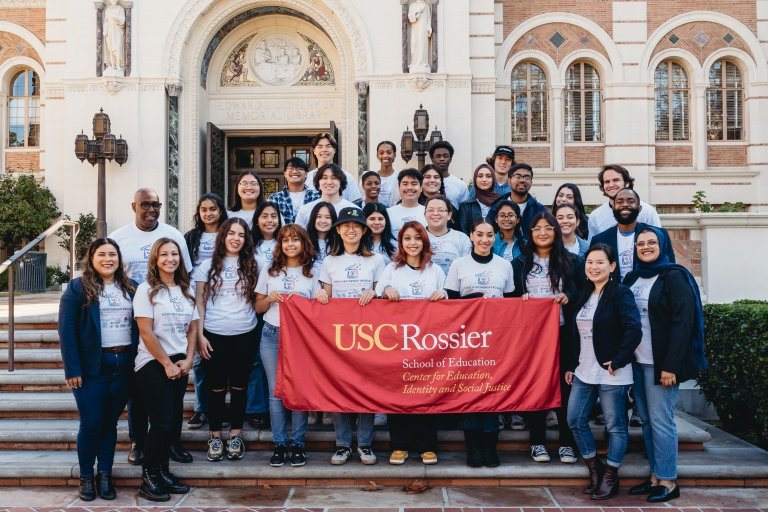 NAI has "allowed for us to come in and provide the SEEDS program using online games to promote STEM content learning as well as mentorship around STEM concepts and ideas," Cole said. "The online games are part of the award-winning Legends of Learning curriculum specializing in math and science and designed for distance, hybrid and blended learning." 
Lizette Zarate, NAI program director, said she appreciates Legends of Learning because students can use the curriculum with no prior knowledge of the lessons included. 
"We had a science component as part of our program pre-SEEDS, and it's all hands-on, inquiry-based science that we do," she added. "What SEEDS brings—it's a game-based program [in which] kids bring their laptops, and then they get to play video games that are science-focused."
The city of Los Angeles is another important SEEDS partner. The college students now participating in the project applied through L.A.'s Youth Development Department, which pays a collective sum of $180,000 to cover 60 SEEDS internship roles. Through its relationships with organizations such as Para Los Niños, Brotherhood Crusade and Archdiocesan Youth Employment Services–Los Angeles, 
the USC McMorrow Neighborhood Academic Initiative has helped recruit college students to serve as SEEDS mentors.
Having granted SEEDS $228,373 in September 2021, the John Randolph Haynes and Dora Haynes Foundation makes the project possible, Cole said. That grant covers two years, while the city of Los Angeles plans to make an annual financial commitment to SEEDS, Cole said. He hopes to develop a variety of partnerships that can provide corporate or individual funding for the SEEDS project. Cole would also like to replicate the project in cities across the country to evolve the outreach it is doing.
"The wonderful thing about SEEDS is that it creates these significant partnerships between foundations, the city of Los Angeles and postsecondary institutions as well as LAUSD and other schools that are participating in this work," Cole said. "It creates this opportunity to have these partners who occupy different places in the city come together around one critical goal: developing opportunities and access for low-income and minoritized students to engage in STEM work." 
The genesis of SEEDS dates back to about seven years ago, when Cole and Newman earned a National Science Foundation grant that aimed to bring physicists, scientists, social scientists and educators together so they could brainstorm about ways to increase the participation of racialized minorities in the sciences, particularly in physics and astronomy, Cole said. 
"We were able to create a preconference experience [for] the National Society of Black Physicists," Cole said. "We pull[ed] together all of these scientists who were physicists, astronomers, worked in national laboratories, and put them in the same room with social scientists and educators and began to ask and workshop these questions. We were able to generate a few significant ideas, and [SEEDS] is one of those ideas." 
Although SEEDS is new, the project has already yielded some preliminary results. Students who participate in SEEDS, so far, have performed similarly academically to their peers from the same schools who don't. This may be, in part, because students are still rebounding from being out of class for a year after schools shut down amid the COVID-19 crisis in March 2020. While the Los Angeles Unified School District held classes online during this period, research has found that students in communities of color and low-income communities had low participation rates in remote instruction and that their test scores in a variety of subjects continue to suffer. 
"One of the things that this program does—not only the SEEDS program, but also NAI—is that it creates an opportunity to bring these students back face-to-face and engage them in some hands-on work around science," Cole said.
"If students see themselves as scientists, they're more likely to engage in science-related work and more likely to persist through the challenges that they experience in sciencerelated work." —Darnell Cole, USC Rossier professor of education and co-director of the Center for Education, Identity and Social Justice
"The SEEDS project really allowed [the students] to engage their technology in ways that were designed to promote STEM content acquisition and curiosity and engagement in the same space as their mentors and peers. So, I think we were thinking about it, not in terms of learning loss, but how do we create and recreate a meaningful STEM-focused engagement and mentors who are thoughtfully engaged in working with them."
Where SEEDS participants differ from their peers who aren't involved in the program is in science identity, baseline mean scores have found. Over the course of the program, SEEDS participants develop a stronger sense of their identity as potential scientists. 
Cole said the research indicates that SEEDS participants grow in their ability to identify adults or mentors available to offer them guidance in pursuing scientific interests. He emphasized, however, that these are preliminary findings, and he doesn't want to overstate their significance. More research needs to be done, but the SEEDS pilot points to the start of a meaningful trend with regard to science identity.
"The science identity has been cited in the literature as being these fundamental, core concepts, that if students and individuals, as they're developing, see themselves as scientists, they're more likely to engage in science-related work and more likely to persist through the challenges that they experience in science-related work," Cole said.
Equally important, Cole added, is that the college students serve as role models to their middle school mentees, instilling in them the belief that they, too, can go to college and become STEM majors. Zarate said the college students contribute to making science fun for their young mentees. That some of the college students took part in NAI themselves just deepens the connection between them and the middle schoolers. 
"In their science class, the [kids] are with their science teacher cutting up cows' eyeballs, which is actually a lesson that we did a few weeks back," Zarate said. "They're focused on that. In the SEEDS period, it gets to be more informal, more personal, kind of like, 'My mentor's here. I'm playing this cool video game'—that's really science. It's disguised learning, but they get to connect and ask questions that they probably wouldn't get to ask their teacher, probably wouldn't feel comfortable asking their teacher." 
With the mentorship of these college students, the SEEDS middle schoolers can explore STEM free of harmful stereotypes about their academic abilities, Cole said. Stereotypes may lead to a phenomenon known as "stereotype threat," in which marginalized people hear negative stereotypes about their group, such as "Black and Brown students aren't good in STEM," and proceed to struggle in that subject. 
"Often, minoritized students or low-income students walk into [STEM] environments, and they're stereotyped about why they have access to these environments, their inability to be successful academically, the fact that they don't look like a scientist," Cole said. "All of those things are washed away in many ways because we've redefined, for the middle school students, who they see as scientists, and we've also helped reshape and cultivate how college students now are being seen as scientists by these middle school students. So, it's a wonderful kind of thing that stereotype threat doesn't revolve around the center of the experience."