The Dean's Superintendents Advisory Group (DSAG) recognized a new group of scholars as future leaders to learn from this past week at its annual dinner event, held Thursday in Monterey, Calif.
In addition to giving scholarships to three current USC Rossier students, DSAG also recognized a veteran superintendent, David Cash EdD '08, inducting him into the group's Hall of Fame.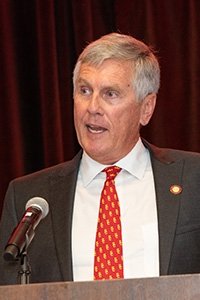 Reflecting on USC Rossier celebrating its Centennial this year, Karen Symms Gallagher, the Emery Stoops and Joyce King Stoops Dean of USC Rossier, noted that finding and supporting new generations of superintendents has a long history at the school. At least 230 USC graduates have run California school districts since 1970, including 78 in 2018.
"We depend on your experience and expertise to help Rossier stay relevant and continue to expand its horizons," Gallagher said.
Into the Hall of Fame
Cash became the 21st inductee into the DSAG Hall of Fame, three years after retiring as the superintendent of the Santa Barbara Unified School District, where he served for five years.
The son of an elementary school teacher and a civil engineer, Cash spent 28 years in education, including as superintendent of the Clovis Unified School District, Claremont Unified School District and the Buellton Union School District.
"Leading from a social justice frame has been all I have tried to do," Cash said, accepting the honor and noting some of what he's learned from his Lakota Sioux heritage. "I was lucky to be raised in a family whose constant reference was, if there is no justice for some, there is no justice for all."
The event also honored three students completing EdD degrees. Since DSAG established its endowment fund in 2013, the group has granted scholarships to 17 Rossier EdD candidates.
This year's recipients included:
Julie Harrison, a 19-year educator and currently a director of curriculum and instruction with previous experience as a science teacher, coach and principal;
Elias Miles, principal at A.E. Wright Middle School in Calabasas, Calif.; and
Maricela Ramirez, the chief educational programs officer at the Los Angeles County Office of Education, where she oversees specialized high schools, county community schools and juvenile court schools.
Noting that author Ray Bradbury once said, "a dwarf, on the shoulders of giants, sees the furthest of the two," Miles said he follows in the footsteps of giants. "This scholarship, this great generosity, makes all the difference for a student like me and gives me the support to reach the great heights our students deserve. And one day, with your help, I'll be the shoulders that a dwarf stands on."
Building the endowment
According to DSAG member and Irving R. and Virginia Archer Melbo Chair in Education Administration Rudy Castruita, "This year alone we had 63 donors to the DSAG scholarship fund and raised $114,000."
DSAG leader Greg Franklin also announced that Maggie Chidester EdD '95, has agreed to match any gift of $300 or more to the DSAG endowment from any new or returning donors (those who have not made a gift in the last 18 months).
Castruita and other DSAG members have committed to finishing a $1 million scholarship campaign; the endowment now totals just over $710,000.
Annual gifts can be made to the DSAG Endowed Scholarship Fund to support future EdD students aspiring to become superintendents. Every gift counts toward the Scholarship Campaign in honor of Rossier Centennial and helps grow the endowment to increase the number of scholarships awarded in the future. To make a gift, visit rossier.usc.edu/giving or contact Rachel Beal, director of major gifts, at 213-821‑5378 or bealr@usc.edu.