Rudy M. Castruita
Irving R. and Virginia Archer Melbo Chair in Education Administration
Professor of Clinical Education
Education
EdD, University of Southern California
Expertise
School Budgets and Facilities • Special Education • English-language Learners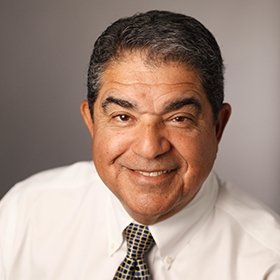 Contact Information
Websites and Social Media
Bio
Dr. Rudy Castruita is a Professor of Cinical Education at Rossier where he specializes in the areas of school budgets and facilities, special education and English language learners. He is also the University of Southern California Irving & Virginia Melbo Chair for the Rosier School of Education and in that capacity he brings relevant urban reform strategies and leadership experience to the doctoral program at USC.
Castruita has taken an active role among educational leaders. He has served as past-president of the California County Superintendents Educational Services Association (CCSESA) and the California Urban Superintendents. He currently serves on the State Superintendent's Advisory Committee for Implementing the Public School Accountability Act of 1999, the Governance Task Force of the state committee to develop a Master Plan for Education, the California Reading First Initiative Leadership Team, and was chair of the statewide Language Arts Task Force to Develop Standards for High School Graduates. Most recently, Castruita was appointed to the State's Legislative Blue Ribbon Commission on Autism by the State's Legislators. Castruita also serves on several national boards including Scholarship America, the prestigious Educational Research & Development Institute, and the Board for Harvard's Urban Superintendent Pr ogram. Recently, Castruita was nominated by the President of the United States, and appointed by the United States Secretary of Education Margaret Spelling, to serve on the President's Advisory for the Department of Defense Schools for military based schools overseas.
Castruita has been a dynamic force in the field of education for 39 years. He served as the San Diego County Superintendent of Schools for 12 years. Prior to that, he was Superintendent of the Santa Ana Unified School District. He received his Ed.D., from the University of Southern California in Educational Administration, his Master of Science from Utah State University in School Administration and his Bachelor of Science from Utah State University in Social Science. Dr. Castruita's accomplishments in school reform have been recognized throughout the educational community, garnering him numerous awards and accolades for his dramatic reform efforts and for raising student achievement in low-wealth school districts. He was named California's Superintendent of the Year, and he has received the Marcus Foster Award from the California Association of School Administrators, that organization's highest honor. Because of his success in producing National Blue Ribbon Schools and State Distinguished Schools, Dr. Castruita was asked to be the National Blue Ribbon Schools trainer and evaluator. He was recently named one of 12 "Tech Savvy Superintendents" in the nation by E-School News.