As ever, the sun is shining on Palm Springs, California. In the parking lot of Palm Springs High School on an early September morning, a small line of cars waits under a perfect blue sky.
School staff members venture out from under the shade of parking covers, greeting the cars of parents and students, providing them with laptops for the coming school year.
Palm Springs Unified School District is a 1-to-1 district, where each student receives some kind of digital learning device. Those devices are more central than ever this year, as a way to ensure continuity of learning during the COVID-19 pandemic.
Parent Emiliana Perez is back in line for this "tech depot" because the microphone on the first Chromebook she borrowed didn't work. Her son is going into his sophomore year, but he's optimistic the pandemic will be over by his senior year.
Rommel Lopez is in line to get his youngest son a laptop because his oldest son needed the family Chromebook for college.
And Juan Flores says his children have been using his personal laptop sometimes, "but I don't like that because it has less restrictions and they get distracted."
Amid the varied and difficult problems that education leaders faced in the spring of 2020, perhaps none have posed and continue to pose as great a challenge as technology—connecting teachers and students for the sake of learning. In the aftermath of a wayward semester, district leaders are taking away lessons from what went wrong, but also what went right.
"One of my frustrations as an administrator over these years is how behind we've tended to be in technology as school districts," says Palm Springs Superintendent Sandra Lyon EdD '17. "It's not something that has been targeted or funded."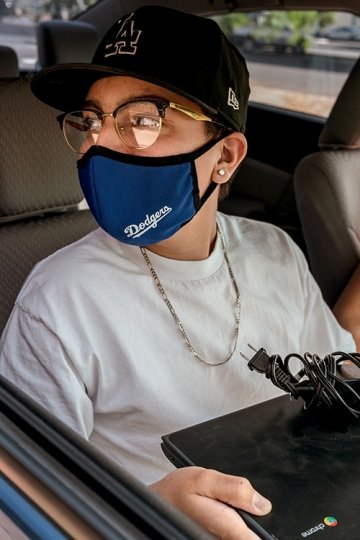 The mismatch between what districts have wanted to do and what they've been able to do has left many administrators, educators, parents and students frustrated. Along the way, it's further exposed the vulnerabilities of the American education system.
A technology desert
Forty-five thousand people live in Palm Springs year-round. But Los Angeles elites and other tourists flock to this desert resort in the winter, more than doubling the population for the season. Spread over nearly 100 square miles, Palm Springs is otherwise a sparse city in the shadow of the San Jacinto Mountains.
Though Palm Springs is not a big city, the school district that serves it is relatively large. Because it takes in several surrounding cities, Palm Springs Unified has an enrollment of about 23,000. According to the U.S. Census Bureau, the median household income in the area, at $50,361 per year, falls more than $10,000 below that of Riverside County, in which it is located. About one in six residents lives below the poverty line.
As the pandemic forced schools shut in March, the district mobilized to deliver devices and more than 4,300 internet hot spots. The district runs tech depots three times a week to continue meeting demand.
But like in many areas, supplies have dwindled. The electronic sign outside a Desert Hot Springs High School tech depot notes the current unavailability of hot spots. Lyon is aware of how badly these supplies are needed, that there are racial disparities in access to technology and that low-income households often have to share technology. Some homes have several generations of families, or multiple families, living under one roof. Many either share the same computer, or have several computers accessing the household's network and dragging down internet speeds."I was stunned by how fewer than half the districts in our county had devices before the pandemic," Lyon says. "Think about the inequities of how a student can go home and the only way to access the internet is on their mom's phone."
The Riverside County Office of Education Foundation launched an "All for One" initiative to help raise money to help get devices and internet hotspots to more students, but Lyon is adamant that the federal and state governments need to do more.
"Closing the digital divide needs to be more than a slogan," she says, "but that we're still raising money through foundations says a lot."
Digital equity
On Jan. 21, 2020, the U.S. Centers for Disease Control and Prevention confirmed the United States' first known case of COVID-19, the sickness caused by the novel coronavirus, SARS-CoV-2.
For the next month, the U.S. had no more than 15 known cases. Leaders at the federal and state level repeatedly urged calm. So the nation got on with life.
One of my frustrations as an administrator over these years is how behind we've tended to be in technology as school districts. It's not something that has been targeted or funded." —Sandra Lyon EdD '17, Palm Springs Unified School District Superintendent
On Feb. 25, director of the National Center for Immunization and Respiratory Diseases at the U.S. Centers for Disease Control and Prevention Nancy Messonnier advised parents and schools to consider the possibility of internet-based learning in the event that COVID-19 did spread. In a press conference the next day, President Donald Trump said that, "We're very, very ready for this."
Just over two weeks later, on March 13, with 565 reported cases of COVID-19 in the U.S., most of America shut down. Not only did the pandemic catch districts off guard, but knowing what kind of resources to commit early on proved frustrating amid a jumble of public-health advice, and sometimes no advice at all, from regional, state and federal leaders.
"While people expected us to deliver high-quality distance learning at the drop of a hat," Lyon says, "we didn't have the infrastructure to do that."
And it wasn't just Palm Springs that experienced difficulties. In North Dakota, there were schools that couldn't get laptops. Maryland students that couldn't log in to classes. Cyber attacks in New Jersey.
A nationally representative March 2020 survey of school and district leaders by Education Week found that 41 percent of districts reported that they "[could] not productively provide remote/e-learning activities to every child in the district," while only 22 percent of respondents said they could.
A June 2020 report from education nonprofit Common Sense Media and Boston Consulting Group found that of 50 million American students, 30 percent of students lacked either reliable internet or a home device with which to stay connected to school. Nine million students lacked both.
Thus, communities with more resources were better able to cope with the changes to the school year, says Stephen J. Aguilar, an assistant professor of education at USC Rossier who studies digital equity.
"Often, people think of technologies in terms of products, like an iPad, laptop, etc., but in reality, we live in a time where technology has formed an interconnected ecosystem," Aguilar says. "You can't just give [products to] communities in need without first attending to how a given technology can or can't be embedded into their infrastructure or environment."
Research from scholars at MIT and Carnegie Mellon University shows that internet access is also an equity problem, in which students who are low-income, housing-insecure, English-learners, Hispanic or Black have worse access than peers.
What's most disturbing is that these discrepancies can exist even in areas with a high level of broadband distribution. Research suggests a digital redlining; much in the same way that cities, banks and other institutions have historically restricted certain racial groups from accessing capital, so too do internet companies limit high-speed internet service in low-income neighborhoods, disproportionately hurting Black and Hispanic students.
Even with the basic logistics down, there were also major instructional questions. All of these factors together meant that school districts were left to figure out how to provide every student with a device and reliable internet; prepare teachers, students and their parents to use that technology; and put in policies and standards for interaction through that technology, whether related to attendance or appearance or engagement.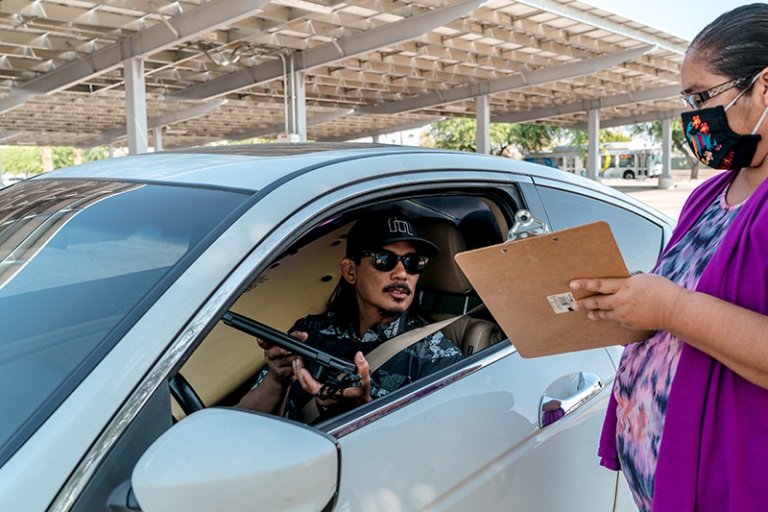 Aguilar points to the rapid adoption of Zoom this past spring and how it forced families to adapt: Do they have a quiet room? Do they have multiple computers? Is their internet fast enough? Can they watch their child while they're "attending class"?
A multitude of media and scholarly reports demonstrated a widespread failure to reach and engage students with special needs as well as students living in difficult economic situations.

"When you have something happening like this, without a federal plan or regional plan, there was this patchwork of approaches," Lyon says. "One county was doing something different than a neighboring county."
On the other side
Monrovia, California, makes for a strong visual contrast to Palm Springs, even if both sit in the shadow of mountains. A verdant suburb just northeast of Los Angeles, Monrovia has a much smaller enrollment than Palm Springs—just over 5,000 students.
Monrovia's median income is also well above that of Palm Springs. It has one-third of Palm Springs' poverty rate. By most economic measures available through the U.S. Census, the average Monrovia family also does better than the average family in the rest of Los Angeles County.
And yet here, too, reliable computer and internet access has been an ongoing issue.
"So many families tried signing up for internet for the first time," says Monrovia Unified School District Superintendent Katherine Thorossian EdD '09. "The company would ask for something they didn't have—a Social Security number or a credit card."
In order to secure internet for all students last spring, the district negotiated with a local company, Giggle Fiber, and put it on the district's tab. The costs have been high, but the consequences of inaction might have been higher.
As if to illustrate that, Thorossian describes an all-staff meeting she held this summer where she urged flexibility and adaptability, especially when there were so many technology issues likely to occur. In the middle of that speech, her internet cut out. As metaphors go, it's a bit much.
"We live in a time where technology has formed an interconnected ecosystem. You can't just give [products to] communities in need without first attending to how a given technology can or can't be imbedded into their infrastructure or environment." —Stephen J. Aguilar, USC Rossier Assistant Professor of Education
Inauspicious as that might seem, Monrovia has rallied to the occasion, Thorossian says. One of its biggest successes came over the summer: The district initiated a summer school trial effort geared toward below-grade-level readers and English-learners in elementary school. They looked at where engagement dropped off to learn where communication with families needed to improve and where to create more student agency. A pre-test/post-test model showed signs of success.
"No one wanted to go into the year believing we wouldn't be able to make a difference," Thorossian says. "To have proof in front of us that we could be effective on a small scale meant we could do it on a large scale, and that was powerful."
Parent engagement has also soared, she notes. Parenting and counseling support groups that had started before the pandemic were able to be sustained and grown because of the newfound familiarity with videoconferencing.
"If I had three in-person presentations, I would not have had 1,000 people show up," Thorossian says.
Planning ahead
Likewise, adapting to the pandemic has led to improvements in Palm Springs.
"People have new skill sets and new pathways," Lyon says. "How we deliver instruction will change forever."
Noting the inflexibility of large institutions, Lyon says that her district has nevertheless re-examined a lot of traditional attitudes. She points to her athletic directors, whom she says once scoffed at the idea of students in the district's online learning academy participating in sports at a sister brick-and-mortar school. And yet, on a recent Zoom call, when the notion of playing sports came up, the same administrators welcomed such participation.
"People have different expectations now," Lyon says. "It's helped us see the forest for the trees."
Education leaders will also, eventually, have to envision what comes after. The pandemic has made it clear that states and districts have not matched investments in technology with investments in online learning as its own kind of pedagogy.
Districts will also need to confront the consequences of the digital equity gap, the fact that some students have the benefit of reliable internet access at home while others do not. Aguilar says that districts can use the lessons learned to better understand how to take advantage of technology going forward. He recommends districts start by asking some basic questions: If we try to use certain technologies to help kids learn, are those technologies compatible with their environments? Can they take full advantage of them? Will they have an opposite effect and actually place burdens on families?
"We have a new lexicon, we have new platforms, we have new resources," Thorossian says. "Success would be incorporating those into what we do best so that teaching and learning is improved. What we're learning now will help us better if we sustain them."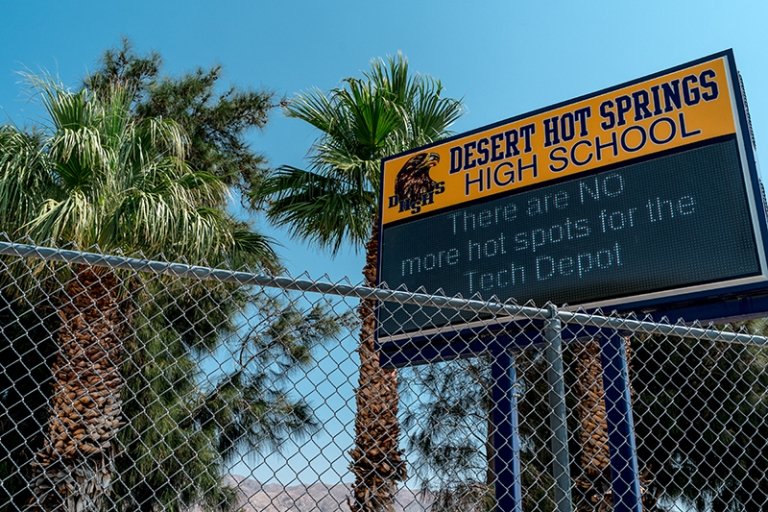 Lyon points to the fact that it's not just that districts know what's possible, but parents now understand—and expect—the good things to last, like frequent communication and the use of videoconferencing when parents can't come to meetings in person.
No one knows how this school year will end. But district leaders are hopeful.
"Teachers, administrators and educational staff of all types always make lemonade," Lyon says. "What they have been able to do in such a short period of time is nothing short of remarkable."