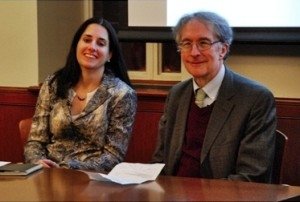 Dr. Mary Helen Immordino-Yang and Dr. Howard Gardner led a recent discussion on empathy and education in the digital age.
Famous puppeteer Jim Henson said: "Kids don't remember what we try to teach them. They remember what we are."
What we are is a labyrinth of mind involving abstract and concrete cognitions, and bodily actions and sensations, according to Mary Helen Immordino-Yang, a neuroscientist and developmental psychologist at USC Rossier School of Education and the Brain and Creativity Institute; and Howard Gardner, Professor of Education and Cognition at the Harvard Graduate School of Education. Our ability to navigate this labyrinth has deep implications for the way we learn about the world we live in and ourselves.
"Emotion is a piece of cognition," explains Immordino-Yang, in a recent discussion held at the USC Shoah Foundation Institute for Visual History and Education.  "Emotions are skills just like cognitive skills [and] without emotion, your cognition has no rudder—nothing to steer it."
Basically, one cannot divorce one's emotions from cognitive processes. We feel what we learn and we learn what we feel.  Immordino-Yang contends that leveraging this effectively can improve education. Most of the time, emotions are just there – simple reflexes like a rubber hammer popping you under a knee cap.  A series of superficial emoticons on Facebook: "like" and "unlike." Fits and outbursts – bidden and unbidden – that we often attribute to a fantastic meal or lack of sleep or the movie we're watching. Yet, "higher emotional awareness" can become a mind bending Rubik's Cube for those of us who grapple with our emotional world on a daily basis.
While many of us growing up were told not to let our emotions get in the way of learning, Immordino-Yang and Gardner discussed how the opposite is actually true: to employ emotions for effective learning—to include the learning of values as well as information—is a critical piece of becoming an educated human being. Immordino-Yang in particular is exploring the ways that students and educators show "emotional awareness," and reflect on its effects on students' understanding of the social world.
The cross-disciplinary discussion included The USC Shoah Foundation, USC Rossier School of Education USC School of Cinematic Arts Institute for Multimedia Literacy; USC Dornsife College of Letters, Arts & Sciences; USC Center for Excellence in Teaching; USC Levan Institute for Humanities and Ethics; USC Center for Scholarly Technology; and the USC Brain and Creativity Institute.
The topics of discussion focused on bringing together educational and neuroscientific perspectives, particularly around values, such as empathy and social cohesion. The research conducted by Immordino-Yang and Dr. Antonio Damasio of USC's Brain and Creativity Institute reshapes our understanding of social emotions and how they affect even our biological survival as a species. According to their work, education in values can occur as people feel deeply moved in hearing inspirational stories about other human beings, such as stories of hardship and tragedy overcome by virtue, determination, and intelligence. The data reveal that when we reflect on these extraordinarily inspirational stories, even our brain stem – the very part of our brain that makes our heart beat, regulates our breathing and keeps us alive—becomes more active. "One literally feels inspiration on the very substrate of one's own biological survival," explains Immordino-Yang.
The panel granted that on the surface, this information isn't new.  We know that we don't live only biological but also socio-cultural lives. These spheres are in constant interplay and have a lasting effect on the development of new mental habits.  Howard Gardner called this our "synthesizing mind." The mind that enquires: What do I pay attention to? What does this mean at a deeper level?  The answers to these questions are crucial for teachers for they reveal how students move from gathering to synthesizing information.
A recent paper by Immordino-Yang laid out a hypothesis about how the availability of information in social media may in fact be reshaping the development of the inner brain network. In our hyperactive digital age, entertaining, high-intensity but superficial information overload has the effect of crowding out time needed for reflection, meaning-making and development of one's emotional life.   The more information overload, the less activity in this inner brain network. Experts and educators are wrestling with an increased focus on academic acquisition of "facts" at the expense of reflective learning that leads toward deep understanding of the material, and implications for managing one's broader world.
USC institutions like The Shoah Foundation are attempting to bridge the gap. By developing digital tools to teach history in a rich social and moral context, they use information technology not as an enemy for the acquisition of values learning, but as an ally.
For example, USC interdepartmental cooperation between the USC Shoah Foundation Institute for Visual History and Education, USC School of Cinematic Arts, USC Institute for Creative Technologies has created a sophisticated 3D electronic device that records from many angles the testimonies of holocaust and genocide survivors, that provides a kind of "immersion experience" for the viewer that enhances communication of the type that is most effective for creating understanding, empathy, and resulting motivation to ameliorate conditions that could lead to such future crimes against humanity.
USC Rossier is training a new generation of teachers on the use of these "new dimensions in testimony"  as powerful tools in the hands of effective teachers, school librarians, and staff, and others throughout the world using visual history testimony for educational purposes.