`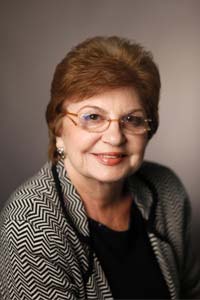 Julietta Shakhbagova
Professor of Clinical Education
PhD (Doctor of Philological Sciences), Moscow Linguistic University, Moscow, Russia
Concentration
Teacher Education
Expertise
Expert in learning English as a second language, American English phonetics/phonology, and comparative linguistics
Julietta Shakhbagova
Dr. Jultta Shakhbagova is a professor of Clinical Education and a linguist by training specializing in phonetics/phonology. She is an expert in the areas of applied and comparative linguistics, pedagogy, and methodologies of teaching English as a Second /Foreign Language.
Shakhbagova is the author of more than 50 publications, including textbooks, manuals, dictionaries, scientific articles, and conference presentations. Her latest publication Correcting Errors in Pronunciation: a Manual for ESL/EFL Teachers is accompanied by a 3-hour DVD. Presently, Shakhbagova is teaching a variety of courses at MAT-TESOL@USC.
In addition to serving as Chair of the Department of English Phonetics at the renowned Moscow Linguistic University in Russia, she has more than 35 years of teaching and lecturing experience. While at Rossier she has held other positions such as Adjunct professor, Assistant Professor and Associate Professor teaching a course in Applied Linguistics: Teaching American English Pronunciation and a Master's Seminar (Research Projects) to graduate level TESOL/TEFL students, and she was an academic advisor to MS TESOL/ME TEFL Program students. She was also a Senior Lecturer at the American Language institute and Language Academy here at USC. Before coming to Rossier she taught at the Moscow Linguistic University where she was a Full Professor, Chair of the Department of English Phonetics, Associate Professor and Instructor in the department of English Phonetics. Shakhbagova earned her PhD in Linguistics, her MS in Linguistics and her BA in t eaching English as a Foreign Language from the Moscow State Linguistic University. She was awarded a Fulbright grant for research and lecturing in the United States.
Edit Profile