Dwuana Bradley
Assistant Professor of Education
Education
Doctorate of Educational Leadership & Policy, University of Texas at Austin
Expertise
Critical Education Policy • Higher Ed • K–12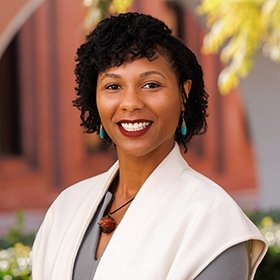 Contact Information
Research Center
Bio
Dwuana Bradley is an assistant professor at the USC Rossier School of Education. Dwuana graduated with a PhD in Educational Leadership and Policy from the University of Texas at Austin in 2020—making her a bonafide, "Pandemic PhD." 
Awards and Grants
Donald D. Harrington Dissertation Fellow ($42,000), 2019-2020
Barbara Jackson Scholar, 2017–2019
Ronald E. McNair Scholar, 2009–2011
Courses Taught
Courses (as of Fall 2022)
EDUC 665 Foundations and Design (4 units); Fall
Introduces the knowledge, skills and perspective that provide the agency necessary to design and carry out scholarship as an educational researcher.
EDUC-651: Introduction to Qualitative Methods; Summer 
Introduces qualitative methodologies, qualitative data collection and analysis techniques, support in drafting research proposals, and paradigms on how to critically think about inquiry.
Publications
Research
Professor Bradley's research broadly examines the ways in which anti-Black sentiment perpetually undergirds the drivers and levers of federal, state and institutional policies across the P-20 pipeline in ways that (un)intentionally reify the social stratification of Black peoples across the diaspora.
Her work employs theories of anti-blackness, socio-legal concepts and critical qualitative methodologies to address issues of Black education, hate speech and anti-racist inclusion on predominantly White campuses; post-secondary access facing racially minoritized community college transfer students; and legislative influence on emergent tier-one universities and HBCU-HSI institutions.
Certifications
Teaching Preparation Certificate: Awarded by, Teaching Preparation Seminar, Faculty & Innovation Center, UT-Austin
Inclusive Classroom Design Certification: Awarded by Inclusive Classrooms Leadership Certificate Seminar, Division of Diversity & Community Engagement, UT-Austin