Dwuana Bradley
Assistant Professor of Education
Education
Doctorate of Educational Leadership & Policy, University of Texas at Austin
Expertise
Critical Education Policy • Higher Ed • K–12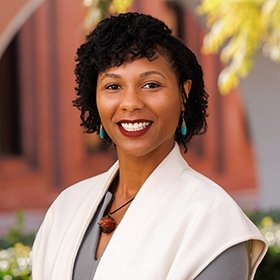 Contact Information
Research Center
Bio
Dwuana Bradley is an assistant professor at the USC Rossier School of Education. Dwuana graduated with a PhD in Educational Leadership and Policy from the University of Texas at Austin in 2020—making her a bonafide, "Pandemic PhD." 
Awards and Grants
Donald D. Harrington Dissertation Fellow ($42,000), 2019-2020
Barbara Jackson Scholar, 2017–2019
Ronald E. McNair Scholar, 2009–2011
Publications
Research
Professor Bradley's research broadly examines the ways in which anti-Black sentiment perpetually undergirds the drivers and levers of federal, state and institutional policies across the P-20 pipeline in ways that (un)intentionally reify the social stratification of Black peoples across the diaspora.
Her work employs theories of anti-blackness, socio-legal concepts and critical qualitative methodologies to address issues of Black education, hate speech and anti-racist inclusion on predominantly White campuses; post-secondary access facing racially minoritized community college transfer students; and legislative influence on emergent tier-one universities and HBCU-HSI institutions.
Certifications
Teaching Preparation Certificate: Awarded by, Teaching Preparation Seminar, Faculty & Innovation Center, UT-Austin
Inclusive Classroom Design Certification: Awarded by Inclusive Classrooms Leadership Certificate Seminar, Division of Diversity & Community Engagement, UT-Austin