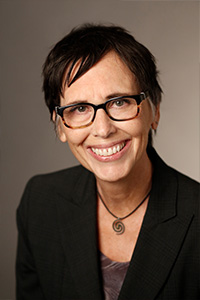 Mary Andres
Professor of Clinical Education
Doctorate in Clinical Psychology
Wright State University School of Professional Psychology

Masters in Rehabilitation Counseling
Wright State University

Bachelor of Arts in Psychology
The Ohio State University


Concentration
Educational Psychology
Expertise
An expert on couples' counseling, sexuality and drug abuse
Certifications
1997-current CA license: Psy #15715
1997-current California Certified Alcohol and Drug Counselor
1989-2000 Ohio Certified Chemical Dependency Counselor
Clinical Supervisor Endorsement
1990-1992 Adventure Experiences, Inc. Ropes Instructor
1996-2002 PACE Facilitator-USC Student Leadership Programs
Mary Andres
Dr. Mary Andres is a professor of Clinical Education at the Rossier School of Education. Her areas of specialization have been in the treatment of substance abuse, working with couples and groups, sexuality and the treatment of sexual dysfunction, Gay, Lesbian, Bisexual and Transgendered concerns, and clinical supervision.
Her research interests include experiential modes of learning and best practices in training and the development of therapists. She is a licensed Clinical Psychologist and certified drug and alcohol counselor who also maintains a private practice in Santa Monica and facilitates a weekly process group at Promises Outpatient Services for newly recovering substance abusers. She volunteers as an external supervisor for doctoral candidates at the Los Angeles Gay and Lesbian Center.
Andres received her Masters in Rehabilitation Counseling and her doctorate in Clinical Psychology from Wright State University. She was a staff member at USC Counseling Services for ten years during which she was an adjunct faculty member in the USC School of Social Work from 1999 until 2005. She was teaching for the Counseling Psychology program since 2000 before joining the faculty full time in the Fall of 2005. Dr. Andres has also been a staff member for Semester at Sea and the American Pavilion Student Internship Program at the Cannes film festival. She has been on the USC Lambda Board and is a past Co-President. She is a current member of the Advisory Board for the Los Angeles County MFT Consortium.
Experience
Professional Experience:
Dr. Mary Andres is a clinical psychologist with a background in college health, substance abuse treatment, and adolescent psychiatric care. She is Co-lead of the Masters in Marriage and Family Therapy program, and also provides service in the School of Education through participation in Faculty Council, as Chair of the Mentoring Committee, and as an advisor to student groups. Mary is a former board member and co-president of the USC Lambda Alumni Association.
In partnership with faculty work, Mary has a private practice in Venice, CA, specializing in couples work and also working with adults on a variety of identity and sexuality concerns. Additional work opportunities have included working clinically with Semester at Sea and at the Cannes Film Festival.
Honors and Awards:
2016 MFT Faculty of the Year
2014 Rossier Mentoring Award
2009: Widney House Alumni Award for Lambda work
2008: City of Los Angeles Recognition for Alumni work
1997 Student Affairs Student Services Award recipient
Classes:
EDUC 500: The Counseling Process
EDUC 515: Theories of Marriage and Family Therapy
EDUC 644: Practicum in Counseling
EDUC 636: Perspectives on Human Sexuality
EDUC 645a & b: Field Work in Counseling
EDUC 634: Counseling Couples in Relationships
Edit Profile