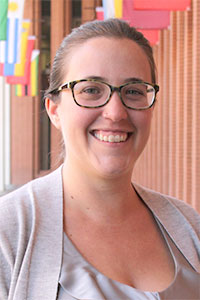 Sarah Klotz
Research Assistant Professor
UC Davis: Ph.D. in English, September 2014 Emphasis: Writing, Rhetoric, and Composition Studies
UC Davis: M.A. in English, September 2010
The College of William and Mary: B.A. in English and Women and Gender Studies, Summa Cum Laude, May 2008

Concentration
Higher Education
Expertise
Participatory Action Research, Critical Race Theory, Native American/ Indigenous Studies
Research Center
Sarah Klotz
Sarah Klotz is Senior Project Specialist and Research Assistant Professor at the Center for Urban Education. Before coming to CUE, Dr. Klotz was an English professor at Butte Community College in Northern California, where she taught basic skills and transfer-level English courses. While there, Dr. Klotz also developed a practitioner inquiry program for community college faculty to examine their individual student success data disaggregated by race, and to create interventions to improve gaps for minoritized students in their classes.
Dr. Klotz's research focuses on the intersections of race and literacy education in the United States. Following this interest, she has completed projects on the persistence of Native American literacy practices from contact with Europeans through the off-reservation boarding school period. As a teacher-researcher, she has also written on instructional methods grounded in the work of Gloria Anzaldúa. Her work has appeared in College Composition and Communication, Composition Studies, and in edited collections published by Routledge and the University of New Hampshire Press. She is currently completing a monograph entitled Remediating Culture: A Rhetorical History of the Carlisle Indian Industrial School which has been awarded funding through an Emergent Research Grant from the Conference on College Composition and Communication.
Dr. Klotz received her Ph.D. in English with an emphasis in Writing, Rhetoric, and Composition Studies from the University of California, Davis. She also holds an M.A. in English from UC Davis and a B.A. in English and Women and Gender Studies from the College of William and Mary.
Experience
Research:
My research focuses on how the American legacies of race, racism, and colonization play out in the practice and beliefs of contemporary college faculty. My book project focuses on remedial literacy education within a genealogy reaching back to the late 1870s when national policy turned towards assimilation as Native American students entered government schools for the first time. To access that education, Native Americans were forced into standardized performances of English. I argue that this move, to include by eradicating difference, is the founding ideology of remedial/developmental/ basic skills education and my project aims to harness the lessons of history to make difference a fundamental value of classroom practitioners. This book project is currently under contract with the Utah State University Press.
Professional Experience:
Research Assistant Professor and Senior Project Specialist. The Center for Urban Education at the Rossier School of Education. University of Southern California (June 2017-Present)
Assistant Professor. English Department, Butte College (2014- 2017)
Associate Instructor. English Department and University Writing Program, UC Davis (2008- 2014)
Associate Instructor. Special Transitional Enrichment Program (STEP), UC Davis (2013)
Honors and Awards:
CCCC/NCTE Emergent Research/er Award including a grant of $10,000 for monograph project, "Remediating Culture: A Rhetorical History of the Carlisle Indian Industrial School." 2017-2019
UC Humanities Research Institute Dissertation Year Fellowship, 2012-2013
Isaiah Thomas Stipend, awarded by the American Antiquarian Society for the 2013 Seminar, Indigenous Cultures of Print in Early America
UC Davis Mellon Initiative in the Environmental Humanities Summer Research Award, 2013
Hemispheric Institute of the Americas/Tinker Foundation Summer Research Fellowship, 2011
Phi Beta Kappa, 2007
Edit Profile