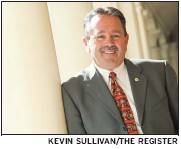 Steven L. Fish
Lecturer
Contact info
Steven L. Fish
Dr. Steven L. Fish is a Lecturer in the Rossier School of Education's Doctorate of Education in Leadership program and has been at the Rossier School of Education since 1995. He has been an active force in K-12 education for over 40 years. In 2005, he retired as Superintendent of the Saddleback Valley Unified School District where he served from 2005 through June of 2010. Prior to this, he served as Superintendent of Torrance Unified and West Covina Unified School Districts.
Dr. Fish's early career in education was as an elementary school teacher in both the Magnolia School District and the Long Beach Unified School District. His first efforts in administration came during the 1983 school year when he was promoted to the role of Program Specialist for the California State Demonstration Program within the Long Beach Unified School District. Two years later, he became an elementary school principal in Long Beach. Soon after, district responsibilities including Area Superintendent and Deputy Superintendent followed within the Long Beach Unified School District.
During his time as superintendent, Dr. Fish developed a pattern of improving each of his school districts by developing and articulating a long term vision, improving API, modernizing school facilities, streamlining operations and organizations, and supporting technology-based student data decision-making. While in Saddleback Valley Unified, Steve successfully oversaw the expenditure of over $200 million in new construction and improvement in learning environments across the district. Declining enrollment combined with the California fiscal crisis created severe challenges for school districts all over the state. In order to keep the school district solvent, Dr. Fish was able to reduce the general fund budget by some $67 million over 5 years while efficiently managing expectations of school district parents and community.
Dr. Steven Fish received his Bachelor of Arts and Master's degrees from California State University, Long Beach and earned his EdD from the University of Southern California. In 1999, he was President of the alumni support group EDUCARE and served as Chair of the Dean's Superintendent's Group (DSAG) from 2004 to 2009. During his time as Chair of DSAG, Dr. Fish also served on the Board of Councilors for the Rossier School of Education. Dr. Fish was recognized as tthe DSAG honoree of the year in 2011 and was given the College of Education Distinguished Alumnus Award from the California State University Long Beach Alumni Association in 2013.
Edit Profile