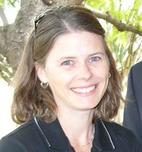 Susan Harris
Program Manager, JEP House

Concentration
Higher Education
Susan Harris
Susan C. Harris serves as Associate Director for Research and Academic Affairs at USC's Joint Educational Project (JEP)—one of the oldest and largest service-learning programs in the U.S. Harris started working at JEP in 1994; in her current role, she oversees the development of curricula for JEP's more than 2,000annual service-learning students, trains JEP's peer educators, and assesses outcomes of the program.
A sociologist by training, Harris's primary research interests concern service-learning in higher education, including undergraduate political and civic engagement, service-learning and diversity, the impact of high quality reflection processes on experiential learning, the experience of first generation and international students in service-learning, graduate student professional development, and the experiences of volunteers in public service programs (such as AmeriCorps). She is also interested in the potential of "digital badge systems" and other online educational resources for the service-learning field.
Harris has a secondary research interest in family studies and served as the qualitative research director for the Transmission of Religion Across Generations (TRAG) study, based in the USC Davis School of Gerontology and the School of Religion. She has presented widely at conferences, including AERA, and serves on the Editorial Board of the Michigan Journal of Community Service Learning.
Edit Profile