Editor's note: Dieuwertje J. Kast EdD '20 is an alumna of the Doctor of Education in Educational Leadership program, where she studied with three of her mentors, professors Anthony Maddox, Patricia Tobey and Frederick W. Freking. She recently won Anitab.org's Abie Award for Social Impact for her work in coordinating partnerships between technologists and STEM education programs. 
Technology is ever-changing and it's up to educators to teach students how to understand and adapt so they can use it for the future.
In particular, Black and Latinx students face a lack of technology preparation as well as issues related to the digital divide, including: lack of physical access to high-quality and functioning technology; connectivity to the internet; and digital literacy (i.e., how to use both the hardware and software options available on tech devices). This leads to underrepresentation for these groups in the tech industry. 
From an early age, students need immersive, rigorous and inclusive educational experiences to prepare them for the tech workforce. This is core to the mission of USC's Joint Educational Project (JEP). Our programs provide hands-on STEM (science, technology, engineering and math) programming for about 3,000 students yearly. We address these issues by providing technology (hardware and software) to students and teachers and training them on how to use it within their classrooms. 
Making EdTech equitable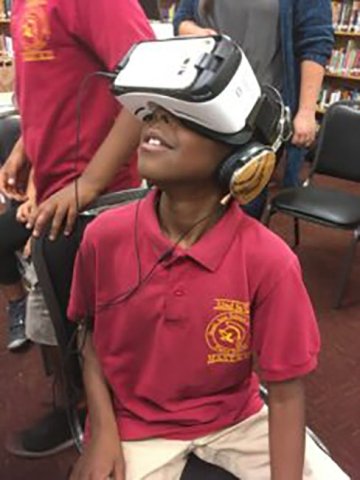 JEP's STEM programming primarily serves low-income students of color. Showing these students how to use technology is important, but in order for our curriculum to be effective, it also has to be culturally responsive. Here are some of the issues we consider when writing and implementing our curriculum, and how we address them.
Language barriers
To address the needs of our student populations of Spanish-speaking English language learners, we provide all of our curricular materials in both English and Spanish and hire bilingual staff that are fluent in both languages. 
Teacher access
For our teachers, STEM supplies can be a major access issue, depending on school budgets. Our programs provide all necessary supplies while also offering a free STEM program and instructor that teaches directly in their classroom.  
Gender representation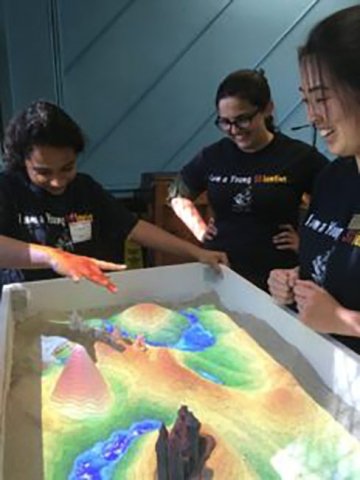 JEP has diversified our curriculum to include more representation across STEM fields. 
During my STEM research career, the majority of faculty in my department were white, male professors. Of the small number of women, most were in adjunct and research positions (not tenured), and there was only one faculty member of color. 
The lack of women in positions of power was discouraging. Consequently, I was determined to give students a more inclusive experience as I shifted to STEM education. 
I forged bonds with the women from my research career, and they continue to be speakers and mentors to my students even now, 10 years later. 
Additionally, we have also partnered with Zynga to support their mission of supporting the next generation of diverse game developers. We created a game design unit for elementary school students and featured their Latinx female game designers as guest speakers.
Teacher diversity
Since we work predominantly with historically marginalized students, we match female technologists of color with curriculum to emphasize the possibility of a career in STEM. This year, for example, we brought in a Black female astronaut who discussed how art, science and technology can merge in a successful career. 
When teaching the technology curriculum, she highlights current role models in the industry but also features historical figures. The names and accomplishments of people such as Valerie Thomas, Karla Monterroso and Grace Hopper are invoked to inspire the students to pursue a career in tech. 
Each STEM curricular piece includes non-dominant scientists who have excelled in their fields. We cover a broad range of backgrounds that spans race, gender, ability, orientation and more.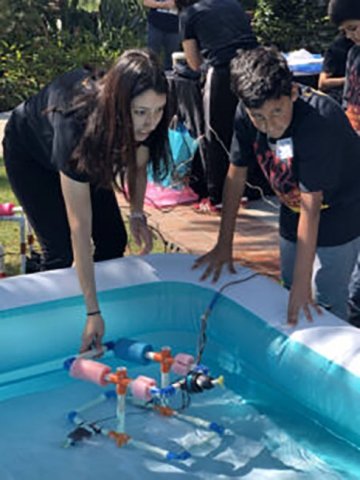 Students with disabilities
My staff and I have also hosted underwater robotics workshops with special needs students. 
Studies show that students in special education classes learn science most effectively through hands-on experiments (Clarke Kast, 2020; Scruggs Mastropieri, 2007). Students with Individual Education Plans (IEPs) may also benefit more from inquiry and hands-on based science education than their peers without IEPs (Clarke Kast, 2020; Hand et al., 2018). 
Additionally, accommodations for an activity-oriented curriculum should include cooperative behavior management, methods for facilitating the physical manipulation of supplies, and appropriately supporting and structuring the inquiry process (Clarke Kast, 2020; Mastropieri Scruggs, 1994). 
Community engagement
The JEP coordinated a wearable technology course for USC Neighborhood Academic Initiative (USC NAI) middle school students. 
We partnered with female engineers and coders to mentor students, and provide guidance to navigate the tech components of their wearable products. 
Furthermore, we invited many of the students' mothers who knew how to sew to teach the younger generation how to assemble their clothes. The class culminated with a fashion show highlighting the students' wearables. Hundreds of girls and their moms from the NAI program and the surrounding community were in attendance. 
Additional resources
JEP's partners in STEM education
Curriculum / professional development
Joint educational project STEM education programs
Further reading:
View JEP's resources for students, faculty and community partners.