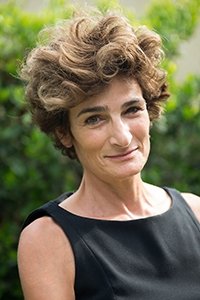 Daphna Oyserman, internationally known researcher on self, culture and motivation, joins USC with a joint appointment at the Rossier School of Education in January 2014. She will hold the appointments of Dean's Professor of Psychology at USC Dornsife, and professor of psychology, education and communication.
"We are excited that Professor Oyserman will be joining the Rossier faculty," said USC Rossier Dean Karen Symms Gallagher. "Her international reputation and extensive body of work in this field will play a major role in helping Rossier meet its critical goals."
Oyserman and husband Norbert Schwarz, who joins USC as Provost Professor of Psychology and Marketing, will open the USC Dornsife Mind and Society Center at the Verna and Peter Dauterive Hall, which upon completion will be the university's first interdisciplinary social sciences building.
Most recently, Oyserman held the title of Edwin J. Thomas Collegiate Professor of Social Work, professor of psychology, research professor at the Institute for Social Research, and adjunct professor of sociology at the University of Michigan.
Oyserman said she is delighted with the interdisciplinary research possibilities of her appointment with USC Rossier, and has already begun discussing collaborative research proposals with faculty members, including Gale Sinatra, Brendesha Tynes and Robert Rueda.
"Rossier's mission and my own research are perfectly aligned," she said. "The innovative approach that embodies the Rossier vision for education provides synergistic possibilities for research and intervention highlighting ways to improve educational attainment in ways that meet the needs of our diverse nation and world."
Oyserman is among the most frequently cited researchers in the fields of self and identity, and her research focuses on identity-based motivation and its cognitive and behavioral consequences. In a broad sense, she is interested in understanding how the self-concept functions to influence judgment, decision-making and real-world behaviors.
For example, her work shows how cultural mindsets and identities can be engaged to improve life outcomes. Her theory of "identity-based motivation" guides the development of interventions that can shift mindsets, improve well-being and change behavior, including academic performance.
"People act in context so that their behavior is a function of what seems to make sense given the circumstances," Oyserman said. "This means that people can end up acting in ways that undermine rather than bolster their goal attainment. There are three core factors: how far the future feels, whether strategies to attain their future-self feel identity-congruent, and how experienced difficulty is interpreted.
"In the context of school, this means thinking that the future starts later instead of now, misinterpreting experienced difficulty as meaning that a school task is not for you instead of important for you, or that effective strategies like asking for help aren't for you."
Brief intervention can shift these three factors to bolster school-focused goal attainment as Oyserman showed in an intervention for low-achieving, underserved eighth graders. The intervention involved group activities aimed at: (1) Making their future feel psychologically relevant to the present, (2) making strategies like doing homework feel identity- congruent, and (3) framing experienced difficulty as a signal of task attractiveness.
Students were randomly assigned to the intervention or to school as usual. Intervention group students showed improved classroom engagement and in-class behavior, school grades, attendance, time on homework, and standardized test school. Two years later, students in the intervention group were still demonstrating significantly better outcomes in each of these domains and effect sizes were stable or larger than they were immediately afterwards.
Oyserman demonstrated that these changes were due to changes in how students imagined their future. Intervention group students had more strategies to attain their school-focused future selves as well as strategies to avoid becoming off-track, resulting in more time on homework, more classroom engagement, and better attendance, all of which yielded improved grades in core courses such as English, math and science.
These results are published and, together with the underlying theory and manualized intervention, form the basis of a book project with Oxford University Press.
Oyserman has published about 130 journal articles and chapters in addition to this book project. She has been a W.T. Grant Faculty Scholar (1995-2000), a fellow at the Center for Advanced Studies in Behavioral Sciences (2009-10), and a Humbolt Prize recipient (2009).
She is a fellow of the Association for Psychological Science; the American Psychological Association; the Society for Experimental Social Psychology; and the Society for Personality and Social Psychology.