It's a winter morning in California, but it feels like spring is coming in Oak Park, an unincorporated community in Ventura County, just north of Agoura Hills along the Los Angeles County border. Bok choy seedlings are pushing through the soil in the greenhouse at Oak Hills Elementary School; at Medea Creek Middle School, sunshine and fresh air are filtering through the large, open glass doors of the shipping container- cum-classrooms; and tidy rows of student lockers line the walls of outdoor shade structures at Oak Park High School. The only thing missing: the kids.
Oak Park Unified Superintendent and former USC Rossier adjunct professor of education Anthony Knight EdD '06 is surveying several of the schools in the district, largely rendered vacant due to the COVID-19 pandemic and the shift to remote learning. Knight, who recently announced his retirement, has a visible joy for and intimate familiarity with the school grounds he's worked at for nearly 40 years—as a teacher, principal, director of curriculum and instruction, and, for the last 17 years, superintendent. He winds through the hilly streets of Oak Park, crisscrossing the landscape nestled between the canyons of Malibu and Palo Comado to visit the high school, middle school and elementary school.
Knight's achievements over the past few decades are visible in the spaces of the schools themselves. Each campus has a garden where kids cultivate vegetables that eventually end up on their lunch plates. One of Knight's recent efforts, the recycled shipping containers that have been converted into classrooms, have replaced aging infrastructure at Oak Park High School and Medea Creek Middle School.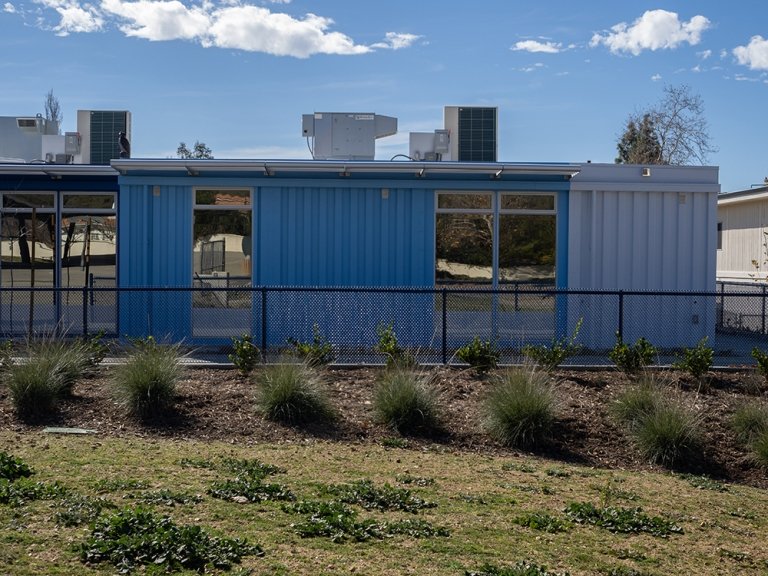 At Medea Creek, these new classrooms, built by Carson, California-based CRATE Modular, are filled with sustainable furniture from a company called Natural Pod, whose website describes its tables, chairs and shelving as "designed to foster creativity and innovation." The classrooms feature large, glass doors at the front, and the learning space is not confined to the four walls. It spills out onto a sunny courtyard, where circular, outdoor workstations have been installed.
K–2 students were able to return to in-person learning at Oak Park Unified by early March. Knight was hopeful that all campuses would be open by mid-March, but that would depend on coronavirus rates continuing to decline.
Getting outside
Throughout the course of the COVID-19 pandemic, the Centers for Disease Control and Prevention has emphasized that outdoor activities are safer because coronavirus transmission rates drop substantially in outdoor settings. This fact of pandemic life has inspired people around the globe to escape the confines of their homes and rediscover nature, and it's also stirred up interest in an idea commonly dismissed as niche and impractical: outdoor learning.
The idea of teaching outside isn't new, and in fact, explains PBS News Hour's Christopher Booker in a segment on outdoor schooling efforts in California, at the beginning of the 20th century as tuberculous raged and the Spanish flu hit several years later, schools conducted classes outside—"on rooftops, on front porches, and even ferry boats—throughout the entire year." As schools were forced to shut down last spring, a coalition of educators, including Knight, launched the National COVID-19 Outdoor Learning Initiative, which provides resources to support efforts to move learning outdoors.
And while this renewed interest has come largely as a result of the difficult circumstances brought on by the pandemic, there are other benefits to outdoor learning beyond lowering the risk of transmitting the coronavirus, from improving the social-emotional well-being of kids to giving students the environmental literacy skills they will need to navigate (and quite possibly save) a world struggling with the effects of climate change.
Stress and anxiety levels of kids were already high before the pandemic, and new data suggests that these rates have increased over the past year. Emergency-room visits associated with children and adolescents' mental health are on the rise, and more school-age children are reporting feelings of depression.
"Being upset, anxious, nervous and losing our sense of possibility … are natural, adaptive reactions to being separated from the people who love and care about us, and from the communities in which we engage and build relationships and a sense of self," USC Rossier Professor of Education, Psychology and Neuroscience Mary Helen Immordino-Yang, an expert on youth social-emotional development, explained in a recent webinar on the school safety net in the pandemic.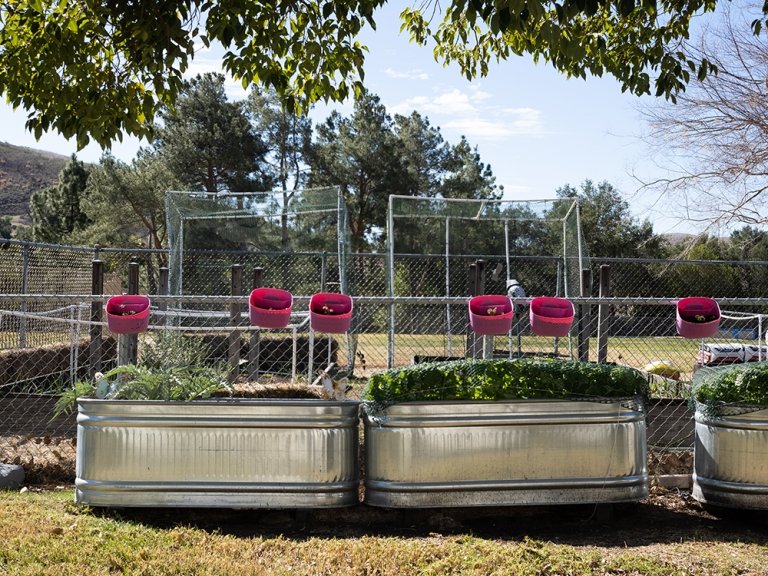 While schools must address the severe lack of counselors available to students, spending time outdoors can help lower stress and anxiety levels. Researchers from North Carolina State University recently found that spending time outside has helped adolescents counter some of the negative mental health impacts brought on by the pandemic, with 72 percent of those surveyed in the study reporting that outdoor recreation has helped them manage pandemic-induced stress. Time outside can also lead to better learning outcomes. Knight theorizes that nature's effect on us, and particularly the effect of trees, likely has something to do with our evolution in them as primates. "If you're looking at trees when you're working, you become more productive," Knight explains. "It lowers your blood pressure; it makes you more relaxed. And it deepens the learning."
This doesn't mean that schools need to be entirely outside, which would be logistically challenging for some in colder climes (though Knight points the reluctant to schools in Germany that operate outdoors year-round). Spending just 30 minutes or so out in nature, Knight says, can help prepare students to settle down for a math lesson. "It changes your attitude and makes the learning happen easier," Knight says. A recent study found that third graders who attended a biology class outside "were significantly more engaged in their next instructional period on all measures than if they'd received biology lessons indoors."
Getting kids involved with gardening is also a focus at Oak Park Unified. Knight installed the first greenhouse in the district while he was principal of Oak Hills Elementary in 2002, and the garden program has expanded ever since. The district employs a garden specialist tasked with overseeing the greenhouse and developing curriculum around the district's annual gardening plans. Seedlings that are later moved to gardens around the district campuses are started in the greenhouse, and the edible plants—fruits, vegetables and herbs—that are propagated throughout Oak Park Unified are incorporated into student lunches.
"If you're looking at trees when you're working, you become more productive. It lowers your blood pressure; it makes you more relaxed. And it deepens the learning." —Anthony Knight EdD '06, superintendent of Oak Park Unified
Knight describes the district's lunch program as "plant-forward." No beef, lamb, pork or fish is served at any of the campuses. Some chicken and turkey—sourced from two California farms that utilize sustainability practices—is occasionally served. There are health benefits to this approach, and it also ties into Oak Park Unified's focus on sustainability. "The district doesn't shy away from talking about combating climate change," Knight says, "and we teach kids how by altering what you eat, you can have an impact."
Space of environment literacy
Fostering care for the environment is embedded into many aspects of Oak Park Unified—from the campus gardens to the solar panels installed at every campus. Throughout his tenure, Knight has focused on making the campuses environmentally conscious spaces. In 2013, Oak Park High School became the first school in the nation to install classrooms constructed from single-use shipping containers.
This year, six more classrooms of this kind were installed at Medea Creek Middle School. A plaque on the side of one of the classrooms reads, "This project saved 28,160 board feet of wood and other virgin materials, diverted 155,960 tons of waste, [and] saved 184 tons of carbon emissions, a 43% reduction vs. traditional construction."
The shipping containers, many of which come from China, Knight explains, are usually bound for the scrap yard. And while Knight wanted to retain some of the industrial look of the containers so students would understand how the containers had been repurposed, the interiors are offset with wood floors and furniture, and at Oak Park High, a garden of native plants grows out front, giving students a view of nature from their desks. Not only do the classrooms divert tons of waste, but they also have been outfitted with LED lighting, ductless HVAC systems and solar panels to reduce utility costs and the school's energy consumption.
Jared Weintraub, who teaches math at Oak Park High in a CRATE Modular building, enjoys the natural light, the view of the canyons and the generous dimensions of the classroom. The ample space allows for his desk to be in the upper corner of the room so when he's not in front of the class teaching on a smartboard, he can still keep an eye on all of his students. Weintraub also notes the view of the trees. Weintraub uses the trees to teach trigonometry: "We go outside and measure the trees we look at all the time." Being able to see the natural world from his desk—the squirrels, the bunnies and the butterflies that come around once a year—puts Weintraub in a more relaxed state. "It puts me in a mindset that is happier—and happier means a better teacher."
The district's efforts haven't gone unnoticed, and its list of accolades is long. In 2013, the district was the first in California to earn a Green Ribbon School distinction from the U.S. Department of Education for its sustainability practices and focus on environmental education. In 2018, the Center for Green Schools at the U.S. Green Building Council and the Green Schools National Network presented Oak Park with its Best of Green Schools—School System Award. The district also prioritizes hands-on learning activities and long-term projects that not only continue to develop students' environmental literacy but also get them outside and involved in their communities.
In 2011, a group of students from the district received the President's Environmental Youth Award for a project that raised awareness of whale deaths and injuries caused by large shipping containers in the Santa Barbara Channel. One of those former students, Sam Hirsch, describes the whale-watching expeditions that Knight led as "like a religious experience" for the high schoolers and believes Knight has always been "ahead of the curve" when it comes to incorporating environmental literacy into curriculum. Hirsch, now in his final year of law school, plans to do some pro bono environmental advocacy work once he graduates. "I'm really environmentally conscious now," he says, "and most of that stems from the work at Oak Park."
Two initiatives especially dear to Knight, a certified master scuba diver and a naturalist, is the long-running restoration project the district's Continuation High School participates in on Anacapa Island and the annual trip to Catalina Island for the district's seventh graders. Nirupam Nigam, a professional underwater photographer and Oak Park alumnus, first became fascinated with the ocean in the sixth grade during the district's weeklong outdoor education program in Malibu Canyon and Leo Carrillo State Park, where students were introduced to tide pools. "I became really fascinated with the ocean," he says, "and I kept coming back [to the tide pools] and eventually started volunteering with the state parks." When Nigam went on the trip to Catalina Island in seventh grade, he snorkeled for the first time and discovered the abundant life existing below the surface of the water. His love for the ocean was sealed, and these experiences, he says, "put me on the path to where I am today."
Taking a look at Knight's achievements, you might think that the school district is flush with funds. However, because of the way state education dollars are distributed in California, allotting more base funding for schools that serve foster youth, English learners and students receiving free and reduced lunch—groups that collectively account for less than 8 percent of the Oak Park student body—the district receives around $8,000 per student from the state. (On average, California spent around $10,281 per pupil according to numbers from 2019.) Oak Park Unified is fortunate to be able to make up a bit of this shortfall on some of the property-tax measures the district has in place. These types of funds, however, are dwindling. Knight, quoted in The Oak Park Talon, the high school's newspaper, stresses that the state needs to allocate more funds for public education—it ranks in the bottom 10 percent in the nation in per-pupil funding.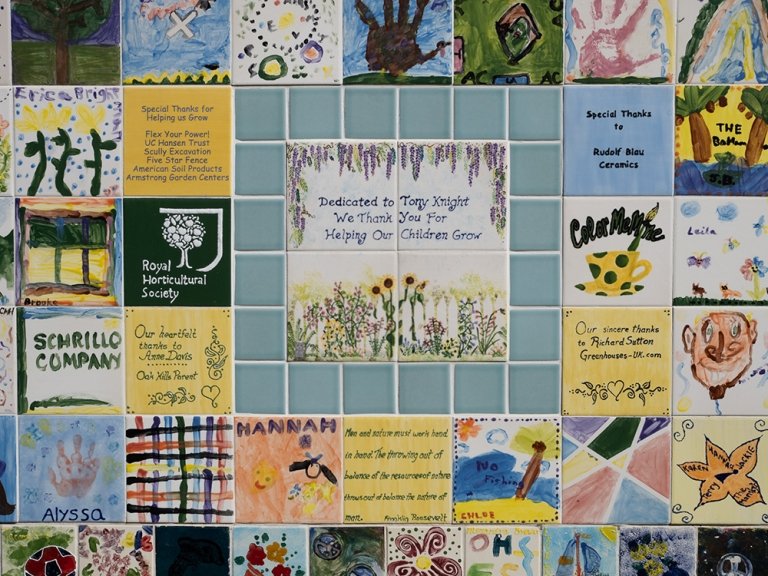 Oak Park Unified's relatively small size (it serves just over 4,500 students) does make it nimble, and Knight is resourceful. He opted to buy, rather than lease, the solar panel infrastructure that generates electricity at all the schools—a $6.8 million upfront cost that has saved the district more than $500,000 each year. The campus gardens are functional—they reduce the school's food costs—and the shipping-container classrooms cost about one-third less than traditional school buildings and are more energy-efficient. USC Rossier Professor of Clinical Education Sandra Kaplan, who served as Knight's dissertation chair, highlights Knight's creativity in his approach to education. As a student, Kaplan says, he "was easily able to critically translate information presented to him to assess and improve education." And he carried this skill over to his work as superintendent, where "he was able to transfer creatively what he had assimilated in courses into curricular and pedagogical practices that specifically contributed to the development and prominent reputation of [Oak Park]," Kaplan says.
The demographics of Oak Park Unified don't reflect the rest of California, and it's something that Knight has recognized. When he started, he says, the district was nearly 100 percent White. In a move toward diversification, Oak Park became a District of Choice in 2004 Since then, the demographics have changed considerably. As of the 2019–2020 school year, the school body is about 56 percent White, 25 percent Asian, 10 percent Latino and 1.5 percent Black, with 6 percent representing two or more races. "We have students from over 80 ZIP codes, and [Oak Park] is a much more diverse place than it has ever been," Knight says. "We have increased the diversity of our schools, and that, to me, has made it a richer learning environment."
"I'm really environmentally conscious now, and most of that stems from the work at Oak Park." —Sam Hirsch, former Oak Park Unified student
Looking forward
The spaces we live and work in, and the places where our children learn, can be thought of as a reflection of what our society values. Unfortunately, a large percentage of our schoolyards, especially those found at urban schools that serve low-income students, are "monocultures of asphalt that support ball play and little else," says Sharon Danks of Green Schoolyards America. Creating green schoolyards can give kids valuable learning opportunities to witness ecosystems at work and provide "a microcosm of a green city into [students'] daily school routine," Danks says.
In many ways, Oak Park Unified is an outlier. Knight is a strong leader with a clear vision, trusted by the school board and local community. But, in a year unlike any other, we've seen glimpses of other ways of being, and Oak Park Unified can serve as a model. With some form of the coronavirus likely to be around for months to come as schools do begin to reopen, the outdoor learning initiatives championed by Knight, Danks and the like will come in handy as social distancing measures continue for longer than we'd like. But let's hope we don't only see getting children outdoors as a means to keep the virus at bay. Let's hope we also see fresh air, sunshine and greenery as a necessary component for caring for the whole child and as an essential element in preparing future generations for the global fight against climate change. We're going to need them.