Admission
Take the next step toward your career goals. Learn key information about the USC Rossier admission process and application requirements for the Global Executive Doctor of Education program.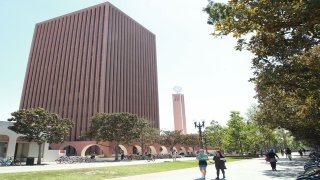 Deadlines
| | |
| --- | --- |
| Early Application Deadline | December 1, 2022 |
| Regular Application Deadline | March 1, 2023 |
Admission Criteria
As a program designed for established senior leaders, admission for the Global EdD program is competitive and highly selective. The admission committee seeks students whose academic background, professional experience, demonstrated leadership abilities, and communication skills meet the demands of the program and show promise for continued growth as educational leaders.
Academic Background
You must have either a bachelor's or advanced degree (such as a master's degree or JD) from an accredited institution. If your prior study was outside the United States, you must have completed the equivalent of a United States bachelor's or advanced degree. If you are admitted with a bachelor's degree, you will be required to complete an additional 10 units of coursework for a total of 60 units.
If you do not have a master's degree that is recognized by USC, you must have an equivalent amount of post-graduate coursework demonstrating well-developed analytical and communication skills and a rigorous academic background suitable for success in the program.
There are no prerequisite courses or majors, and prior coursework in education is not required. The committee reviews performance in all prior post-secondary coursework.
Professional and Leadership Experience
As an applicant, you should have extensive leadership experience in one or more organizations, demonstrating a high level of professional accomplishment and upward mobility. Qualified candidates should have at least 10 or more years of senior leadership experience in organizations such as:
Ministries of education
Universities
Schools or school systems
Education-related multilateral or non-governmental organizations
Education-related corporations
 In compliance with regulations from the Oregon Higher Education Coordinating Commission, students residing in the state or Oregon are required to have a master's degree in order to be considered for admission into the Global Executive Doctor of Education program.
Experienced leaders from other sectors seeking to transition into the field of education may also be competitive applicants.
Review Process
Selected applicants will be invited to complete an interview with the admission committee. This interview will assess your professional experience and goals. If you are a non-native English speaker, it will also assess your ability to function at a high academic level using the English language. 
Your application to USC Rossier will be evaluated using a holistic review process. USC Rossier adheres to the university's non-discrimination policy and is committed to providing equal opportunity for all students. Academic preparation, professional work experience, personal achievement and commitment to the USC Rossier mission are each considered. No single attribute or characteristic guarantees admission to USC Rossier.
 
To start the application, please create your profile by clicking on the Apply button in the left-hand menu of this page.
School: USC Rossier School of Education
Program: Global Executive Doctor of Education
Program Level: Doctoral (not PhD)
Section #1 – Personal Information
Biographical Information Tab

Indicate an alternate or previous name in the "other name" field, if applicable.
Contact Information Tab

Fill in your current address. This is very important – your textbooks will be sent there, if admitted.
Your phone number and email address will be pulled from the Profile Section. Please provide a personal email address that is NOT associated with your place of employment.
Citizen Information Tab

International students are required to obtain an F-1 visa in order to study in the Global Executive EdD program. If admitted, you will be required to show financial documents indicating your ability to pay for one year of the program. Be sure to fill in all visa information. (See "Additional Documents for International Applicants")
Dependents: Students are not allowed to bring a dependent with them on an F-1 or J-1 visa – skip this section.
Additional visa information for U.S. citizens: Select "Not Applicable" for Type of Visa, then select "Does Not Apply" for the following two questions.
Section #2 – Academic History
Colleges Attended Tab

It is important that we have a record of all post-secondary educational institutions that you attended, including USC. Please list all colleges and universities that you have attended (including any community college, study abroad term, summer enrollment, or ESL studies), in chronological order, starting with the first institution after high school. If you cannot find your institution, please select "Can't find your school?"
Upload unofficial copies of your transcripts into this section. Please review the Transcripts section below for detailed instructions.
Where to find it on the application: My Application > Academic History > Colleges Attended > Add a College > Upload a Transcript
In order to provide more timely admission decisions, USC Rossier requires that you submit two copies of each transcript from each postsecondary institution you attended. The first copy is used for application review and the second copy is the official document for the university. If you are an international student, please follow USC's country specific requirements to determine which academic records you should submit.
Step 1: Request transcripts for application review
Request one copy of your transcript from each college or university you attended, even if you did not earn a credit or degree from each institution.* Printouts from portals are not acceptable. Ask the registrar at each college or university to send one copy of your transcript to your personal mailing or email address. Because these copies of your transcripts are not delivered directly to USC by the institution, they are not considered official and are only used in application review.
*Even if your final transcript includes a list of classes taken at other colleges and universities, you are still required to send the transcripts from each college and university.
Step 2: Upload transcripts for application review into the application
When you receive the first copy of each transcript delivered to your personal mailing or email address, login to the USC application 'Academic History' section and add information about your academic history at each college or university. After saving this information, you will see an option to 'upload a transcript' for each college. Only one PDF per college or university can be uploaded. If the transcript from a college or university contains multiple pages, you will need to scan each page and combine the pages into a single PDF. If you don't have access to a scanner, you can take a legible photo of each page and combine the images into one PDF. Several online services can help you merge multiple files into one PDF and/or turn photos into PDFs. Once you've uploaded your transcripts and completed all other portions of the application, you can submit your application.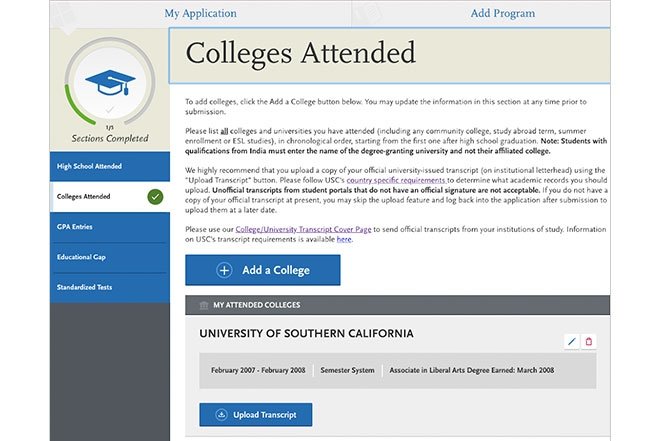 Step 3: Request official transcripts for the university
After you submit your application, you will receive an email from USC Rossier with your 10-digit USC ID number (please note that your USC ID number is different than your USC CAS ID number). After receiving this I.D. number, request a second copy of all your transcripts from each college or university you attended. This copy of your transcripts should be sent from the institution directly to the University of Southern California by postal mail, courier service or email.
It is preferred that you ask each college or university to fill out USC College/University transcript cover page and include it with the transcripts sent to the university. The cover page includes a blank space for your USC ID number.
If delivered by postal mail, the transcripts must arrive to USC in a sealed envelope from the institution. You may not send transcripts that have been previously opened and we will not accept transcripts that are hand delivered to our office on campus.
Regular Mail:
University of Southern California
USC Office of Graduate Admission
3601 South Flower Street, Room 112
Los Angeles, CA 90089-0915
Courier Service (e.g., DHL, FedEx, etc.)
University of Southern California
USC Office of Graduate Admission and Financial Aid
3601 South Flower Street, TYL 112
Los Angeles, CA 90089-0915
(+1) 213-740-5555
Email address for transcripts:
etrans@usc.edu
Verifying transcript receipt
After your transcripts have been sent, you can log into your USC Rossier personal portal at any time and visit your application status tracker page to verify when the USC Office of Graduate Admission has received and reviewed your transcripts. Please note that there can be a delay of several days between when your transcripts have been received and reviewed and when your application status page is updated. This processing time can increase during heavy processing periods or holidays.
Standardized test scores (TOEFL, IELTS, GRE) are not required for the Global EdD application and admission.
Where to find it on the application: My Application > Supporting Information > Documents > CV/Resume
Your résumé should be detailed enough to help the admission committee understand the various experiences – extracurricular, leadership or volunteer – that have shaped your interest in the program. Outline your roles and responsibilities within each organization and highlight any special achievements or accomplishments. In the "Supporting Information" section of the application, select "Documents". Select the "add document" button under "CV/Resume."

Please answer the following two questions. Your essays should be double-spaced, typewritten pages with 12-point font and 1″ margins on all sides. Make sure your name and question number is at the top of every page in the document.
Discuss your interest in the Global Executive Doctor of Education program and how you believe it will help you to reach your short- and long-term professional goals.
 
Identify a barrier to educational equity in your society. As a current or aspiring educational leader, discuss what kinds of information you might need in order to understand this problem better and develop solutions to address it.
Three letters of recommendation are required and must be submitted online.
Provide the names and contact information for your recommenders. After you complete and save this section, an email request will be sent to the recommenders on your behalf.
Recommenders will also be asked to provide rankings in the recommendation section.
Where to find it on the application: Submit Application Tab
Application fees must be paid by credit or debit card
An application fee waiver is available to applicants who meet certain eligibility criteria. Eligibility criteria and instructions for obtaining a fee waiver can be found at the USC Graduate Admission website. If you choose to apply for a fee waiver you must:
Start your online application but do not submit the application until the fee waiver is approved.
Provide supporting documents to demonstrate qualification.
Have your fee waiver request approved.
Complete and submit your online application.
Where to find it on the application: My Application > Supporting Information > Documents
For international students, financial documents/verification of funds, a letter of sponsorship and a copy of a passport may be uploaded into the application.
To view what documents are required, please go to https://gradadm.usc.edu/lightboxes/international-students-financial-documentation/. In the dropdown menu under Program Costs, select Rossier School of Education. We encourage you to prepare these documents as soon as possible to expedite the issuance of your I-20 if you are accepted into the program.
For more information, visit the international student FAQ page.
Contact the Admission Team