USC Rossier's faculty and doctoral students are examining and developing solutions to some of the most vexing issues in education, from pre–K through graduate school. On March 3, the school held the inaugural USC Rossier Research Conference so these colleagues could learn from one another, and look for ways to align their work along the theme of Research for Impact.
"All of the presentations address critical issues facing the field of education and facing the country and that's what is so encouraging to see. We're doing work here that really matters," said USC Rossier Dean Pedro Noguera. "I hope people will walk away wanting more, seeing the value and importance of this kind of work and seeing the real strengths that we have here at this school."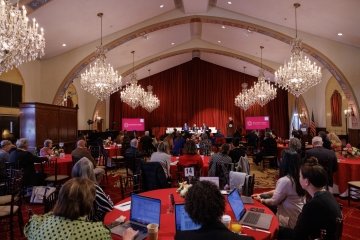 Roughly 150 people packed USC Town and Gown with more watching online for the event, which included a keynote address by USC Dornsife Professor Manuel Pastor, four panel sessions and more than two dozen poster presentations.
Student and faculty projects focused on ways to advance equity and improve learning opportunities for K–12 and higher education students. Panelists spoke on a wide range of topics including the legislative push to ban politically charged topics in the classroom, voter preferences on curriculum, and changes at K–12 districts in the wake of the racial reckoning of 2020.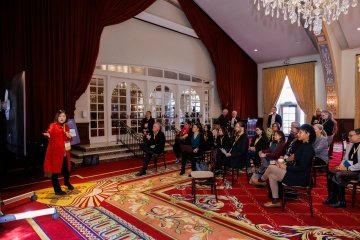 In poster presentations, students and faculty shared their findings on teacher burnout, using data-informed practices to promote racial equity at community colleges and the discussion of community data to understand issues of environmental justice.
"Seeing the different ways different faculty members and students are having an impact is really exciting," said Adrianna Kezar, Director of the Pullias Center for Higher Education and one of the panel moderators. "Some of it is through direct engagement with policy and some of it is through engagement with different practitioner audiences, with school teachers, administrators."
In his keynote address, Pastor, a Distinguished Professor of Sociology and American Studies & Ethnicity and the Director of the Equity Research Institute challenged researchers to "think like organizers instead of academics."
"Research is not enough," he said. "It needs to be coupled with community organizing, it needs to be coupled with community power to make change."
He advocated reframing the well-known ultimatum of "publish or perish" into a more service-focused "public or perish."
"We're particularly excited that everyone is here because this theme is so critical," said Noguera. "The research is part of what makes this a great school of education because our faculty and our students are doing work that truly has an impact."