Gender equity in education (or the lack thereof) impacts students, instructors and administrators. So how do teachers and educational leaders adequately address the different needs of males and females?
(While people who identify as non-binary have their own unique needs, this article focuses on those who identify with the sex assigned to them at birth.)
As part of our blog series on equity in education, USC Rossier's experts weigh in on the different facets of equity. (Check out our posts on racial equity and economic equity.) 
Mary Andres, PsyD is the co-lead of USC Rossier's Marriage and Family Therapy Program, and a professor of clinical education. Among other areas, she specializes in the treatment of sexual dysfunction, gay, lesbian, bisexual and transgendered concerns, and clinical supervision.
Here's how Andres describes gender equity.
What is gender equity?
Andres references this article which defines gender equity as the fair treatment of women and men in accordance to their respective needs.* Statistically, women and girls fail to receive the same treatment as their male counterparts.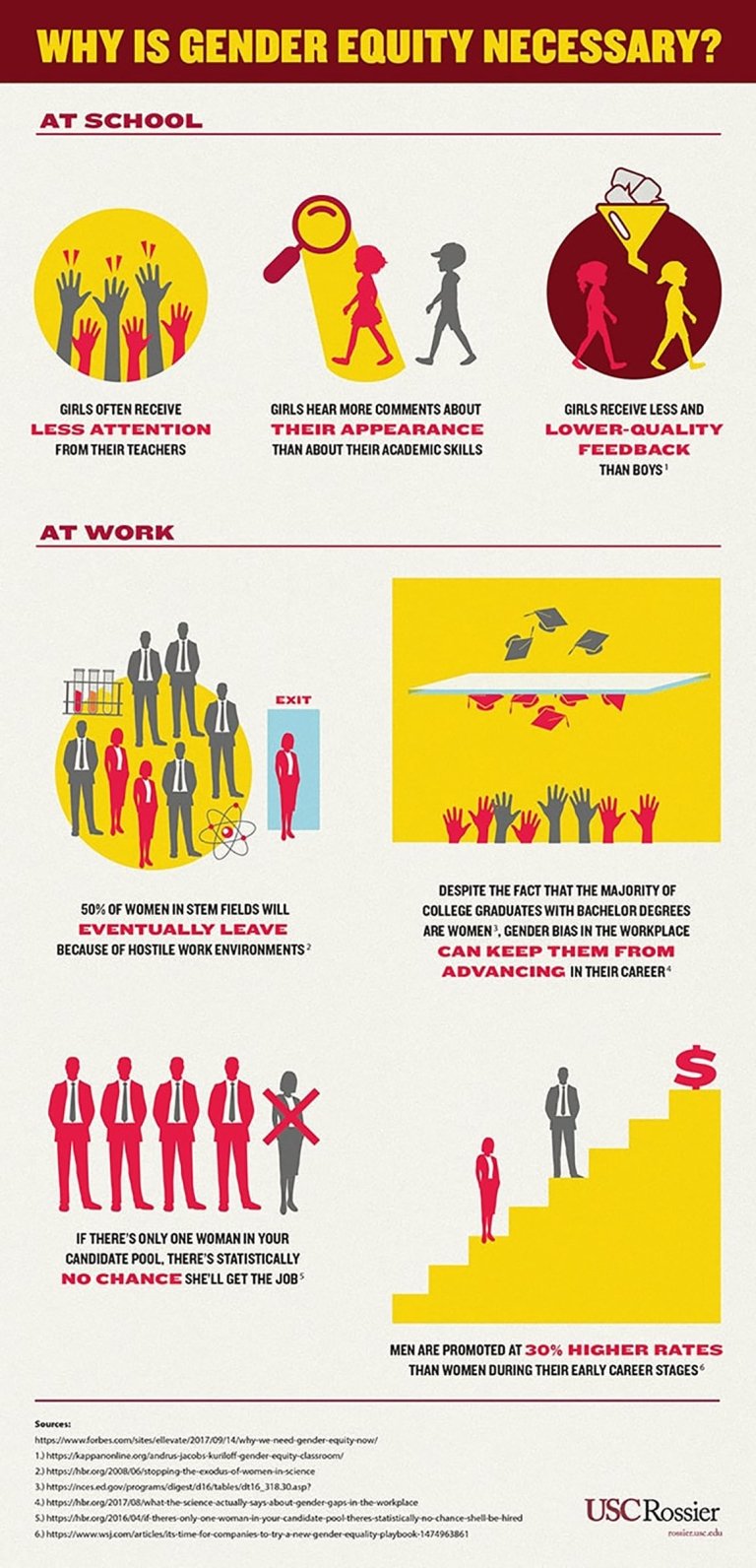 Want to download the infographic? Click here.
Gender equity seeks to correct unconscious biases against women. Culturally, our ideas of success align with characteristics that are typically male, and they become the standard with which women are judged. Teachers and supervisors, both men and women, may not think they treat women unfairly, but they might also be unaware of their biased attitudes and beliefs that they've acquired through socialization.
If you're driven to help promote equity in education, contact us about our graduate programs.
Here are Andres' insights into gender equity in education.
1. Schools should make structural changes
Often, schools will recognize that gender equity is a problem, but fail to take meaningful steps to address it. "There are aesthetic changes to accommodate women, as if women have a deficit," Andres said. The better solution is to examine how policies and institutional structures themselves might be biased.
This can be accomplished through gender mainstreaming, a strategy that aims to ensure that gender perspectives are incorporated in all activities, whether it's policy development, research, legislation, or resource allocation. Gender mainstreaming can reveal where biases exist, and prevent situations in which people must conform to standards that don't apply to them.
2. Hiring needs to include a broader talent pool
When trying to fill an open position, schools should make sure they include multiple female candidates for the job. Having a proportionally small number of women in consideration may reflect biases in hiring practices.
Additionally, it's important for both female candidates and employers to recognize that, unlike men, women are not socialized to negotiate salary and benefits. Men may be expected to do so, while women are often expected to just be satisfied with a job offer.
3. Mentoring can improve gender equity
Professional mentoring is proven to be an important component of an individual's success. A citation by the American Psychological Association states that women mentoring women (as opposed to men mentoring women) has several potential benefits.
Not only do mentorships create new images of female proteges as professionals, the relationship can empower proteges and give them the support of a mentor's sponsorship. Organizations that encourage mentorships ensure that a female hire has the opportunity to thrive.
4. Equity training may help teachers
All teachers want their students to succeed, but unconscious biases can cause them to favor boys or fail to give girls the support they need. Providing training for teachers may help. By examining the systems that influence their behavior in the classroom, teachers can become more conscious of how they address their students.
5. Use research to inform strategies
As an administrator or educational leader trying to improve gender equity for employees or students, it's imperative to rely on research. Data highlights prejudices that may not be obvious and can inform a strategy for correcting them.
For example, a school's hiring process may be seemingly merit-based, however one study in higher education had professors rate fictional applications of identical male and female students. Overwhelmingly, professors rated the male applications more favorably, and offered more male students higher starting salaries.
6. Women are effective leaders—when given the chance
There is a misconception that biology helps determine career outcomes. However, research shows that men and women are more similar than different when it comes to factors such as personality and ability. In fact, these characteristics have more impact on career trajectory than biology.
The disproportionate number of men in senior positions has more to do with culture. Men are socialized to overstate the value of their knowledge and even bluff to get what they want, whereas women are socialized to be humble. As these behaviors are rewarded throughout careers, the gender gap grows wider.
Ample evidence exists showing that women make very effective leaders, but they need their schools and organizations to consider them for the roles.
7. Address gender equity early in schools 
To ensure that both boys and girls can achieve academic success, schools should implement equitable learning environments for the youngest and most vulnerable children. For teachers, this might mean incorporating more variance into your teaching style.
Presenting the same information in different ways that connect with visual and verbal learners can isolate fewer kids. "If we're told that a boy's way of learning is the best way, we're preferencing one gender over another," Andres argued.
8. Consider a graduate degree
A graduate program in education not only prepares you to lead in your field, it trains you to correct inequitable systems. You'll acquire the skills to dismantle gender barriers to learning and professional achievement. As a result, you give employees and students permission to be themselves, rather than conforming to cultural expectations that are irrelevant to them.
Learn how USC Rossier's graduate programs can prepare you to advance equity.
*For more on the treatment of non-binary transgender people in the workplace, check out this article.