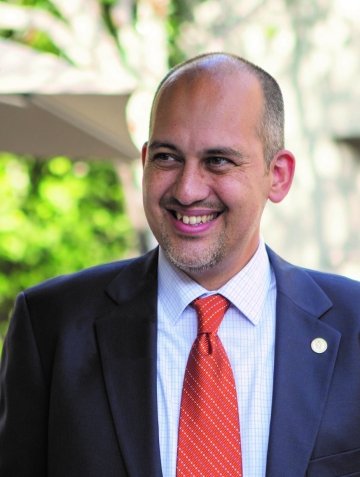 As USC Rossier's new director of alumni engagement, Tom Arteaga shares his transition from television production to higher education, goals for alumni engagement and plans for USC Rossier's alumni network.
Tell us about yourself and your background in higher education advancement.
I didn't start in higher education. I graduated from Loyola Marymount University with a BA in communications and went into television production. After I graduated, I worked for about six years at Fox Sports. I stayed in touch with my alma mater and found an opportunity to go back to LMU in the alumni relations office. I had a great opportunity to grow professionally and to help develop a variety of programs. I was able to apply my production and budgeting experience to higher education.
After 13 years, I shifted to Mount Saint Mary's University doing much of the same thing—building the infrastructure and building out the program. It was a unique time because of COVID. We paused in-person events and focused on online programs, collecting data, doing alumni surveys, gathering as much information as we could about our alumni to help increase engagement.
I'm excited to be here at USC Rossier as director of alumni engagement. My predecessor did an incredible job. It's really nice to be able to step into a program that is up and running and successful, and to find new opportunities to grow USC Rossier's network.
What attracted you to USC Rossier?
USC is a powerhouse as far as alumni engagement and networking. I've always been interested in exploring opportunities at USC. And to find one with USC Rossier, where our alumni are committed to education, providing opportunities for others and helping their communities. It really aligns with who I am and my past experience.
Do you see any obstacles coming into this role?
Rather than obstacles, I see opportunities. I see creating more volunteer opportunities for our alumni. Every powerful alumni network has active alumni. That can be done in a variety of different ways. Alumni can submit a class note, share job opportunities, mentor students, help recruit new students and recommend USC Rossier to their colleagues.
As far as starting in a new position, I want to better understand our alumni community and learn what their needs are. Alumni engagement needs to respond to the needs of our alumni. To create programs, we need input from our alumni. What are they looking for? How can we help support them? Understanding that is something I'm focused on. We have such a wide range of programs with alumni working in a variety of fields. It is important to get input from alumni in all of our programs.
Is mentorship part of alumni engagement?
Career guidance is definitely part of what we're looking to do within alumni engagement. The USC Rossier Career Network is our online mentoring and networking platform for current students or alumni. It automatically recommends connections based on common interests. It's a helpful tool beyond LinkedIn. The USC Rossier Career Network is an exclusive home for members of our community who have already raised their hand and said, "Yes, I'm willing to help. Yes, I'm willing to meet with somebody or share my expertise or provide career advice." There's more work to be done to invite alumni to join the platform. We need our alumni to be active, engaged and aware of these opportunities.
Can you tell me about upcoming networking events?
I believe every event is a networking event. The USC Rossier Homecoming Picnic on Nov. 5 is our largest alumni event of the year. It's an opportunity for alumni to come back, meet the dean and faculty, and connect with other alumni. Our students are also invited to the homecoming picnic. That's been a really strong tradition.
I'm focused on collaborating with campus partners to share USC lectures, networking and social events with our alumni. Alumni can take the first step to get involved by updating their contact information. We need to be able to contact our alumni to let them know about the events, benefits and resources available to them.
What are you looking forward to this year?
I look forward to getting to know our alumni and faculty. Our faculty are the ones who are really building the relationships with our students in the classroom whether online or in person. They are a really powerful part of this network. They are a big part of our alumni's USC Rossier experience.
Is there anything else you'd like to highlight?
I invite alumni to connect with me—whether that's through email, in person, Zoom or connecting through LinkedIn. As I build my USC Rossier alumni network, I want alumni to know that I'm here. I'm available. I'm a resource for all of our alumni if they have questions or if they're trying to figure out how to navigate our network or utilize alumni benefits. I'm here to work with our alumni to build a powerful network of volunteers, mentors and engaged alumni dedicated to the long-term success of the USC Rossier School of Education.