How do you take a faltering urban school district from a 58 percent graduation rate to over 90 percent in just seven years?
Ask Paul Gothold EdD '17, superintendent of Lynwood Unified School District, whose effective strategy included the expansion of the Advanced Placement (AP) program.
In late February, Lynwood Unified was named 2017 AP District of the Year. The national honor recognizes three outstanding school systems out of the hundreds that meet the College Board's rigorous criteria. To be eligible for the award, districts must both increase the number of students taking AP classes and increase passage rates on the exams. Only three percent of districts nationwide have done so.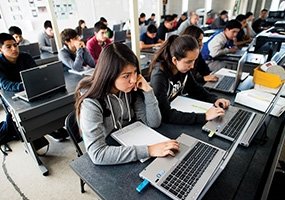 Lynwood's first-place finish is all the more extraordinary given that its AP students are 96 percent underrepresented students of color and 94 percent of them qualify for free or reduced-price lunches. National data from 2016 show that among students of color with a high degree of readiness for AP, only about half enroll in the college-level courses.
FULL EQUITY AND ACCESS
When Gothold arrived as deputy superintendent in 2010, Lynwood Unified was a failing system.
"Financially, we were on the brink of receivership," says the new USC Rossier doctoral graduate, who was a member of the first cohort of Rossier's executive EdD program, designed for current and rising superintendents.
A four-day huddle with 50 stakeholders — including par­ents, students, teachers, administrators, union leaders, the may­or and the school board — yielded a laser-focused new mission: Full equity and access emerged as the "Lynwood Way."
"There wasn't any guesswork about what we were doing," Gothold recalls. "Collectively, we built a system that would ensure equity and access to college for all students. It should be our students who make the choice whether they go to college, not the educational system."
"EVERY CHILD CAN LEARN ANYTHING"
Gothold's roots are in the L.A. County Department of Education Principal's Administrative Unit schools — the sys­tem that serves juvenile corrections facilities, youths on proba­tion and students who have been expelled from other schools.
"When I started teaching there, I just fell in love with the work," he says.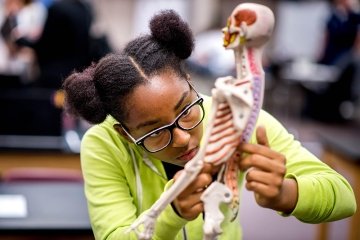 Told that his pupils were functioning at the fifth-grade level, Gothold refused to lower the standards of the high school curriculum. "Did they have holes in their learning? Yeah. Those kids had a litany of issues coming into the classroom. But my experience is that when you raise expectations, kids are going to exceed them. I believe every child can learn anything. I haven't changed that philosophy in 23 years," he says.
"We have the freedom to accept the challenge of an AP class," says Apisaloma Siufua, a junior at Lynwood High School. "If we feel we are ready, then that's all we need."
At Lynwood, the road toward higher education begins in pre-kindergarten. The push for college-readiness permeates the system's 12 elementary schools, three middle schools and two comprehensive high schools.
"I'm very impressed with what's happening at Lynwood, and very heartened by the work of Paul Gothold. We need more leaders like him," says Al Mijares, Orange County superintendent of schools. He speaks from knowledge. Mijares helped launch the AP District of the Year award pro­gram as vice president of the College Board's western regional office from 2006 to 2012, and he continues to serve as a College Board trustee.
"What Paul Gothold has managed to do is provide the tem­plate for others to follow," says Mijares, who holds a PhD from USC's Suzanne Dworak-Peck School of Social Work.
IT'S NOT ROCKET SCIENCE
Student participation in AP classes at Lynwood spiked by 17 percent annually between 2014 and 2016, and the percentage of students scoring a 3 or higher on at least one AP exam grew by 4 percent per year.
To achieve these results, the district — which borders Compton and South Gate — provided AP teacher training, arranged extra office hours to support AP students, created free AP summer camps, gave access to online tutoring courses and covered AP exam registration fees.
"There's really no rocket science behind our work," Gothold says. "Preparing every kid for college. That's our mantra. What's good for one kid is good for all. There are no prerequisites. No tracks. Any child can take these classes."
About the AP District of the Year Award
Three districts — grouped by size — are honored each year with this national accolade. Lynwood Unified, with 15,000 students, took the 2017 trophy in the mid-sized district cat­egory. It was chosen from among 433 qualifying districts in the United States and Canada, identified in the 2017 District Honor Roll. Lynwood was one of only 22 California districts (out of the state's 1,100) making the honor roll. The other two winners are Illinois' Joliet Township High School District 204 for small district, and Georgia's Gwinnett County Public Schools for large district. The schools will be recognized in July at the 2017 AP Annual Conference in Washington, D.C.