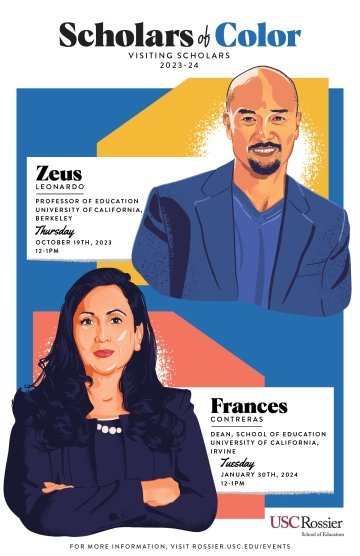 For the 2023-24 academic year, USC Rossier has invited some of the country's leading scholars in education to join and share their path-breaking ideas with USC Rossier's community. The annual Scholars of Color Lecture Visiting Scholars series welcomes two renowned thought leaders for an in-depth conversation about their research and the state of the education field.
Zeus Leonardo
Professor of Education
University of California, Berkeley
Thursday, October 19, 2023, 12:00-1:00 p.m.
WPH 403B
Zeus Leonardo, professor at the UC Berkeley School of Education, will discuss his innovative work on critical social theories and discourses in education, focusing especially on the structural relations of power built on race, gender and class in schools.
Professor Leonardo's current research interests involve the study of ideologies and discourses in education with respect to structural relations of power. Much of his work is interdisciplinary and draws insights from sociology, contemporary philosophy and cultural studies. In particular, he engages critical theories to inform his analysis of the relationship between schooling and social relations, such as race, class, culture and gender. His research is informed by the premise that educational knowledge should promote the democratization of schools and society. He has published numerous articles and book chapters on critical social thought in education. Some of his essays include: "Critical Social Theory and Transformative Knowledge," "The Souls of White Folk," "The Color of Supremacy," "Schooling in Racist America," "Smartness as Property" (with Alicia Broderick) and "Dis-orienting Western Knowledge." His most recent books are Edward Said and Education; Education and Racism, 2nd ed (with W.N. Grubb); and Race Frameworks: A Multidimensional Theory of Racism and Education. He is an affiliated faculty member of the Critical Theory Designated Emphasis at UC Berkeley. He is an American Educational Research Association (AERA) Fellow, a Derrick Bell Legacy Awardee and a member of the National Academy of Education.
More information and to register
Frances Contreras
Dean, School of Education
University of California, Irvine
Tuesday, January 30, 2024, 12:00-1:00 p.m.
VPD LL-101
Frances Contreras, dean and professor at the School of Education at UC Irvine, will discuss her extensive research on equity and access for underrepresented students and the role of public policy in equitable access to education, from early childhood through the postsecondary years.
Dean Contreras' research focuses on issues of equity and access for underrepresented students in the education pipeline and the role of public policy in ensuring student equity across a P–20 continuum. Her most recent books include: Achieving Equity for Latino Students, Expanding the Pathway to Higher Education through Public Policy, The Latino Education Crisis with P. Gandara and High Achieving African Americans and the College Choice Process (with T. Chapman, E. Comeaux, G. Rodriguez & E. Martinez). She is currently the dean and professor at the School of Education at UC Irvine. She was previously associate vice chancellor for equity, diversity and inclusion and a professor in the Department of Education Studies at UC San Diego. She has over 15 years of administrative leadership both at UCSD and the University of Washington College of Education, where she directed their higher education program. Contreras was the recipient of a lifetime achievement award by the Washington State Commission on Hispanic Affairs, and, in 2021, the City of San Diego honored her with Dr. Frances Contreras Day, in recognition of her leadership and service to the City and County of San Diego.
More information and to register
These events are for USC Rossier faculty, staff and students. RSVP is required. For those interested in attending that are not faculty, staff or students, please contact Laura Mulfinger.