Sobresaliente. That's Spanish for "gifted." Janet Boldt Sáenz '59 is an expert on the subject, having spent the past 60 years studying niños talentosos ("talented children") and training teachers to identify them.
It was pure serendipity that took Sáenz, a longtime professor of education at Autonomous University of Tlaxcala, to Mexico in the first place. When she arrived in 1964, she was a tour guide who spoke rudimentary Spanish.
Today, at age 83, she's a national authority on gifted education. Still very active in her profession, Sáenz is teaching a course on multi-exceptional persons and a seminar in qualitative identification of giftedness. She's also co-developing Mexico's first guide for teachers and parents of gifted children. She's been toying with retirement, but her dean asked her to hold off until the rollout of the revamped master's program and proposed doctoral program that Sáenz designed in consultation with gifted-education pioneers Joseph Renzulli and Sally Reis.
At least she isn't driving to Tlaxcala every week. Since the pandemic, she's been teaching remotely. Normally, Sáenz would make the two-hour drive early Tuesday, crossing two states lines and a volcanic mountain range to deliver her graduate courses in person. On Thursday afternoon, she would then head back to Mexico City, where she lives with her husband. A professional bolero musician and composer, Efrén Sáenz, 84, still performs with his ensemble, Trio Los Soberanos, which he founded in 1959. The energetic octogenarians celebrated their 50th wedding anniversary last year.
The early years were hard. A teacher by day and grad student by night, Janet Sáenz was often alone with their two young daughters, Charlotte and Laura, while Efrén performed at nightclubs or toured nationally and internationally with his trio.
But he always supported Sáenz's career goals, which required her to take weekslong teaching assignments in El Salvador, Venezuela, Ecuador and Guatemala, and spend summers in Tuscaloosa to work alongside faculty researchers at the University of Alabama.
"He understood," she says. "I really have my master's and doctoral degrees thanks to him. Every summer, we drove five days to the University of Alabama. Then he'd fly back to Mexico City and return for us three months later to drive us home." Sáenz's young daughters stayed with her during those summer research trips.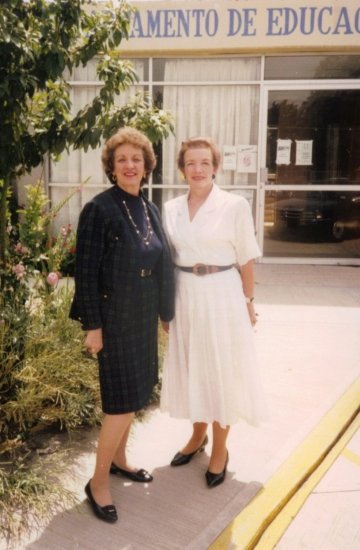 Janet Boldt Sáenz was born in 1937, the child of Knud Boldt, a Danish diplomat stationed in Los Angeles, and Linda Boldt, an Australian immigrant who worked as a secretary. After Germany occupied Denmark, Knud Boldt left the consulate to work for Lockheed, and the family settled down in Pasadena. He later opened a Danish import business and a travel agency.
Sáenz always knew she wanted to be teacher. At 10, she started her own backyard summer school for neighborhood kids. At 18, she enrolled in the teacher-training track at Pasadena City College, then transferred to USC in 1957, earning her BS in 1959.
"I can't say enough good things about my 'SC training," Sáenz says with a bright smile. "It gave me the basis for everything else I've done in my whole career."
Her first teaching job was at Lockwood Elementary School, but after three years she returned to USC as a master demonstration teacher. Sáenz had received her student-teacher training at 32nd Street USC Performing Arts Magnet, then known as the USC Demonstration School, and it was there that she first became interested in talented children. Assigned to an experimental K–1 class full of gifted Spanish-speaking immigrants, she was amazed to see how quickly they advanced.
Sáenz's own Spanish skills were about to undergo dramatic improvement. As a young teacher with her summers free, she worked for her dad's travel agency leading college students on overseas tours.
While accompanying a group to Mexico, she connected with teachers at the American School Foundation, a distinguished, international K–12 school in Mexico City. Intrigued, Sáenz engineered a two-year teacher-loan arrangement for herself through Los Angeles Unified School District. When an LAUSD superintendent offered to send her to graduate school through the University of Alabama's then-new international program in Mexico City, she jumped at the chance. Sáenz completed her master's in elementary education in 1975 and her EdD in 1990, supplementing her studies in gifted education with intensive training at the University of Connecticut's iconic Confratute.
"I can't say enough good things about my 'SC training. It gave me the basis for everything else I've done in my whole career." — Janet Boldt Sáenz '59
Sáenz started teaching at the university level in 1985, with appointments to the faculties of the Autonomous University of Tlaxcala and the University of the Americas in Mexico City. She also began consulting for the Ministry of Education, tasked with developing Mexico's first gifted-student program.
"We opened the pilot in 80 public elementary schools in Mexico City," she recalls.
As the effort expanded across Mexico's public and private educational systems, Sáenz documented the inception-to-execution of the nationwide gifted-education program in her dissertation.
Sáenz designed gifted programs, enrichment programs and ESL programs deployed in more than 1,000 schools across Mexico and trained tens of thousands of teachers to identify gifted students. She became the founding president of the Mexican Association for the Gifted in 1997 and has authored more than 70 scholarly articles. She's been interviewed by numerous Mexican media outlets and has presented at hundreds of conferences. In 2017, the California Association for the Gifted recognized her 50 years of service with a special award.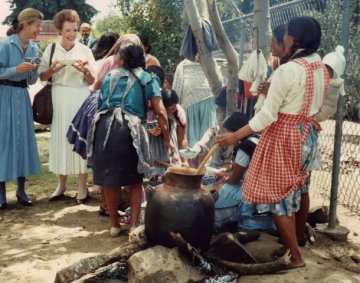 Of special interest to Sáenz has been the study of giftedness in Mexico's Indigenous communities. She has visited dozens of villages where teachers and students speak Spanish in the classroom and a native language like Nahuatl or Totonac on the playground. In one-room schoolhouses, Sáenz trained hundreds of teachers and developed qualitative methods to identify talent in Indigenous children.
Sáenz is no fan of IQ tests. In line with Howard Gardner's theory of multiple intelligences, she says, "I discovered many, many kinds of giftedness in many kinds of intelligences." For Indigenous people, renowned for their fine craftsmanship, she devised questionnaires that identify which child would make an exceptional carpenter or wood carver, which might create magnificent clay vessels and which could dazzle with his embroidery.
Yes, his.
Sáenz took up photography to document the artisanal traditions of the Nahuatl town of San Isidro in Tlaxcala, where unconventional gender roles date back to antiquity. While women commonly work the fields, the men often stay home to embroider traditional garments worn in religious festivals.
The bottom line for Sáenz is this: "Hidden gifted [children] are everywhere, but they're not easily identified. My recommendation is for more qualitative research to help teachers, together with parents, identify the talents in each child."