On April 13, the Women of DSAG hosted the inaugural Women of DSAG Virginia Archer Melbo Networking Event. The evening brought together 60 leaders in education for an insightful panel discussion about the wellness of women leaders in the education workplace. The diverse panelists brought a wealth of knowledge and insight into what it means to be an education leader focused on educational equity for all children in their district.
Vivian Ekchian EdD '19 is a lifelong educator and learner, visionary leader, and champion for equity with a relentless focus on accelerating student outcomes. She is currently the superintendent of the Glendale Unified School District, the third largest school district in Los Angeles County, serving 24,800 students in grades PreK-12. Vivian shared that her district is truly focused on health and wellness. The Glendale USD partnered with their local hospitals and other funders to implement wellness rooms in all high schools and they are now focused on putting wellness rooms into all middle and elementary schools. "We've really highlighted and elevated the importance of health and wellness post-pandemic," Vivian stated.
Angelica Ramsey brings a wealth of experience as a champion for students in her role as superintendent of the Fort Worth Independent School District. She is a strong educator committed to being a results-oriented leader. When asked how she was able to break barriers in her district, Angelica shared that she is focused on propelling academics for every child. "I try to ensure that we accurately align our resources, both dollars and people, so that everyone feels safe and that they belong," said Angelica.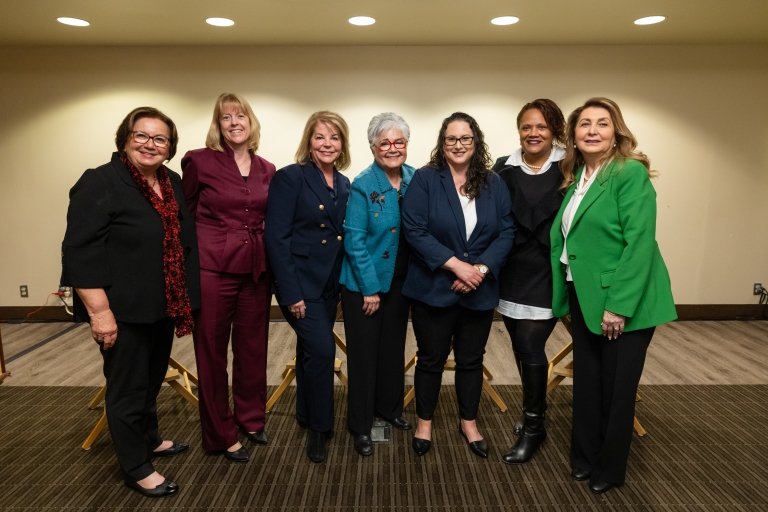 Shelley Adams EdD '19 has been superintendent of Baldy View Regional Occupational Program in San Bernadino County since 2012. She began her career in the private sector in human resources and retail banking before transitioning to education. Shelley shared that mental and behavioral health and wellness have been a major focus of hers. "We have begun mental and behavioral pathway training for students who are interested in a career in those fields," Shelley stated. "We have a wellness center and school-based health center that we are starting at our Career Training Center. We partner with a local school of dentistry where free dental care is available for low socio-economic young people ages 5-17 in the community."
When asked to provide one piece of advice to women who are thinking of moving up in their leadership journey, the panelists gave the following advice. Angelica said "do it, you're ready. You're probably already more qualified than the people sitting in the roles right now." Shelley advised "reach out to search consultants. They want to see your resumes and meet you, they want to know who you are." Vivian ended the evening with her advice "believe in yourself, learn from opportunities. We used to call them mistakes, they are actually opportunities to learn from and move on. Have empathy for everyone and let your heart and mind and belief system drive every decision you make."